Dr. Haya's separation diet – principles, effects, opinions. Is it a good way for healthy weight loss?
The separation diet, also known as the non-inclusion diet, is a very popular eating model in the United States. It was developed in the early twentieth century by Dr. William Haya, who, after practicing medicine for several years, his health declined significantly. Hypertension and an enlarged heart muscle caused his daily functioning to deteriorate significantly. He blamed his improper diet for this. Observing himself and his patients, he noticed a connection between cardiovascular and gastrointestinal diseases and his diet. Based on the achievements of Russian scientist Ivan Pavlov, Hay created his own way of eating by not combining proteins and carbohydrates in one meal.
Separation diet – principles

Ivan Pavlov on the basis of many studies has shown that the processes of digestion of proteins and carbohydrates differ from each other. Starchy foods, such as potatoes, bread or pasta leave the stomach about two hours after consumption, and complex proteins, such as meat, after about 4 hours. By combining these foods into one meal, we make the digestion process to 8 hours. So the popular pork chop with potatoes can be a serious burden for our stomach. A separation diet, assuming The separation diet, which assumes the correct composition of meals, can save the energy.., which the body needs for the digestion process, and an unburdened body means a lower risk of diseases such as diabetes, hypertension, atherosclerosis, as well as allergies. The result of Dr. Haya's diet resulted in complete disappearance of the symptoms and a reduction in his body weight from 100 kg to 80 kg in about 3 months. The longer he followed the longer he followed his diet, the better his well-being and general health became.
According to William Haya, acid-forming foods such as meat, fish and cheese should not be eaten together with products with alkaline properties: vegetables, fruits. Consumption of proteins and carbohydrates in one meal leads to fermentation processes in the small intestine, which leads to many serious diseases. However, there are also neutral foods (e.g. yogurt, milk) that do not cause digestive problems when eaten with proteins or carbohydrates.
Protein digestion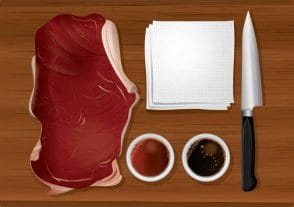 Hydrochloric acid produced by the stomach activates the enzyme pepsin, which cleaves and digests proteins. This process can only take place in a completely acidic environment. The presence of carbohydrates, especially starchy carbohydrates, which have an alkaline reaction, neutralizes the acidic environment and ensures that protein products are not properly digested.
Carbohydrate digestion
The process of carbohydrate digestion begins in the mouth, where the enzyme ptialin breaks down polysaccharides (starch, glycogen) into oligosaccharides and disaccharides. The rest of the process takes place in the duodenum, where the enzyme pancreatic amylase breaks down polysaccharides. Simple sugars are absorbed in the duodenum and small intestine by the intestinal villi. The presence of meat or other highly acidic foods, disrupts the alkaline base necessary for proper carbohydrate digestion.
As aresult of a poorly composed diet and improper combination of foods, the digestive processes are impaired, causing acidification of the body. When proteins and carbohydrates enter the digestive tract at the same time, acidic and alkaline digestive enzymes are secreted, which neutralize each other. As a result, an inert solution is formed in the stomach, which is unable to digest starch or proteins properly. Then, as a result of the activity of bacteria present in our body, decomposition and fermentation processes occur, which are the source of many ailments of the digestive tract, such as gas, bloating, heartburn, constipation, etc.
Dr. Haya's Non-Conjugated Diet – The principles
Three groups of products in Dr. Haya's separation diet.
Proteins – meats: beef, pork, poultry, venison, lamb, veal, – cured meats, e.g.: sausage, kabanosy, cooked ham, – fish and seafood, such as: salmon, cod, trout, mackerel, tuna, shrimps, – eggs, – milk and dairy products, – soy products, e.g.: tofu, soy pate, soybean, etc.fruit such as strawberries, raspberries, blackberries, green apples, apricots, peaches, cherries, oranges and grapefruit.
Carbohydrates – cereals, e.g. wheat, oatmeal, rye, rice, – bread, groats and pasta, – potatoes, – fruit, e.g. bananas, dates, figs, pears, – starchy vegetables, e.g. potatoes, courgettes, pumpkin, squash, – cane sugar, honey, maple syrup.
Neutral products – buttermilk, kefir, sour cream, cottage cheeseVegetables such as broccoli, cauliflower, tomato, sauerkraut, asparagus, carrots, spinach, mushrooms, nuts and seeds, sprouts and germs, herbs and spices, herbal teas and dark chocolate.
See also: Sweet, healthy snacks – or what you can snack on
The main guidelines for a non-combination diet
Never combine protein (including eggs, meat, cheese and fish) with starchy foods starchy foods, such as bread, potatoes, cereals and rice.
Consume starchy vegetables and other foods high in carbohydrates (bread, potatoes) with cooked, non-starchy leafy vegetables leafy vegetables.
If possible Avoid sweet fruit whenever possible. Instead, choose sour citrus fruits instead. Consume nuts, seeds and nuts only with raw vegetables.
Consumption of alcohol is acceptable on the separation diet, but a few rules must be follow a few rules. Dry white or red wines are are in the category of protein products, so they should only be consumed with other products in this category. Beer is a starchy drink, so it should not be drunk with a protein meal. a protein meal.
Avoid refined sugar and processed foods.
Products from the Neutral products can be eaten in combination with any foods.
Sweet fruit should be consumed on an empty stomach, a few hours after or 30 minutes before a meal.
Drink plenty of water, but never while eating.
Eat three meals a day with an interval of 4 to 4.5 hours between meals. between them.
The rules of this diet The rules of this diet are quite restrictive, however, they can be modified in case of certain dietary needs, such as gluten intolerance. Adherence to a separation diet can be problematic for vegetarians and vegans because plant proteins, such as legumes or quinoa, also contain carbohydrates. contain carbohydrates.
Dr. Hay created the separation diet to overcome his own health problems. However, it can be successfully used during the weight loss process by those struggling with overweight. It is also recommended for people with diseases of the cardiovascular system and those suffering from digestive problems. digestive problems.
Breakfast (protein): scrambled eggs with ham, fried in butter.
Lunch (carbohydrate): whole wheat pasta with spinach and tomatoes.
Dinner (carbohydrate): rice cooked in almond milk with fruit and cinnamon.
Breakfast (carbohydrate): whole grain pancakes with banana mousse and maple syrup.
Lunch (protein): grilled fish with vegetables and sauerkraut salad.
Dinner (carbohydrate): oatmeal with natural yoghurt sweetened with honey or maple syrup and diced apple.
A great idea for a healthy snack between meals is a handful of your favorite nuts with nuts or a salad of fresh fruit such as kiwi, pineapple, apple or banana. Be sure to take each meal or snack on an empty stomach.