Bacopa monnieri (brahmi) – an herb beneficial to the entire body
Many people still underestimate the advantages of natural medicine, despite the fact that its effectiveness in treating various ailments has been proven many times. Many methods have been confirmed by professional research and have centuries of tradition. This is the case, among others, with Ayurveda, a healing system deeply rooted in the philosophy of the Far East. Ayurvedic medicine, as it is commonly called, uses plants and herbs with numerous health-promoting properties, such as bacopa monnieri, also known as brahmi or bacopa minor.
Ayurvedic medicine – drawing strength from the power of nature
The origins of Ayurvedic medicine date back to the 6th century BC, several thousand years ago. That is why it is widely regarded as the oldest known medical system in the world, practised even today. Its name is a combination of two Sanskrit words, ajur, meaning life, and veda, science.
One of the main branches of Ayurvedic medicine is herbalism, the treatment of almost all ailments with the help of herbs and other plants. According to many specialists, practitioners of Ayurveda have a vast knowledge of herbs and plants, which can be compared to the professional medical knowledge possessed by doctors. The most well-known plants with health-boosting properties include ginseng, gutu kola, Vitania ashwagandha, fenugreek, popular spices such as ginger and, of course, bacopa monnieri, which we will present in a little more detail.
Bacopa monnieri – appearance and origin of the plant
Bacopa monnieri is a member of the lepidoptera family and grows commonly in all climates, mostly on moist soil near water. It is characterized by long, leafless stems up to 40 cm long and leaves up to cm long, dark green in color and oblong, inverted lanceolate in shape. During flowering, five-petalled flowers develop, depending on the variety, blue, white or purple, followed by egg-shaped fruits with a yellow-brown color.
Bacopa monnieri – the composition that determines its health properties
As with any plant, brahmi's properties are directly determined by its composition, all the biologically active substances it contains. They have a high and proven effectiveness in the treatment of many ailments, ranging from common infections to serious conditions. The most important components that we find in bacopa monnieri include:
steroidal saponins, primarily bacosides A and B, which have cleansing properties and are also responsible for maintaining safe blood cholesterol levels;
potent alkaloids, brahmin and herpestin;
anti-inflammatory and antioxidant flavonoids, apigenin and luteolin;
phenolic compounds, also responsible for removing free radicals and soothing developing inflammation;
phytosterols, another compound that lowers the level of "bad" cholesterol, inhibits the development of free radicals, minimizing the risk of cancer and heart disease and the entire cardiovascular system;
carbohydrates, alcohol sugars and amino sugars;
organic acids, also responsible for inhibiting cancer cell growth;
tannins, or plant tannins, which have antibacterial and anti-inflammatory properties, strengthen the immune system, prevent allergies, they are also strong antioxidants
terpenoids, which are responsible for the secretion of two important hormones: dopamine, which allows us to feel emotions, regulates blood pressure and the functioning of other endocrine glands; and serotonin, another neurotransmitter responsible for the proper functioning of the digestive system.
Bacopa monnieri – how it works on our body
A plant with such a composition should immediately find its way into the diet of each of us, preferably in the form of dietary supplements containing it, and its positive effects on our health cannot be underestimated. The action of brahmi is not limited to just one aspect, it can be safely considered multi-level, and regular supplementation of this herb has a positive effect on:
Reducing the negative effects of stress and other states of nervous tension
Stress is one of the worst diseases of our time, affecting millions of people around the world every year and also one of the most difficult to treat. In order to minimize or even reverse its negative effects, it is worth using bacopa monnieri. Its adaptogenic properties show the highest effectiveness in treating also other states of nervous tension, depression and anxiety disorders. Brahmi allows us to fully relax, puts us in an excellent mood, significantly improving our mental well-being.
Brain work, memory, concentration and cognitive abilities
Effective work or study in the modern world requires excellent memory and concentration, constant work of the brain at the highest level of efficiency, which unfortunately cannot be maintained at all times. Also in this issue turns out to be helpful bacopa small-leaf, whose action on the brain and the entire nervous system is similar to nootropics.
Not only does it have a positive effect on better concentration, but when taken regularly for a period of 3 months, it improves general cognitive abilities, and conducted experiments have clearly demonstrated in such people easier assimilation of larger amounts of information and better remembering of them. This is why it is being considered for use in the prevention and treatment of neurodegenerative diseases, Alzheimer and Parkinson. In addition to this, it also reduces the severity of ADHD symptoms, helping children suffering from it to improve their cognitive functions and dyslexia, effectively restoring the ability to read properly.
Immune System Functioning
The basis for maintaining health, a natural barrier that protects the body from various infections and diseases, more or less threatening to us. The cause of the development of such diseases are primarily harmful microorganisms, attacking us from the outside, or worse, developing inside our body and infecting the most important systems and internal organs.
Here comes to our aid the anti-inflammatory, anti-bacterial and anti-viral properties of brahmi, thanks to which the immune system resists any attacks, allowing us to maintain full health and vitality. The antioxidant activity, which protects against free radicals that can cause severe oxidative stress, is also worth noting.
Work of different parts of the digestive system
An efficient digestive system is the basis for proper digestion and fast metabolism, thanks to which you can get rid of all the excess weight, your excess weight and obesity. Bacopa monnieri extracts are increasingly being used to treat stomach ailments, preventing, among other things, the development of peptic ulcer disease, which is usually caused by bacterial infections. It effectively increases the secretion of mucus protecting the walls of this important organ from damage, preventing the formation of ulcer niches. It also supports the treatment of other diseases of the digestive tract, inflammation of the intestines, spleen, stomach.
Brahmi is equally effective in protecting the liver, without which it would be impossible to remove toxins and other, equally harmful residues of metabolic processes from the body. Its cells are unfortunately quite susceptible to damage, and counteract this is precisely the active ingredients of this herb, reducing, inter alia, bilirubin levels. Too much bilirubin can lead to cholelithiasis, which sometimes requires surgery.
Heart and circulatory system health
A cardiovascular disease that must never be underestimated is hypertension, which quickly weakens the heart and can lead to many serious illnesses, including a life-threatening heart attack. Bacopa monnieri can always keep it at the right level, and the antioxidant properties of this plant are also important for cardiovascular health. It reduces the risk of coronary heart disease and maintains the proper lumen of the arteries and blood vessels, removing excess cholesterol from them, so we are not threatened by blockages, often fatal.
Bacopa monnieri – what else can it be used for?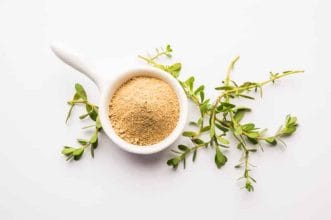 These are only some of the advantages of regular use of preparations containing extracts of Bacopa minor. Apart from them, it also shows other pro-health effects, worth mentioning here:
support of correct growth of muscle tissue, important among others for strength training enthusiasts;
inhibition of balding and stimulation of new hair growth;
reduction of fever;
Reducing the effects of physical and mental fatigue, faster regeneration of the body after exercise;
delaying natural ageing processes, that is why it is also called "youth elixir";
removal of toxins thanks to its diuretic effect;
reduction of negative effects of long-term cigarette smoking;
relieving the symptoms of menopause in women;
prevention of sleep problems, facilitating falling asleep and preventing insomnia;
improving skin health, alleviating the symptoms of many skin conditions, including acne and difficult to treat fungal infections.
Bacopa monnieri – opinions about dietary supplements containing it
As you can see from the examples above, the action of brahmi is comprehensive, which is why it enjoys such good reviews, including from specialists in the treatment of many of the conditions mentioned. The positive reactions that you can come across are fully justified, and many opinions also apply to the recommended dietary supplement having bacopa in its composition, Brain Actives .
These are tablets, the composition of which was carefully selected to support the work of our brain and nervous system. In addition to bacopa monnieri, you will find other substances that have a significant impact on this, such as:
ashwagandha root extract, which reduces stress and improves memory and learning ability;
Asiatic anthraxleaf extract, a plant that acts as a nootropic, improving memory, especially long-term memory;
anhydrous natural caffeine, which increases physical endurance, quickly removes all negative effects of fatigue, and provides a large dose of energy necessary for physical activity;
B vitamins B6 (pantothenic acid), B6 (pyridoxine) and B12 (cobalamin), which increase mental performance and have a positive effect on energy metabolism;
An extra dose of magnesium, the best support for the nervous system, another effective fatigue reducer.
Sources:
https://www.healthline.com/nutrition/bacopa-monnieri-benefits