Young green barley – a healthy vitamin bomb
The method of weight loss applied to achieve the desired results usually requires a lot of sacrifice, hard and continuous work on ourselves. The most important in this process will certainly be carefully selected, easily digestible slimming diet consisting of products full of nutrients essential for health. Unfortunately even this, combined with a high physical activity, often turns out to be ineffective, and the body needs additional support, which dietary supplements can give it. They positively affect the entire process of losing weight, but only if they are based on natural, plant-based ingredients, such as young green barley.
Young green barley – rich in nutrients
It is one of the most popular ingredients in many preparations recommended not only for weight loss, but also for many other ailments. It may be purchased in various forms, from powder for making nutritious and healthy shakes to tablets in which it is the main active ingredient. Young green barley is nothing more than a seedling, a sprout no more than 200 days old from the date of planting. Harvesting it in this phase of growth allows you to preserve its highest nutritional and health values, and in these young green leaves you will find:
Easily digestible dietary fiber;
valuable amino acids, especially those that our body is not able to produce on its own;
beta carotene;
vitamins B, B1, B2, B3, B6 and vitamin C and E;
minerals: zinc, calcium, potassium, selenium, iron, magnesium, bromine, phosphorus, silicon and copper;
folic acid, pantenic acid and glutamic acid;
chlorophyll.
Young green barley – health properties
It would be hard to find another such rich source of what our body needs every day to function properly. As a curiosity we can mention that in comparison with e.g. wheat it has 37 times more calcium, 25 times more potassium, and protein constitutes as much as 45% of its weight. Due to this, as well as such a composition, green barley is even recommended in the treatment and prevention of numerous diseases, and its most important health properties are:
anti-inflammatory, antioxidant and antiviral activity, helpful in treating dangerous and often life-threatening infections;
relieving pain in the joints;
influence on skin problems through a direct effect on the functioning of internal organs, whose diseases are manifested by skin changes, acne or swelling;
counteracting digestive problems, thanks to the fiber content, constipation, flatulence, relieving stomach pain;
acceleration of fatmetabolism;
reduction of cholesterol and blood sugar levels, prevention of diabetes, cardiovascular diseases such as atherosclerosis or ischemic heart disease;
antioxidant action, stopping and delaying the body's aging processes, also minimizing the development of Alzheimer disease, multiple sclerosis and cancer;
Reducing stress which has a significant impact on depression, as green barley increases the level of serotonin in the brain;
strengthening the immune system.
Young green barley – the best for slimming
Safe weight loss, as recommended by specialists in this field, can not do without such plants as young green barley. It is recommended in practically every healthy diet, including vegan and vegetarian diets, ensuring the feeling of satiety, preventing snacking between meals. In addition, preparations with barley have an excellent effect on the proper functioning of the intestines, support our metabolism, allowing for effective detoxification of the body, removing all dangerous toxins from it. At the same time, it provides the body with the required daily dose of nutrients in ideally selected doses and in properly maintained proportions between them. In this way you can immediately supplement any possible deficiencies, which are not difficult to occur when the slimming treatment is accompanied by a high level of physical activity. The action is therefore comprehensive, we remove the feeling of hunger, give a large dose of energy and burn fat tissue faster.
Young green barley – opinions and how to use it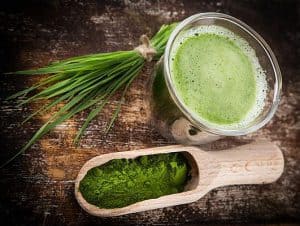 As a 100% natural product, green barley is widely valued for its health promoting properties, gaining popularity not only among healthy diet enthusiasts. It is enough to visit one of the discussion forums devoted to it to learn what beneficial effects it has had on the health, fitness and weight loss of many people. Opinions are overwhelmingly positive, but if you still have any reservations about using it, you can consult specialists who will certainly dispel these doubts.

Green barley is available in several forms, most commonly the powder mentioned above, which is made by evaporating the juice of the stems, drying them and grinding them. It is mixed with water or other liquids, juice or yogurt and this form is well absorbed, almost 100 percent, but the taste of the prepared drink leaves much to be desired. Green leaves are also often used as an addition to nutritious, diet salads or other dishes, but it is best to reach for a dietary supplement in the form of tablets or capsules, usually taken two to three times a day.
It is also worth reading our ranking of the most effective slimming pills, carefully selected and based on natural, mostly plant-based ingredients. Thanks to this, they are not only effective, but also safe to use and there are no side effects after them.