White mulberries for weight loss – a remedy for sugar fluctuations and uncontrollable appetite
The white mulberry is an Asian medicinal plant with a centuries-old tradition. Known for its ornamental qualities, the white mulberry also has many valuable health benefits, including a positive effect on blood sugar levels. At first, the white mulberry was only cultivated and used in its native Asian countries, mainly in China, but as the plant expanded, it became a crop on other continents as well. Today, white mulberry enjoys great popularity, especially among people who appreciate the benefits of phytotherapy and are looking for natural alternatives to synthetic medicines for various ailments, as well as for problems with weight and obesity. Let's find out what the characteristics of white mulberry are, in which ailments it can support us, and whether it helps in losing weight.
White mulberry – an impressive tree with remarkable fruit
White Mulberry (Morus alba L.) is a plant belonging to the Mulberry family, which is several thousand years old and originates from China. Over time it has also spread throughout North and South America and Africa. In Europe, it gained popularity around the 11th century. Today, it is one of the most widely used medicinal plants, grown in many parts of the world. Today white mulberry is widely used in the pharmaceutical, cosmetic and herbal industries and is also widely used as silkworm food.
White Mulberry is a deciduous tree, generally small in size but which can grow up to 15 meters high. Its fruits are whitish, pinkish or even dark purple in color. They resemble blackberries in shape and texture. They are edible and taste very sweet, even slightly insipid.
Use of the white mulberry fruit
White mulberries are used, among other things, in traditional natural medicine in China, Japan, Korea, Afghanistan and Kashmir. It is known as an effective antipyretic, diuretic and lactation stimulant. In cosmetics, such as face creams, it proves to be a plant-based antidote for improving skin condition, rejuvenation and renewal. Since white mulberry leaves have hypoglycemic effects, they are used by diabetics and people who are just beginning to experience blood sugar and insulin secretion disorders.
The white mulberry tree is also extremely valuable to other industries. It is used, among other things, as a food product. Many healthy lifestyle enthusiasts appreciate both fresh and dried mulberries, as well as mulberry juice and ground white mulberry. Mulberry tea is also popular. The mulberry tree is also used to make furniture and a variety of turning and paper products. In addition, the mulberry tree is increasingly being planted as an ornamental plant in parks, greens, gardens and recreational facilities, among other places.
White mulberry – how to eat it?
If we decide to purchase dried mulberry berries, we have a wide range of possibilities regarding its culinary use. They are perfect as an addition to oatmeal, porridge, granola and healthy desserts. In these kinds of delicacies, they blend perfectly with nuts, almonds, sunflower seeds, and other dried fruits.
Dried whitemulberries also do well in blender smoothies, yogurts, cheeses, baked goods such as cereal cakes, pies, fit-batons. You can also consume them on their own, as a snack, instead of using unhealthy, fattening sweets, sticks, chips, etc.
Fresh mulberries can also be eaten raw, without any additives, of course, if you like their specific, slightly bland taste. They will also be a good addition to mousses, desserts and fruit salads. Raw mulberries are also perfect for making jams, syrups, compotes and juices. We can then combine it with other fruits, obtaining interesting taste results. Fresh mulberries go exceptionally well with slightly sour varieties of fruit – apples, cherries, rhubarb, strawberries.
White mulberry – composition. What active substances can be found in the popular medicinal plant?
The main raw materials used in pharmaceuticals and herbalism are fruits and leaves of white mulberry. The bark and root have also been used in herbal medicine, e.g. for making fever-fighting infusions. However, it is the fruit and leaves that are particularly rich in biologically active substances of value to us.
In the composition of white mulberry we can find:
thiamine (vitamin B1),
riboflavin (vitamin B2),
pyridoxine (vitamin B6),
nicotinic acid (vitamin B3),
vitamin C,
vitamin A,
vitamin K,
pectin (dietary fiber of the soluble fraction),
tannins,
amino acids and proteins,
organic acids,
alkaloids,
minerals: phosphorus, magnesium, iron, potassium, calcium, zinc,
bioflavonoids (valuable polyphenolic compounds acting as antioxidants).
Properties of white mulberries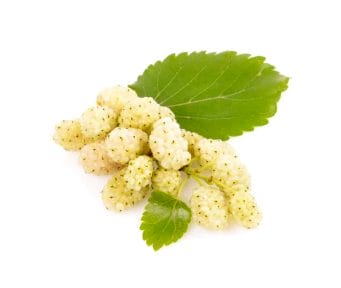 Thanks to its wide range of bio-components, white mulberries are widely used in the prevention and treatment of various ailments, including those related to the circulatory, respiratory and urinary systems. It is worth noting that white mulberry is also one of the most highly regarded and most widely used herbal resources in the fight against diabetes.
Anti-diabetic properties of white mulberry
White mulberry leaves are used both as a prophylactic preparation and as an aid in the treatment of type 2 diabetes. As research has proven, this ingredient exhibits hypoglycemic properties mainly due to its content of the alkaloid DNJ (1-deoxynojirimycin).
Acting as an alpha-glucosidase inhibitor, it prevents too rapid digestion of carbohydrates delivered in food. It inhibits their breakdown and absorption, prevents sudden spikes in blood sugar concentration, and thus normalizes insulin and glucose metabolism in the system. Because of these properties, white mulberry can be a valuable support not only for people who have already been diagnosed with diabetes, but also for people with insulin resistance, which is a condition preceding diabetes.
Insulin resistance is unfortunately an increasingly common phenomenon, which is a consequence of a sedentary lifestyle and an unhealthy diet dominated by products with high amounts of monosaccharides and a high glycemic index. It is a condition usually neglected, yet very dangerous, directly leading to pre-diabetes, and then to diabetes. White mulberry, especially when combined with a healthier diet and lifestyle change, can eliminate insulin resistance and significantly reduce the risk of diabetes.
An important note for diabetics, if you are taking anti-diabetic (hypoglycemic) medications, you should ask your doctor for advice before taking white mulberry leaf extract. This is because they may interact with each other.
Positive effects of white mulberry on the cardiovascular system and blood cholesterol levels
Centuries ago, in the traditional medicine of China, white mulberry leaves were used as a means of improving the cardiovascular system and normalizing cholesterol levels. These uses are still common today.
By reducing the concentration of triglycerides and bad cholesterol (LDL) in the blood, mulberry has a positive effect on the lipid profile and lowers the risk of atherosclerotic lesions and coronary artery disease. In addition, white mulberry stabilizes blood pressure, supports heart function, improves circulation and improves the condition of blood vessels, dilating them, sealing and preventing loss of elasticity.
White mulberry and its antioxidant, antibacterial and immunity-boosting properties
Thanks to a wide range of antioxidants, such as flavonoids (quercetin, camferol, rutin, among others), phenolic acids (including chlorogenic acid) or anthocyanins, white mulberry participates in the elimination of harmful free radicals, which can damage our cells and cause cancer.
Antioxidants contained in white mulberries also help slow down the aging process and reduce the risk of atherosclerosis, cardiovascular diseases, and neurodegenerative diseases. They also reduce inflammation in the system and mobilize the body for more efficient regeneration. They also strengthen the body and increase immunity.
An important group of mulberry active ingredients are also those with antibacterial activity: albanol, couvanones, sanggenones, halkomoracin, morusin. They help us fight off harmful microorganisms faster, prevent their expansion in the body and make it easier to overcome infections, colds, and generally various types of bacterial, viral and fungal ailments.
Other important properties of white mulberry
Thanks to the content of pectins, i.e. a soluble form of dietary fiber, white mulberries improve intestinal function and contribute to normalization of the defecation cycle and elimination of unpleasant digestive disorders, such as abdominal bloating, a feeling of fullness in the stomach, and constipation.
Thanks to the presence of quercetin and other flavonoids, white mulberry alleviates allergy symptoms.
White mulberry root extracts are used as a natural support in case of high fever, various pains located in different parts of the body and inflammatory conditions (e.g. skin, joints).
Being diuretic and improving intestinal motility, white mulberry stimulates cleansing the body from toxins and deposits.
Thanks to the content of B group vitamins and minerals (such as iron, magnesium, zinc), white mulberry improves the functioning of the nervous system, reduces mental and physical fatigue, and helps regulate mood. It also has a beneficial effect on eyesight.
White mulberry leaves can also be applied externally to the skin. They will be useful in fighting skin imperfections, reducing discoloration and freckles, evening out the complexion, smoothing and rejuvenating. They contain substances that brighten, soothe, tone and make skin elastic.
Consumption of white mulberry fruit can be an additional support in case of such diseases and conditions as: stomach and duodenum ulcers, heart and circulatory system diseases, chronic constipation, hyperacidity of digestive system, appetite disorders, too intensive secretion of gastric juices.
Mulberry also has a protective effect on liver cells (protects them from damage).
White mulberry for slimming – how does it work?
White mulberry has gained its greatest fame in countries with highly developed economies. There it has gained great popularity as a support for weight-loss treatments, mainly based on the introduction of an appropriate diet and training plan adapted to the conditions and condition of the individual.
There is no doubt that white mulberry is a great support for a reduction diet and accelerates weight loss. This is especially true if the slimming program includes regular physical activity such as running, swimming, nordic walking, crossfit training, fitness, gym, cycling or other.
How does white mulberry affect weight loss? It does so mainly through its ability to lower sugar levels. By regulating carbohydrate metabolism and counteracting rapid glucose fluctuations and insulin surges, white mulberry contributes to normalizing appetite, reducing daily calorie intake and suppressing cravings for sweets. Therefore, by following a low-calorie diet and using mulberry tea or supplements, we can increase the rate at which we lose weight.
How to use white mulberry for weight loss? We can use mulberry tea or ready-made herbal preparations in the form of tablets or capsules. Mulberry teas are generally safe, effective and free of unnecessary additives (they contain pure dried white mulberry leaves).
White mulberry dietary supplements are different. They are of poorer or better quality and have different content of mulberry extracts. So before you decide on a particular product, check the package leaflet for its formula. Sometimes, unfortunately, the content of white mulberry extract is very low and the remainder of the tablet or capsule consists of fillers or other ingredients which may not necessarily be useful to you. It is therefore best to choose supplements that have a high concentration of the active ingredient in the form of white mulberry leaf extract.
Read also: Red tea for weight loss
White mulberry – cultivation of the plant
Store-bought mulberry fruit or leaves, mulberry dietary supplements, mulberry tea or other products containing mulberry are extremely valuable to our bodies. It is a very good idea to use these products for your health and fitness.
You can also take advantage of the benefits of mulberries by growing the plant yourself and obtaining fresh, natural fruit from it. Of course, if we have the conditions for this, that is, we have a free piece of land at our disposal. It is worth considering growing white mulberries in your own garden, because the plant has low soil requirements, and generally regarding cultivation. If you decide to grow white mulberries, you will certainly not be forced to spend many hours caring for them.
But what do we need to bear in mind? When looking for a good location for the white mulberry, look for a place which is not marshy. The plant does not like too much moisture, so it will develop and bear fruit best if it is planted in an area which is moderately damp and has good access to sunlight. Autumn and winter periods can be dangerous for this plant. For this reason, it is best to protect it by wrapping it in plastic sheeting to minimise the risk of frost.
The white mulberry, like the black mulberry, does not require a lot of work. However, you should remember to eliminate diseased branches. Once every 3 years it is also worth fertilizing the plant with compost or manure. This will give the mulberry great conditions for further growth. It will also be a good idea to trim it a bit, especially if the tree grows out of shape or has a different shape than you would like.
If you decide to plant white mulberries, you should choose a particular type – according to your preferences and expectations. It should be borne in mind that some varieties of white mulberry tree grow to a considerable size and this makes harvesting difficult. To avoid this problem, opt for the 'Pendula' variety. This tree will certainly not grow too tall for us.
SLIMMING PILLS RANKING 2021