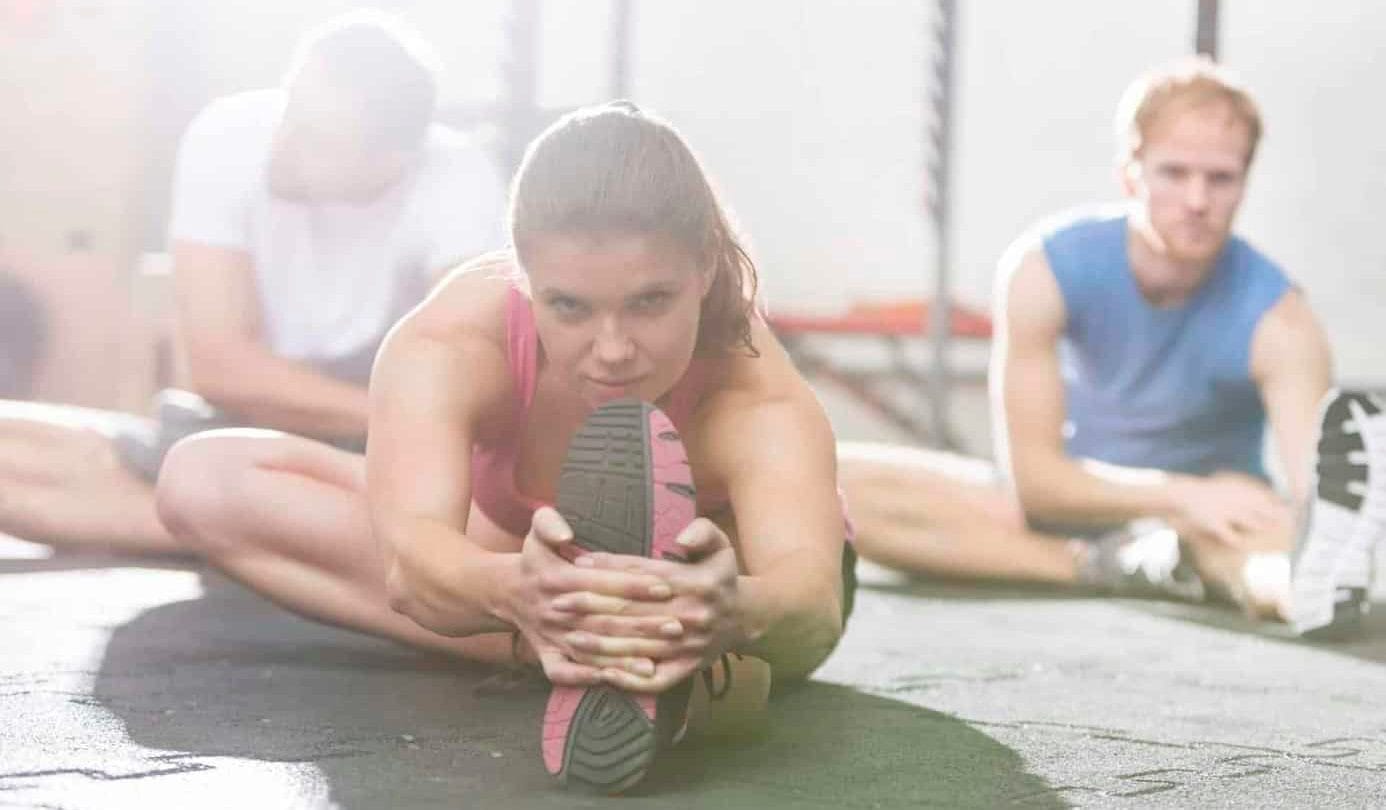 Stretching, or stretching. How to stretch? Effects and correct technique
Stretching should be a part of every workout, regardless of the discipline that we perform. Unfortunately many people forget about it, and it's not good, because it stretching gives good results and helps us to avoid various unpleasantness, associated with intensive training. What is stretching, when should we stretch, how much time should we spend on it and how to stretch different parts of the body?
Stretching – what is it? What is stretching?
Stretching, or stretching , loosening and breathing exercises, which have a positive effect on preparing the body for the next effort. They help in blood supply to muscles and tissues, and accelerate the transport of nutrients to the muscles. They promote the regeneration and growth of muscle tissues. They improve flexibility, thanks to which we can increase the range of motion during exercise. If we stretch well, we can count on the reduction of soreness after a hard training, and thanks to this our body will become ready for the next effort faster. Stretching allows us to reduce the risk of injury, not only in training, but also in everyday life.
Stretching should become element of every athlete's training, not only bodybuilder. Light Stretching the muscles before exercise will help prepare them for activity of any intensity. Stretching after training promotes recovery and improves circulation. What's more, it does not have to be It does not have to be performed immediately after exercise; stretching before bedtime also provides good results. stretching before going to bed is also effective.

Types of stretching
There are several types of stretching:
static;
dynamic;
passive;
post-isometric relaxation (PNF);
ballistic stretching.
Stretching static

Static stretching consists of slow, controlled stretching of muscles through the entire range of range of motion. In the state of the maximum stretch of a given muscle you should remain for about 15-30 seconds. It is a very safe method of stretching stretching method, allowing total control of the movement and using the maximum muscle tension, thanks to which We can also stretch antagonistic muscles.
Passive stretching is It is a modification of static stretching and requires using force from external force, i.e., the training partner. It consists in stretching the It consists in stretching a muscle to the maximum, and then, using an external force (e.g. a partner's), keeping the muscle in the Then, using an external force (e.g. a partner) the muscle is kept in such a position for as long as possible.
Static isometric stretching It combines the stretching of a muscle with its strong stretching. stretching. It is a sub-method of static stretching which allows to deepen the range of motion.

Stretching dynamic
It is an active form of stretching. It consists mainly of moving parts of the body at different speed. Stretching may be started from a slow movement, gradually intensifying it. An example here are arm extensions Examples here are arm extensions back and forth or alternately, one arm forward and the other back. back.
Ballistic stretching
It is another method of dynamic stretching, which It is another method of dynamic stretching, which consists in making sudden movements of the body, e.g. a prone position and deepening it vigorously. It is stretching, which for many years was used mainly in professional However, today it is already abandoned, because this type of stretching is This type of stretching is characterized by low effectiveness, and high risk of injury.
Passive stretching
During the passive stretching, the muscles should be positioned in such a way that they are located as far as possible from the muscle attachments. We add strength to a given We add force to the respective limb, either from our own body positioning or from an external source (e.g. training partner). (e.g., your training partner). Try to hold in this position for Try to hold this position for approx. 30-40 seconds. During passive stretching you should feel a slight pulling sensation. While performing this type of stretching, we should not pulsing, i.e. deepening and shallowing the stretch position. of the stretch. We also need to pay attention that there is no The stretched muscle does not contract.
Post-isometric relaxation (PNF)
Thanks to this method of stretching we can restore the muscle to its proper length. It consists in performing the so-called PIR's. How to perform them?
At the beginning we reach such a level to the point where you feel a slight stretch in the muscle, then you do an isometric contraction, tensing the muscle against against external resistance, but without bringing the attachments the attachments. The contraction should last from several to several dozen seconds. Then the muscles relax and diastole follows, and then repeat the whole cycle over again. Perform the stretching until you are you will not be able to stretch further without feeling pain. feeling pain.
When to stretch – before or after training?
You can stretch both before and after training. You just need to know how. Dynamic stretching prepares our muscles for increased physical effort, therefore, it is recommended to perform it before the actual exercises. Stretching after training promotes recovery and improves circulation, so nutrients reach the tissues more easily.
It is recommended to do the following before the workout dynamic stretching should be combined with static stretching. Thanks to this, our muscles will be muscles will be properly stretched, which will contribute to reduce the risk of injury or damage during training. Do not However we should not treat stretching as a warm-up, it is worth It is worthwhile to additionally warm up the muscles before starting intensive It is advisable to warm up your muscles before intensive exercise.
It is not necessary to stretch immediately after strength training. to stretch right away. stretching gives very good results before before going to bed. Performing it at this time, we support regeneration and we contribute to the reduction of soreness, thanks to which our body will be body will be ready faster for the next challenge.
How to stretch? Few basic rules
We should remember about stretching all persons who systematically exercise. This is an element often forgotten, which is a pity because it brings many benefits.

However, before we move on to exercises, we must remember that each person should stretching should be adapted to individual requirements. On the way stretching, which will be the most satisfactory for us, influence, among others:
anatomy;
Daily habits and intensity of physical activity;
type of physical activity performed physical activity;
rate of recovery.
Some sports require mobility in all ranges of motion, while others require mobility only in the the most used joints. Of course, it is always better to be more mobile than less mobile, however, not always comprehensive stretching will not always be necessary.
Before we start stretching, we should make a functional and postural assessment of the body, and match it with an individual stretching program. A lot depends on the muscles, which will be exercised in a given workout. If we prefer strength training, and we have a "leg day" ahead of us, X18 is the right choice for us. "If you prefer strength training and you have a leg day ahead, the stretching of the whole body will not be required, but only those muscles that will be working the most in the exercises planned by us.
Dynamic stretching and warm-up dynamic stretching and warm-up should take place before every physical effort, regardless of the regardless of the discipline. They are the simplest and most common injury prevention They are the simplest and most common injury prevention as they allow you to prepare your body for movement. Stretching should not be performed too intensively, and during the Stretching should not be performed too intensively and you should not feel fatigue. Remember, remember that we still have to do the actual training.
Benefits of stretching
Why is it worth stretching? Well, stretching improves muscle flexibility, increases the range of motion and range of motion and affects the faster regeneration. Properly performed stretching can translate into better training results. What Moreover, it takes about 10-15 minutes, and the effects are amazing. Let's see, how stretching affects our lives.
Improve flexibility
The older we get, the more our muscles shrink, and that means our range of motion decreases. Meanwhile, by taking care of our body's flexibility, we enable ourselves to do any kind of exercise, so we can strengthen our whole body. It is worth noting that improving flexibility is an effect that benefits not only athletes. People who spend many hours behind a desk often experience back and neck pain after returning home, which is caused by muscle tension resulting from too long staying in a sitting position. If we do not take care to reduce the effects of sedentary work at an early stage, we risk serious back problems. Stretching not only stretches muscles, but also relaxes them, making us feel better.
Joint protection
Intensive workout routines cause our joints wear out faster. While stretching, we increase mobility of the joints, and if the stretching is performed before workout, we prepare the joints for the effort, and thanks to this reduce the risk of injury. The following should also take care of their joints People who work every day in a standing or sitting position should also should also take care of their joints.
Improve blood circulation
When we stretch our muscles, we provide them with better blood circulation. When the blood starts circulating more efficiently, we feel better and our body regenerates more efficiently. Improved blood circulation also affects the motivation to act, because the whole body works better. This is another argument that not only athletes should stretch. athletes. When we come home after work and we do not have time for any any particular effort, just 10 minutes of stretching will accelerate circulation in the veins and stimulates us, so that the end of the day more productive at the end of the day.
Learning to maintain proper posture
Tight muscles are often the reason We don't have the right posture. This results in This not only results in back pain, but can also lead to serious spinal This not only results in back pain but can also lead to serious spinal disorders. Stretching exercises relax muscles, reducing their tension; they also help to lengthen them. When our body feels relaxed, maintaining good posture will not be a problem. posture will not be a problem for us. This is very important not only This is very important not only for the health of the vertebrae themselves, but also internal organs, which can become compressed when the body is body is bent.
Stress reduction
Muscle tension can be created by training, staying in one position for a long time, but also by stress. It is one of the most dangerous factors causing havoc in our body. It starts with excessive tension, which causes a general deterioration of well-being, and may lead to serious health consequences. During stretching we relax, and this means that the stress level in our body decreases. There is a relaxation of not only the body, but also the mind. Focusing on breathing, we provide ourselves with additional relaxation and affect the well-being. Stretching also promotes tissue oxygenation, which is also beneficial in combating the effects of oxidative stress.
Improving the quality of sleep
Tense muscles also often prevent us from sleeping, causing insomnia. What's more, active people who don't stretch after a hard workout may also have trouble falling asleep because the body can't relax properly. Stretching relaxes the muscles, thereby calming the body and putting it in a state of pleasant relaxation, which in turn promotes sleep. If you want to improve the quality of your sleep, it's best to stretch right before you go to bed.
Injury prevention
I have mentioned it before. Stretching prepares our muscles and joints for intensive Stretching prepares our muscles and joints for intensive effort, which reduces the risk of injury, resulting from overtraining or too rapid a start. Stretching after a workout helps lengthen muscles and increases the range of movement in your joints so that they recover more quickly and the risk of injury is reduced. The risk of injury is also reduced.
Stretching and soreness
Sore muscles after an intense workout are a kind of side effect of exercise. Some say that after a successful workout muscle soreness must be, because then you know that our efforts have worked on the muscles. However, sometimes the pain can be so great that it prevents us from exercising. Usually the recovery period for muscles is 48 to 72 hours, but it all depends on proper nutrition, body relaxation and many other factors. If we want our soreness to be smaller and disappear faster, stretching can help us. When we perform stretching, we improve circulation, and thanks to that we improve the distribution of nutrients to the tissues. And when our body gets the right amount of nourishment, it recovers faster. The intensity of soreness can also depend on muscle 'contractures', and this means that relaxing and stretching muscles will promote pain reduction. And if the soreness disappears faster, we will be able to perform another workout faster.
Stretching – for whom?
Stretching is something not only athletes should use. Yes, they will benefit from it, but the stretching should also be used by people who are not very active. Remember that staying in one position often tenses muscles and causes them to become shorter. As a result, they become contracted. People who spend long hours at their desks often have back problems, they start to hunch back because they are not able to maintain the correct posture. If we react quickly enough, stretching can help us get rid of the problem.
Stretching is an activity for everyone, regardless of age. Perhaps older people are not able to to perform as good stretching as younger people, but in But in any case, it can improve your range of motion. Not for nothing stretching has become an integral part of rehabilitation. Even if we do not yet feel any effects effects associated with excessive muscle tension, 10-minute stretching several times a week certainly will not hurt us.
Stretching exercises – examples
Below are some stretching exercises stretching exercises that we can do both at the gym and at home. and at home.
Stretching chest muscles chest muscles
Exercise 1
Starting position:
Lie down on your stomach. One arm Move one arm (the stretched arm) forward so that its elbow is at the level of the ear. Move one arm (the stretched hand) forward so that its elbow is at the level of your ear. Place the other hand at the level of the The other hand is at the level of the shoulder complex, with the whole hand resting on the floor. The forearm The forearm should be perpendicular to the floor.
Movement:
The shoulder blade from the stretched side Try to bring the scapula from the stretched side closer to the spine. Push yourself with the hand Move the leg (on the same side of the body) to the opposite side of the body. The stretched arm is moved to the opposite side of the body and the trunk is twisted towards the stretched arm. the opposite side of the body, twisting the trunk in the direction of the stretched arm. While in this position, While in this position, try to move the sternum away from the stretched arm.
Exercise 2
Position:
Stand slightly apart near Stabilization object (wall, gate) – at arm's length. arm's distance. Lift the arm bent in the elbow over the shoulder and lean it against stabilized element. From the stretched side try to bring the scapula The elbow from the stretched side should be brought closer to the spine.
Movement:
Twist the trunk in the direction opposite to the position of the arm. After reaching the maximum turn Try to move your hips and trunk forward, stretching your chest muscles as much as possible. Stretch your chest muscles as much as possible.
Gluteal muscles
Starting position:
Lie on your back with your legs bent at the knees. Place the foot of one leg (being stretched) on the knee of the other leg (assisting). Put the foot of one leg (the one being stretched) on the knee of the other (the assisting leg). Place the foot of one leg (being stretched) on the knee of the other leg (assisting). The knee of the bent leg faces outwards.
Movement:
Lift the trunk, interlace the hands on the Interlace your hands on the tibia of the leg that is on the floor. Try to gently pull the stretched leg towards your chest.
Back muscles
Starting position:
Stand in front of a wall, arms Stand in front of a wall with your hands slightly wider than shoulder-width apart. lean against the wall. Walk two steps away from the wall with one foot behind the other. Put one foot behind the other.
Movement:
Without taking your feet off the floor, Try to bring your chest as close to the wall as possible.
Quadriceps muscles of the thigh
Starting position:
Lie down on the floor on one side, legs straight.
Movement:
Bend the leg located on top, at the same time with your hand from the same side grab the ankle of the bent leg. Try to pull the ankle as close to the buttock as possible.
Also read: Crossfit – what is it? Principles, effects