Saw Palmetto – health properties and usefulness in the treatment of alopecia
Text updated 21.04.2021
Fighting baldness is a long and complicated process requiring a scientific approach, to find the one method that can bring the desired results of treatment. The first thing to do is to accurately diagnose what kind of disease we are dealing with and only this is the basis to start treatment. Most often we are not able to do it on our own, so it is better to go with the problem of hair loss to a specialist, e.g. professional trychologist. Only he will be able to choose the best preparations, which can quickly cope with even the greatest baldness, and in addition to typical pharmaceuticals, also natural substances, extract from plants such as sabal palm, also known as Saw Palmetto, work well.
Sabal palm – a medicinal plant of exotic origin
Sabal palm is a plant that grows in the wild in many regions of the United States, especially in states such as Oklahoma, Florida, Alabama, North and South Carolina. It belongs to a large family of arecae and its Latin name is Serenoa repens. In our country you can also meet with the name of the quilted sided palm, but it is less commonly used, more often we simply say Saw Palmetto.
Sabal palm – the use in natural medicine
Saw Palmetto has been widely used in natural medicine for over a hundred years, the end of the 19th century, and its fruit with a characteristic purple-black color is used to prepare health extracts. Much earlier its healing properties were appreciated by Indians, for whom it found almost universal use, being not only an ingredient of preparations for various diseases, but also an addition to many dishes.
This use attracted the interest of 19th century American scientists, who researched it and were the first to describe its numerous health-promoting properties, and now we know that these stem directly from the composition of the sabal palm fruit.
Sabal palm – the composition of the plant
Unfortunately, after the initial admiration of the properties and effects of the sabal palm, it was forgotten for many years and the possibility of its use in the treatment of various ailments was only raised in the eighties of the twentieth century. It was researched again and all substances valuable to health, which are its components, were isolated:
Vegetable oils
Inherent components of every species of palm, being an extremely rich source of valuable nutrients, among which it is worth mentioning:
Vitamin A, also known as beta-carotene or retinol, is essential for good vision, preventing hair loss and brittleness as well as skin diseases such as acne;
vitamin E, commonly known as the "vitamin of youth" and "fertility vitamin", a strong antioxidant removing dangerous free radicals from the body, stopping the aging process, preventing skin diseases, moisturizing it. It also supports the work of the reproductive system, both in women and men, and in men prevents sperm degeneration;
Vitamin K, without which there is practically no question of the proper functioning of most of our body systems. Vitamin K is responsible for blood clotting, prevents blood vessel walls from cracking, has anti-inflammatory and antibacterial properties, helps maintain proper calcium balance and prevents osteoporosis (bone thinning);
coenzyme Q10, another antioxidant, organic chemical compound responsible for reducing the level of "bad" cholesterol in blood, strengthens the body's immunity, prevents cancer, regulates glucose levels, enhances fertility in men and women, helps in the fight against overweight and obesity;
Flavonoids
Such as e.g. isocquercitrin, another active compound also strengthening weakened blood vessels, protecting against allergies, reducing the risk of cancer, acting as a diastolic and diuretic, detoxifying the body.
Phytosterols
Also called plant sterols, the most important of which are β-sitosterol, sterol glycoside, sitosterol esters, substances resembling cholesterol in structure. Their influence on health cannot be underestimated, as they have beneficial effects on
heart and other elements of the cardiovascular system by maintaining safe levels of cholesterol LDL;
preventing the development of cancer by blocking the multiplication of cancer cells;
relieving symptoms of prostate hypertrophy, a disease that is affecting more and more men over the age of 40;
reducing health-threatening inflammation;
stimulating the production and secretion of insulin, so they are an important part of the prevention of diabetes, especially type 2;
skin, strengthening the epidermis and preventing it from drying out, which is also important for the prevention of hair loss.
Sabal palm – what diseases does it prevent?
The chemical composition of the sabal palm automatically translates into its health-promoting properties, and in this regard the plant really has something to boast about. It should be appreciated especially by men, for whom it is an extremely effective remedy for many diseases and is used to treat:
Prostatic hypertrophy
The already mentioned prostate hypertrophy, also called steroid, but it works mostly in the early stages of this disease, when the symptoms are still relatively mild, not very intense:
a feeling of constant urge to urinate;
tachycardia;
frequent urination, especially at night;
weak urine stream.
In case of such symptoms, preparations containing extracts of sabal palm fruits can be successfully applied. They effectively stop the conversion of the most important male hormone, testosterone, into its harmful variant DHT, or dihydrotestosterone. DHT molecules almost immediately begin their destructiveaction in prostate cells, leading to their excessive growth, which is one of the causes of prostatic hypertrophy. This process must be stopped immediately to avoid a complete blockage of the urethral outlet.
Testicular inflammations
Another male disease, an infection caused by different strains of bacteria such as Chlamydia trachomatis, or Escherichia coli, or retention of urine in the bladder caused, for example, by kidney disease or prostate hypertrophy. Testicular inflammation, in the treatment of which sabal palm is also useful, manifests itself:
a burning sensation when passing urine;
Frequent urination;
pains in the perineum and rectal area;
purulent discharge from the urethra.
Erectile dysfunction
Sabal palm is also recommended as a powerful natural remedy for all potency and erection problems. It quickly eliminates existing disorders thanks to its action:
regulating secretion of sex hormones, testosterone responsible for strong and long lasting erection;
supporting functioning of the circulatory system, correct blood supply to the penis, another basis for correct erection.
Sabal palm – against androgenetic alopecia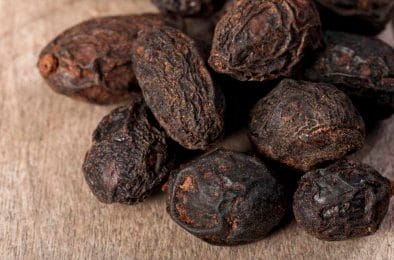 One of the most important uses of sabal palm is to prevent excessive hair loss, or accelerated baldness. It works well for many types of this disease, but it is most effective in the treatment of androgenic alopecia, caused by hypersensitivity of hair follicles to androgens.
Specialists have long recognized androgenic alopecia as one of the most common causes of hair loss in both men and women. It occurs as a result of the already mentioned conversion of testosterone, which occurs in some amount also in women, into its harmful derivative – dihydrotestosterone, abbreviated as DHT. This happens under the influence of the enzyme type II 5 – alpha – reductase, and the newly formed compound initially leads to shrinkage of hair follicles, and then to their gradual death.
The high amount of DHT also contributes to a significantshortening of the anagen phase of hair growth, which normally lasts from 2 to 6 years, to just a few weeks. The follicles cannot function properly, as a result the hair becomes increasingly weakened, thin, brittle and begins to fall out in very large quantities. The reasons for this, which must be dealt with by the sabal palm fruit extract, are differentiated by gender:
women, in them the main causes of androgenetic alopecia are genetic, inheriting a tendency to this disease from the older generation of their family. Equally often this variety of baldness is caused by hormonal imbalances, including most of the sex hormones secreted in the body;
Men, here the case is simpler, most often androgenic alopecia is due to genetic predisposition, sometimes it is also caused by coexisting diseases, especially the above mentioned prostatic hyperplasia, or prostate.
Sabal palm – action on hair and side effects
Showing great effectiveness in stopping accelerated balding, sabal palm has been included in the composition of many dietary supplements and preparations, which can also be purchased in our country. It is also worth using cosmetics for daily hair care containing sabal palm, shampoos, conditioners or rubs. Its action comes down to inhibiting the processes leading to the conversion of testosterone into DHT, the activity of the enzyme 5 – alpha – reductase. This has a double benefit, in addition to stopping baldness, we will also get rid of the mentioned problems with the prostate.
When using sabal palm, despite its undoubted advantages, some caution should be exercised and it is not recommended for pregnant women, in whom it may even lead to miscarriage. It should also not be used by women who are breast-feeding, and it is worth remembering that its effects may reduce the effectiveness of contraceptives. The dosage recommended by the manufacturer of a given preparation must be strictly observed, and exceeding the permitted dose causes quite bothersome side effects:
abdominal pains;
nausea, vomiting and diarrhea;
headaches;
heavy periods due to reduced blood clotting;
increased susceptibility to bruising;
problems with wound healing;
bleeding from the mouth.
A beneficial natural alternative – from our pill ranking
The side effects of sabal palm can discourage its use, so you may want to consider an equally effective but safer alternative. These are the supplements we have included in our ranking of pills against baldness, where there is something for everyone.
Sources:
https://www.healthline.com/nutrition/saw-palmetto#male-pattern-baldness
https://www.medicalnewstoday.com/articles/326927#how-to-use