How to stay in shape while working in the office?
When we sit, we use much less energy than when we stand or move. Researchers studying the effects of prolonged sitting on our bodies have found that it leads to a number of health problems. These include overweight and obesity, elevated blood pressure, high blood sugar, excess waistline fat and abnormal cholesterol levels. All of these conditions increase the risk of death from cardiovascular disease and cancer.
However, if our job requires us to sit However, if our work requires us to sit in an office for several hours, it is sometimes difficult to keep fit at the same time. Fortunately, there is a way to do it.
Office work – how to keep fit?
Research has shown that 45 to 60 minutes of moderate physical activity a day effectively counteracts the effects of too much sitting.
You can start with a few simple steps:
take a break from sitting every 30 minutes;
When working at your desk, change your position frequently. change your position frequently;
stand up when talking on the phone on the phone;
take a walk during your lunch break. walk.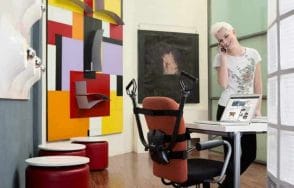 The impact of physical activity, even very moderate activity, can be significant. Moving burns more calories, which can make it easier to lose weight and increase vital energy levels. In addition, physical activity helps keep our joints and musculoskeletal system in good shape and promotes a sense of well-being. Here are some ways to keep fit and slim while working while sitting.
Follow a proper diet
One of the best things you can do for your health and well-being, especially if you have a sedentary office job, is to change your diet, a proper balanced diet.
Start your day by eating a healthy, wholesome breakfast. This will provide the energy and nutrients you need to function efficiently all day.
Eat healthy meals at work
If you're on a diet and you don't have the opportunity to eat something healthy and nutritious at work, and you don't want to take advantage of the wide fast-food menu, the ideal solution is to prepare meals at home and take them with you to work. Dice grilled chicken breast, add your favorite vegetables, mozzarella cheese, cashew nuts and self-made herbal sauce based on natural yogurt. Such a dish can be easily placed in a plastic container and eaten on a break at work. Forget about caloric sweetened drinks, unhealthy energy drinks and hectoliters of coffee. Instead, try green tea, natural fruit juices and mineral water, which can be flavoured with lemon or lime to add vitamins and a refreshing taste. If you often feel sleepy at work, it may be due to dehydration. Therefore, remember to drink 8 to 10 glasses of water every day.
Activity physical activity
Going to the gym may be the last thing on your mind after a hard day's work, but you should make room in your busy schedule for physical activity. Many studies have shown that 30 minutes of exercise, 3 to 4 times a week, is enough to significantly improve overall well-being and health. Exercise not only stimulates the body, but also oxygenates brain cells, so we can work more efficiently.
Simple exercises you can do at work
Isometric exercises are often called static strength training. They don't require You don't need special equipment or a lot of free space. Isometrics involves holding the muscles in tension for seconds with no visible movement in the joints.
If you spend a lot of time If you spend a lot of time working on your computer, squeezing your hands will relief for fingers that are tired from typing or clicking mouse.
Clench your hand into a fist,
hold for 10 seconds,
relax and stretch your fingers,
repeat 10 times.
Strengthen your calves while sitting
Lift your feet on your toes,
hold this position for 10 – 20 seconds,
relax your feet,
repeat 10 times.
Thigh exercises
Join your thighs together and press them against each other,
hold for 10 to 20 seconds,
repeat 10 times.
Isometric exercise for abdominal muscles
Sitting, tighten the abdominal muscles,
Maintaining tension, you can perform additional movements to the sides, then engage transverse muscles,
Repeat the exercise in 10 series of 10 – 20 seconds each.
Do not forget about stretching exercises, they help to make muscles more flexible, also strengthen tendons and increase joint mobility. Regular stretching reduces muscle tension caused by prolonged sitting. Here are examples of exercises that can easily be done in the office.
Stretching the neck and neck muscles
Sit up straight,
tilt your head to one side, as if you want to touch your ear to your shoulder,
you'll feel your neck muscles stretch the muscles in your neck,
Hold this position for 20 seconds and change sides.
Sit up straight and bend your head as if you want to touch your chin to your chest,
you'll feel the muscles in your of your neck,
hold the position for 20 seconds and return to the starting position.
Shoulder and arm stretches
Sit up straight,
Grab your right shoulder with your left hand,
Grasp the elbow of your left shoulder with your right hand with your right hand around the elbow of your left arm and pull it towards the upper part chest,
you will feel the stretch your shoulder muscles,
hold this position for 20 seconds and return to the starting position,
Repeat the exercise on the other arm. repeat for the other arm.
Stretching the thigh muscles
Sit straight and comfortably in a chair or armchair,
Lift one leg up,
grab it by the knee and pull it to your chest,
You will feel a stretch in the back of your thighs,
Hold this position for 20 – 30 seconds,
return to the starting position and repeat the exercise on the other leg.
See also: Quick workout cardio – HIIT and TABATA
Stand up every now and then
Sitting at a desk all day has a very negative effect on your entire body, so it's important to walk around the office as often as possible and take every opportunity to do some simple exercises. Try to take more frequent breaks, use the stairs instead of the elevator.
Take care of your posture while sitting
Incorrect posture while sitting can cause annoying back and neck pain. Prevention is better than cure. Here are the basic steps you should follow to ensure proper comfort and safety while sitting for long periods of time at the office computer.
Step 1
How to sit on a chair/chair?
While standing, push your hips back and tilt your body forward,
starting the movement from the hips, bend bend your knees slightly and sit down,
adjust the height of your seat so that your feet are flat on the floor and your knees are even or slightly below the hip line,
Adjust the angle of the seat back,
make sure that your upper and lower Make sure that your upper and lower back rests firmly against the backrest,
Step 2
Adjusting the monitor position.
Adjust the height of the screen so that your neck is in a neutral, relaxed position,
the monitor should be directly in front of you,
the top of the screen should be The top of the screen should be at the same height as your eyes,
Sit at a distance of at least distance of at least arm's length from the monitor screen,
adjust the angle of the monitor, Adjust the monitor angle so the base of the monitor is closer to you than the top of the monitor,
Try to adjust the Try to adjust the angle to avoid glare on the screen, which can Try to adjust the angle to avoid glare on the screen, which can cause eye pain and headaches.