How to lose 20 kilos fast – tips for weight loss
Express weight loss and minimizing the risk of yo-yo effect is not such a trivial matter. Surely you belong to that group of people who have tried almost all restrictive diets or strenuous exercises. Maybe you achieved your goal, but after some time the weight came back? This is the case in many cases. In my article you will find the answer to how to lose 20 kilos fast and avoid the yoyo effect.
How to lose 20 kg in a month or two? Fast does not mean effective!
Almost everyone would like to lose weight, but without having to deny themselves sweets and hard, forceful exercises. Manufacturers of dietary supplements convince us that using their product will make the dreams of all slimmers come true in a short time without the need to care about movement and a healthy diet.
However, the subject of slimming should be approached completely differently, first of all it has to be a conscious, responsible decision. We cannot allow easy and express weight loss to lead to irreversible changes in our body. It may cause the risk of hormonal problems and yoyo effect. The ideal figure is certainly a goal worth certain sacrifices, but we should not pursue it at the cost of our health and life.
Then we are often threatened with negative health effects such as sagging and inflexible skin that hasn't had time to adapt to the new size, as well as unpredictable effects after the end of the treatment such as behavioral changes or eating disorders.
During a very restrictive diet there is a chance that we lose even 20 kg in a month, of course everything depends on our initial weight. During this time our metabolism will slow down, the body will start to store fat tissue, and after the end of the slimming period it will ask for nutrient deficiencies. That is why in the end we will be accompanied by a constant and very intense feeling of hunger. In this way we risk developing eating disorders, bulimia, anorexia or obsessive-compulsive disorders, which are accompanied by eating without restraint and intensive weight gain.
See also: How to lose weight from thighs?
Thoughtful weight loss should be sensible and take place gradually. It is best to have a meticulously planned strategy involving the implementation and new eating habits and high physical activity permanently into your life. It would seem that this is very ineffective. Nothing could be further from the truth, if we want to achieve relatively fast and permanent results, let's not focus on the time it takes, but the quality of life.
Effective weight loss diet 20 kg
You have to accept, my blog reader, that diet is the basis of effective weight loss. By indulging in sweets and junk food and taking a weight loss drug or supplement you will never achieve the figure you dream of. It is not about starving yourself, but about introducing the basic principles of a completely new healthy eating style, which will change your life completely positively.
The diet must be varied and non-monotonous. There are huge amounts of low-calorie products, thanks to which you will replace the traditional. This will allow you not to starve, diversify your diet and not give up pleasure.
These products include: whole grain cereals, groats, rice, pasta, oatmeal, as well as lean dairy and meat, fresh fish, vegetables and fruit, seeds, seeds and nuts.
How to lose 20 kg in a short time? How to avoid the yoyo effect?
Try to plan your menu for the whole week, which slowly avoids junk food and snacking.
It is better to eat more frequent, smaller meals than bigger and less frequent ones. Therefore, eat preferably 5 such meals a day.
Eating should be slow. Thanks to this you will not only satisfy the feeling of hunger, but also you will definitely limit the number of calories consumed.
Try not to snack between meals, but when you do, let it be healthy snacks like raw carrots, nuts and nuts.
Let's provide an appropriate amount of dietary fiber, thanks to which we get the feeling of long-lasting satiety and regulation of digestive processes.
Adequate supply of raw vegetables and fresh fruit should be part of your diet.
Each of our breakfasts must be fairly hearty to provide us with strength and energy for the whole day. The last meal should be eaten no later than 2 hours before bedtime. This will prevent the accumulation of excess weight, because in the evening metabolism slows down a bit.
Let's take care of proper hydration, so let's drink 1,5-3,5l of fluids daily depending on our physical activity. They can be green teas, fruit teas, herbal infusions and freshly squeezed juices without added sugar.
Eat these foods to lose weight:
Vegetables – They are an integral part during weight loss. They contain a large amount of dietary fiber, which positively affects the intensity of metabolism. They are also quite low in calories, and at the same time guarantee the feeling of long-lasting satiety. It is worth reaching for products such as cauliflower, broccoli, tomato, cucumber, zucchini, cabbage, green beans, lettuce, peppers or eggplant.
Fruits – We can find among them those which contain a lot of calories and with a high Glycemic Index as those with less of them. Let's reach for those full of vitamins and minerals apples, apricots, peaches, plums, pears, mangoes, bananas, grapes, dates, figs, pomegranates, kiwi, raspberries, blueberries, strawberries, cherries or cherries. There are also those which support weight loss, stop excessive craving and stimulate metabolism: pineapple, prickly pear, papaya and grapefruit.
Whole-grain and unprocessed products. Choose wholemeal bread, brown rice, wild rice and unroasted barley groats, buckwheat, pearl barley, millet.
Lean dairy products – choose natural yoghurts, kefirs, buttermilk without sugar or other sweeteners, semi-skimmed and skimmed cottage cheese, 1.5% milk.
Fresh and unprocessed lean meat. Such products include chicken or turkey breast, beef, pork loin, veal, lamb. Preferably boiled in water or steamed, fried without much fat.
Fresh seafood – Fish baked in foil or steamed with vegetables, as well as prawns. They are much healthier than meat and rich in protein, which supports the entire process of weight loss.
Pips, nuts and seeds – They are characterized by a large amount of fiber, which allows you to effectively accelerate metabolism and burning of fat tissue. The best seeds will be chia, sunflower, pumpkin, sesame and flaxseed, as well as walnuts, peanuts, peanuts or grape seeds.
Vegetable fats – choose olive oil, flaxseed oil or coconut oil.
Water – make sure you get the right amount ofwater throughout the day.
Try to avoid these things:
White bread – Processed flour, does not contain fiber or much vitamins and minerals, instead it contains empty calories" after which we are hungry again immediately.
Fatty soups and sauces – Far from it! They are often seasoned with flour, full cream and hard to digest mayonnaise.
Sweets – Bars are mostly hydrogenated fats, harmful additives and flavor enhancers, sometimes even contributing to cancer, atherosclerosis or diabetes.
Fatty meats, breaded and deep-fried.
Processed meats and delicatessen products – If you choose processed meats let it be lean ham, chicken or turkey breast.
Processed foods – Give up once and for all the worthless soups, gravy powders, crisps, sticks, sweetened latkes, tinned foods, and the fit and light products that aren't fit and light. These foods are full of preservatives, flavour enhancers, salt and trans fats.
Fast Food – fast and ready-made foods are calorie bombs, high in sugars, salt and unhealthy fats.
Sweetened, carbonated drinks and alcohol – They stimulate appetite and are high in calories.
How to lose 20 kg? – Exercises to speed up metabolism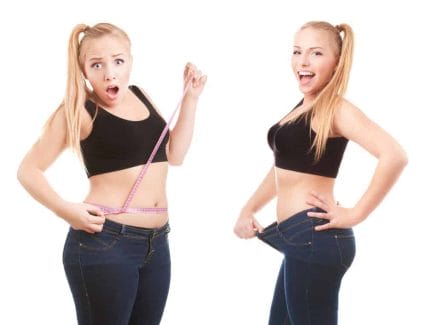 Diet is 70% of success, but the remaining 30% is physical activity, so although a healthydiet is the basic part, without movement we will not lose weight. The best and comprehensive solution will be a combination of a well-balanced, individual slimming diet and a training plan, as well as the help of a good supplement. With this method we will surely achieve our goal and lose many kilograms that we want to shed.
Aerobic workout, so called Cardio, will be great in terms of accelerating fat burning. This is a moderately demanding workout for beginners. It is recommended that it lasts about an hour. If we want to get better results it will be good to combine it with strength training. An interesting option is approx. 15-20 minutes of strength exercises and 40-35 minutes of running or cycling.
Interval training is considered to be the most effective in burning fat tissue . It consists of fast and alternating less and more exhausting exercises such as fast sprinting with jogging. It is very intensive, therefore it is designed for people in very good physical condition.
How to lose 20 kg fast? – with tablets from our ranking
Weight loss, especially when we want to lose at least 20 kg, is a process that requires adequate support. We are not always able to watch our diet carefully, which may also lack the right doses of essential nutrients needed for fast and permanent weight reduction. This can be provided by dietary supplements, which you will find in our new ranking of the most effective slimming tablets. With them you will provide your body with everything it needs to cope with even the greatest excess weight, and the weight will drop by more than the intended 20 kg.
Read also: Ranking of fat burners