Coconut oil – a wealth of health and weight loss properties
Coconut oil is a product that increasingly often finds its way into the shopping baskets of people who attach great importance to a healthy lifestyle, well-groomed skin and a slim figure. Due to its excellent consistency and intensive oiling, protecting and renewing effect, it works brilliantly as a home cosmetic. The saturated fatty acids contained in coconut oil, which occur here in a unique medium-chain variety, as well as a rich palette of other valuable bio-ingredients, make it also show countless health-promoting properties and makes it one of the leading superfoods.
Coconut oil is one of those good fats that have a beneficial effect on our body, just like olive oil, linseed oil, rapeseed oil, hemp oil and other vegetable oils. Admittedly, it abounds in saturated fatty acids, those which are said to be the most dangerous, but in this case they are not a problem for our health, on the contrary, they can be very valuable to it.
This is because of the specific length of the fatty acid chains of which they are composed. However, does this mean that we can consume coconut oil without restrictions and without worrying about body weight?
Of course not. Although coconut oil meets most of the requirements set by nutritionists, we should not eat too much of it. Do not forget that it contains a lot of calories as a fat. Consumed in excess, it can also be unfriendly to the digestive process and metabolism. What is more, its significant amounts in the daily diet may lead to an increase in the level of bad cholesterol and be a factor increasing the risk of cardiovascular diseases.
What is the conclusion? Coconut oil consumed in small quantities has a positive effect on our health and figure and is highly recommended, but consumed in excessive amounts, it becomes harmful and is not recommended.
The optimal consumption of coconut oil is 2-3 tablespoons per day. However, if you also use other sources of fat during the day, such as canola oil, soybean oil or pumpkin seed oil, which is rich in unsaturated fatty acids, limit yourself to about 1 tablespoon of coconut oil.
Types of coconut oil
Coconut oil is obtained by pressing copra, which is the dried flesh of the coconut. After pressing, the oil is either refined or left unrefined. Coconut oil is sometimes also called coconut fat or coconut butter.
Refined coconut oil and unrefined coconut oil differ in production method, composition and health properties:
Refined coconut oil – heat pressed, during this process most of the nutrients in it are destroyed. Refined coconut oil has a slightly whitish, almost transparent colour, is tasteless and has no aroma. It has a higher smoke point (204 degrees C) than unrefined coconut oil. It is perfect for spreading on bread, frying and baking.
Unrefined coconut oil – cold-pressed, highly nutritious, recommended for consumption by nutritionists. It contains a large range of vitamins, minerals and antioxidants. Unrefined coconut oil has a white color and a pleasant taste and smell of coconut with light accords of nuts. It is excellent as a natural antidote to many ailments, as a home cosmetic and as a food additive, e.g. to dietetic desserts or pastes. There is also nothing to stop us from spreading it on bread, using it in various pies, pancakes, omelettes, etc. The smoke point of unrefined coconut oil is 177 degrees C.
At room temperature, coconut oil is solid, but it quickly becomes liquid when heated.
Coconut oil and palm oil – are they the same?
Many people associate coconut oil with palm oil. However, these are not the same products, they are actually completely different, and in various respects. First of all, these are fats derived from two completely different plants. Coconut oil is extracted from the nuts of the coconut palm, while palm oil is obtained from the fruit of the Guinea palm.
The second important point is the properties of both products. Coconut oil is noble, saturated with valuable substances for our body, has great potential both in terms of health, cosmetics and culinary. Whether in refined or unrefined version, it is beneficial for us.
Palm oil is massively refined and hardened, and it is mainly in this form that it is present on the market. It is a low quality fat, cheap, obtained on a large industrial scale and devoid of nutritional value. It is commonly used in food, especially those with a high degree of processing. It is present in almost all purchased sweets. Due to the high content of harmful trans fats and adverse effects on the body, refined, hydrogenated palm oil meets with constant criticism from doctors and nutritionists.
Coconut oil – composition, nutritional values
Coconut oil largely consists of medium-chain saturated fatty acids. Medium-chain fatty acids contain between 6 and 12 carbon atoms. Unlike long-chain saturated fatty acids, these medium-chain fatty acids are not stored and do not threaten you with weight gain. Once ingested, they are absorbed, digested and metabolized very quickly. They quickly reach the liver and are quickly used as a current source of energy for the body.
Saturated fatty acids make up about 90% of the composition of coconut oil. The product also contains about 6.3% monounsaturated fatty acids (oleic acid) and about 1.7% polyunsaturated fatty acids (linolenic acid).
The saturated fatty acids in coconut oil are:
lauric acid,
caprylic acid,
capric acid,
myristic acid,
stearic acid,
palmitic acid.
Other ingredients in coconut oil are:
Vitamin E,
B vitamins,
vitamin K,
vitamin C,
magnesium,
calcium,
iron,
potassium,
zinc,
polyphenols,
phytosterols,
tocopherols,
tocotrienols.
Coconut oil – properties, effects on health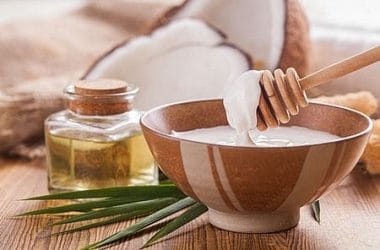 The regular use of unrefined coconut oil in the kitchen, can bring us many health benefits. Thanks to its exceptionally rich composition and multiple properties, it works both in fighting and preventing a number of ailments and diseases. It is also a way to generally increase the level of vitality and energy and improve efficiency, necessary for physical activity.
Called a natural antibiotic, coconut oil has anti-inflammatory and antibacterial effects. It also accelerates the healing of wounds. Thanks to the high content of lauric acid it effectively supports our immune system. It fights harmful microorganisms by damaging their cell membranes. By destroying harmful bacteria, coconut oil does not destroy the good bacteria that make up our intestinal microflora, as traditional antibiotics unfortunately do.
As already mentioned, coconut oil is made up of a high percentage of medium-chain saturated fatty acids, which are characterized by small molecules, good solubility and rapid absorption. This structure of coconut oil makes its digestion much easier, faster and more efficient (in just 3 short steps). Thus, this oil relieves the digestive system, especially such parts as the stomach, pancreas, liver and gallbladder.
The numerous antioxidants contained in coconut oil protect us from dangerous free radicals, delaying the body's natural ageing processes and reducing the risk of cancer.
Recent studies have shown its beneficial effect on the treatment of dangerous neurodegenerative diseases – Parkinson and Alzheimer, which are a serious social problem. It is also worth using in the prevention of heart disease, as it regulates blood pressure while reducing the risk of heart attack or stroke. Although it contributes to the general increase of cholesterol levels, it mainly affects the increase of HDL cholesterol, i.e. the good fraction. On the other hand, bad LDL cholesterol is hardly raised by coconut oil.
Other properties of coconut oil
revitalizes and strengthens the body, improves immunity,
has a slightly analgesic, antifungal, antiviral, bactericidal effect,
quickly after consumption gives a large dose of energy, reduces fatigue,
alleviates skin ailments, including acne, enhances the skin regeneration process,
takes care of oral and dental health,
has a positive effect on bones, slows down the progress of osteoporosis, strengthens bones and improves their structure,
helps to restore the hormonal balance,
normalizes carbohydrate metabolism in the body, is useful in combating insulin resistance and diabetes.
Use of coconut oil in cosmetics
Coconut oil is widely used both in ready-made cosmetics and in homemade concoctions. It has a brilliant effect on the skin, so it can be a remedy for us for many imperfections, ranging from recurrent skin infections, to dryness and loss of skin quality, to hyperpigmentation. Equally, coconut oil works well as an antidote for weak and damaged hair and nails.
Coconut oil for the skin
More and more often in drugstores you can come across creams, lotions, tonics and other preparations with coconut oil. Undoubtedly, they are worth a try, but for those who prefer natural care and homemade cosmetics, an interesting option is also the use of pure coconut oil directly on the skin.
Lubricating the face or other body parts with coconut oil we will get a simultaneous effect of cleansing, nourishing, moisturizing, firming and evening out the color.
Applied directly to the skin, coconut oil is also a method to strengthen the lipid barrier of the epidermis, and thus increase skin resistance to damage and irritation. Coconut oil will also help us deal with eczema, hard to heal wounds and skin inflammation.
Interestingly, coconut oil, due to its high antioxidant content, is also a way to slow down the skin aging process. Treatment with this product will help us reduce wrinkles and get the effect of a smoother, tighter and more vital complexion.
Coconut oil (preferably unrefined) can be applied directly to the skin or prepare a cream, scrub, lotion with its participation. Here are examples of homemade cosmetics with coconut oil:
Regenerating and rejuvenating scrub with coconut oil
We prepare: 4 tablespoons of coconut oil, 6 tablespoons of sugar and 2 tablespoons of lemon juice. Mix the ingredients until a homogeneous mass is obtained. Apply to the selected parts of the body, massage the skin for a while, then rinse.
Cleansing face mask with coconut oil for fighting blemishes
Heat a tablespoon of coconut oil until it reaches a liquid consistency. Add 3 drops of tea oil and mix. Apply to the face. Wash off after 15 minutes.
Moisturizing and nourishing body lotion with coconut oil
We need: 4 tablespoons of coconut oil, 4 tablespoons of shea butter, 1 tablespoon of argan oil. Heat the coconut oil and shea butter until they reach a liquid consistency. Stir. Add the argan oil, mix again. Apply the cosmetic to the cleansed skin.
Coconut oil for hair
The beneficial effects of coconut oil will also feel our hair, which thanks to it will become better nourished, stronger, properly moisturized, soft, pleasant to the touch, smooth and shiny as never before. Coconut oil also adds volume to your hair and improves the condition of your scalp, regulating sebum production and reducing dandruff. Coconut oil is particularly suitable for women with low-pored, thick or heavy hair. How to use coconut oil on your hair? Here are some sample treatments:
Oiling the hair with coconut oil
Warm 2 tablespoons of unrefined coconut oil in your hands to make it more liquid. Apply to the scalp and throughout the length of the hair. You can put on a cap or a turban. Leave the oil on your hair for at least 1 hour and preferably for a couple of hours. Then wash your hair with a mild shampoo.
Strengthening and beautifying hair mask with coconut oil
Heat 2 tablespoons of unrefined coconut oil until it reaches a liquid form. Add half a mashed avocado. Thoroughly mix the ingredients. Apply to damp hair. After about 30 minutes wash your hair with a mild shampoo.
Revitalizing and brightening hair mask with coconut oil
Dissolve 1 tablespoon of coconut oil. Add 1 tablespoon of liquid honey and 1 tablespoon of lemon juice. Mix the ingredients. Apply to your hair for 30 minutes, then wash your hair with a mild shampoo.
We can also use coconut oil as a serum for damaged and split ends.
Coconut oil for weight loss
The diet which is to bring efficient, fast and, most importantly, permanent weight loss excludes the consumption of large amounts of fats, including vegetable oils. Many people striving to reduce their excess weight or obesity ask themselves whether coconut oil can really help in slimming.
The answer is very simple – it can, but firstly, it should not be consumed in too large quantities (about 1 tablespoon a day is enough), and secondly, at the same time we should limit other sources of fats, especially the inferior varieties. What's more, the amount of simple carbohydrates consumed in the daily diet should also be reduced.
There is no doubt that every enthusiast of a healthy lifestyle and body shaping will find coconut oil useful in their kitchen. Most of us will like its taste, but surely everyone will appreciate its beneficial effects on the functioning of the body and its well-being. For people seeking to reduce body weight, the slimming effects of coconut oil treatment can be surprisingly good. Its consumption results in an increase in the concentration of ketone bodies in the blood, which leads to a reduction in appetite and more efficient burning of fat tissue.
Properties of coconut oil which make weight loss faster and more effective
speeds up metabolism, increases the rate of burning calories;
inhibits storage of fat tissue, helps to get rid of abdominal obesity faster;
supports cleansing the body of toxins and pathogens, improves intestinal function;
supports a low-calorie diet by providing large amounts of valuable nutrients;
increases the feeling of satiety, suppresses appetite, combats the habit of constant reaching for food;
immediately after consumption it is converted into energy and used as fuel for the body, it does not accumulate in the form of fat tissue in contrast to those unhealthy types of fats
provides large portions of energy necessary for weight loss, thus stimulating us to be active, eliminates fatigue and tiredness, facilitates the implementation of workouts.
Coconut oil – uses in the kitchen
How to use coconut oil in the kitchen? This is an extremely versatile ingredient in culinary terms. In the refined version it is very neutral in taste, so it can be added to almost all dishes. You can replace other fats used daily in the kitchen, it can also be an attractive complement to the daily menu.
Specialists not without reason called refined coconut oil the best fat for frying and baking. It does not change its valuable properties even at very high temperatures, and its smoke point is only 204 degrees.
Coconut fat can successfully replace butter. The soft, creamy texture makes it easy to spread on bread. Coconut oil also works well as an addition to soups and sauces. Unrefined coconut oil can also make a guest appearance in the morning muesli or porridge, giving them a completely new, interesting, tropical flavor.
Both refined and unrefined coconut oil have their undoubted advantages. For health-promoting, skin-care, weight-loss purposes, the unrefined version gives better results. However, for frequent use in the kitchen (frying, baking, spreading on bread, etc.) we need the refined version.