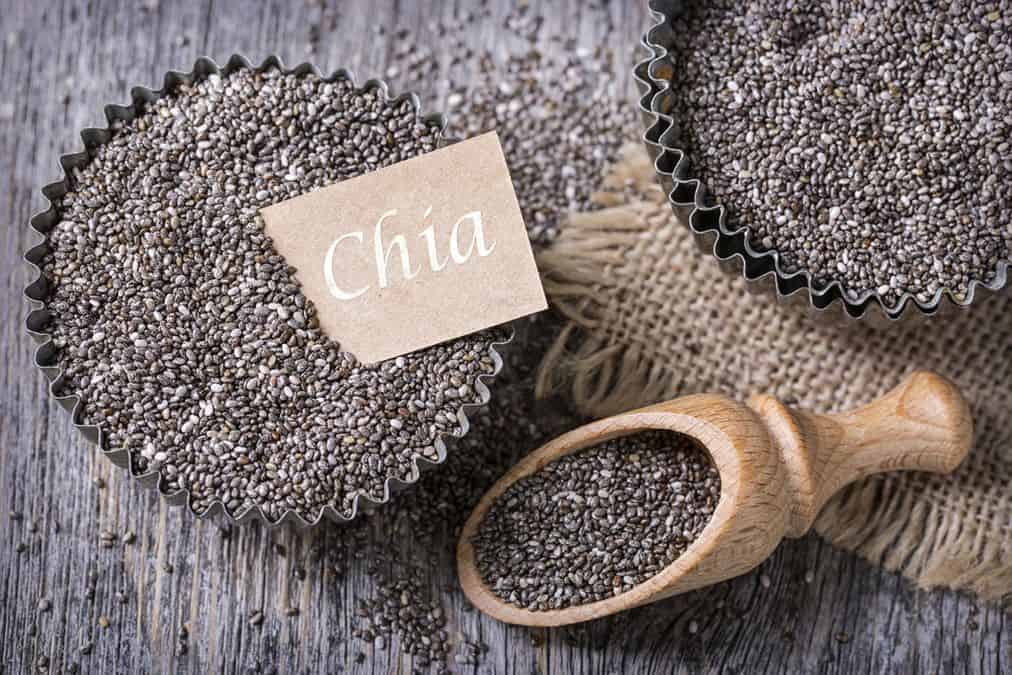 chia seeds for weight loss – small seeds with great power!
chia seeds, or edible chia seeds (Salvia hispanica L.), are on the list of the healthiest dietary products. These small, inconspicuous seeds are a huge wealth of substances beneficial to our body. One of them is dietary fibre, which makes chia grains actively support the process of losing excess weight. However, the dietary fiber contained in chia does not only help in the reduction of unnecessary body fat, but also shows a number of other beneficial properties. As well as the omega 3 acids, antioxidants and other bio-substances contained in these extraordinary grains. Read the article and find out what chia seeds contain and how they work. Learn several ways to use them in your kitchen.
What are chia seeds?
Chia seeds are seeds of the chia plant, an annual, up to 1 m tall, light-colored plant with broad leaves and small, white or purple flowers. Chia is native to Guatemala and Mexico. It was already cultivated by the Aztecs in the pre-Columbian period. At that time, it was considered one of the most valuable kinds of food.
The name "chia" is translated as "oily". Indeed, these seeds are very rich in fatty acids, so the name is appropriate. The phenomenon of chia seeds is that in a small portion (e.g. 1 spoon) one can find significant amounts of valuable nutrients such as protein and calcium.
chia seeds – nutritional values
chia seeds, counted among the group of superfoods, are gaining popularity and favor among supporters of healthy eating. The fact is that they contain a unique portion of health, mainly due to the presence of unsaturated fatty acids omega 3 and omega 6 in appropriate doses for the human body.
chia seeds are also an extraordinary source of protein, which is distinguished by an ideal amino acid profile. Thanks to the right amounts of all essential (exogenous) amino acids, which our body can not produce on its own and which must be provided in a diet, chia seeds are considered to be a source of complete protein.
What is worth emphasizing, wholesome protein is present mainly in animal products, e.g. meat, fish, eggs, cheese, milk, while it is rarely found in plant products. In this respect, chia seeds are one of the few exceptions.
Apart from them, sources of complete vegetable protein include only some legumes, including beans, soybeans, as well as quinoa (quinoa), amaranth, spirulina and chlorella. Due to their high protein content, chia grains are a regular on the menus of many vegetarians and vegans, as well as people trying to limit meat in their diets.
The wide range of minerals is another important benefit of chia. These seeds are rich in calcium, we can also find in them magnesium, potassium, phosphorus, zinc, iron, selenium, copper, manganese. It is also worth mentioning the presence of B vitamins, folic acid, vitamin C, vitamin A and vitamin E.
In addition, it is worth mentioning that chia seeds contain a very high content of antioxidants. They fight free radicals, which are dangerous to our body, have anti-aging properties and prevent cell damage and the formation of cancer, tumors and mutations.
See also: Fat burners ranking
chia seeds – how much to consume to enjoy good health and well-being?
The recommended daily amount of chia is small. You only need 15 g of the product, which is about 3-4 teaspoons of chia seeds per day. Using this amount, over time we will achieve very positive results in terms of our mood, health, hair and skin condition, or appearance of our figure (if we happen to be in a weight loss cycle). Larger quantities than 2 full tablespoons of chia seeds per day are not recommended.
How to eat chia seeds? There are basically two ways to choose – minimalist and varied. In the first option, you add chia seeds to about 100 – 150 ml of lukewarm water, wait until the seeds swell and then drink the concoction. In the varied variant you simply add chia seeds to various dishes and cocktails. Examples of culinary uses of chia seeds can be found later in this article.
chia seeds – properties, main health promoting effects
First of all, reaching for chia regularly, we supplement deficiencies of minerals, vitamins and proteins. We also supply the body with substances that protect cells and improve their structure. This strengthens our immunity, improves the functioning of the entire system, builds a good physical condition. We can feel revitalized and full of energy.
Regular consumption of chia promotes strong bones, joints and teeth. It also benefits our nervous system, brain, and circulatory system. chia grains are also very kind to our beauty. People who complain of weak, brittle, falling hair, gray skin and weak nails will be very surprised by the positive effects of chia seeds.
chia seeds for heart and circulation
Thanks to high content of omega 3 (18 g per 100 g) and omega 6 (6 g per 100 g) acids in beneficial relation to each other, chia seeds are extremely valuable for our cardiovascular system.
They support the heart, strengthen and make blood vessels more flexible, improve blood circulation and stabilize blood pressure. They are helpful in the prevention of heart and circulatory system diseases, reduce the risk of heart attacks, strokes, atherosclerosis, coronary artery disease.
chia seeds also have an influence on the concentration of cholesterol in the blood. They help lower bad cholesterol and triglycerides and increase good cholesterol.
chia seeds for good working of the mind
Positive influence on mind is another advantage of chia seeds resulting from high content of omega 3 and omega 6 acids. They improve work of the brain, increase intellectual efficiency, improve concentration and memory, facilitate absorption of new knowledge.
They also have a positive effect on our mental well-being – they reduce stress and tension, promote relaxation and inner peace, reduce depressive disorders and mood swings. They protect the nervous system from aging processes, reduce the risk of neurodegenerative diseases (such as Alzheimer, Parkinson, dementia) or slow down their development.
chia seeds for immunity
chia seeds contain an array of antioxidants, including: caffeic acid, chlorogenic acid, gallic acid, flavonoids (including quercetin, myricetin, camferol, daidzein), vitamin E, and vitamin C. These compounds inactivate free radicals, prevent unfavorable oxidation processes and protect cells from oxidative stress.
Antioxidants contained in chia together with omega acids are an incredible support for our immunity. They reduce inflammation in the body, alleviate the course of infections, reduce allergy symptoms, make us "catch" colds less frequently.
They strengthen the body's defense barrier against pathogenic factors, prevent cell damage and degenerative processes, inhibit aging, reduce the risk of civilization diseases, including diabetes, stroke, cancer.
chia seeds for weight loss and good digestion
High content of dietary fiber makes chia seeds have a beneficial effect on the digestive system. Therefore it is recommended not only to people wishing to lose even large amounts of excess weight or obesity, but also those suffering from ailments such as constipation, bloating and intestinal problems.
Chia show the ability to bind water in the digestive system. They also increase the volume of fecal masses, increase the intensity of peristaltic movements, and regulate the process of defecation. What is more, chia seeds promote the development of a healthy intestinal bacterial flora and help sweep out food debris and toxins from the digestive tract.
Thanks to high fiber content, chia seeds swell in the stomach, increasing satiety and protecting us from recurring hunger and excessive appetite. Thanks to this property it is easier to control the amount of calories consumed and less frequent eating, which has a positive effect on our weight.
Also thanks to dietary fiber contained in chia carbohydrates from food are released more slowly, which ultimately avoids sudden fluctuations in blood sugar levels often resulting in attacks of ravenous hunger and consumption of excess calories.
It should be noted that not only fiber, which is present in chia seeds, supports the process of shaping a slim figure. The necessary action here is also characterized by protein, which is very abundant in chia. It suppresses the appetite, increases the feeling of satiety, reduces the desire for fattening, unhealthy snacks, protects against snacking between meals. It also stimulates the metabolism and leads to better calorie burning by the body, which promotes weight loss processes.
However, that is not all. chia grains also contain valuable chlorogenic acid, which reduces the absorption of sugars from the digestive tract into the blood. This prevents unrestrained appetite, hunger attacks and helps to lose weight more easily. Chlorogenic acid also increases tissue sensitivity to insulin, preventing the development of diabetes.
chia seeds – calories
100 g of chia seeds contain 486 kcal. At first glance, they are quite calorific, but we don't have to be afraid of them if we care about our weight or aim to reduce it. Why? Because we consume very small amounts at a time.
One tablespoon of chia seeds is only 49 kcal. What's more, such nutrients present in chia in large quantities, such as fiber and protein, stimulate body slimming, while there are no significant deposits of simple sugars or saturated fats in this product that cause weight gain.
Also read: Best slimming pills
chia seeds – how to eat and what can you add them to?
The neutral flavor of X 1138X seeds makes it possible to add them to various dinner dishes, salads, smoothies and desserts. They can be added to such dishes as whole or ground, similarly to linseed. In this way we will obtain a substitute for regular flour. It is also worth thickening soups, sauces and using them as an addition to stuffings, e.g. stuffed vegetables and meats, dumplings, pancakes, casseroles. They will give you the right consistency, because after meeting water they form a thick suspension with it.
Most often chia seeds are added to smoothies, puddings, salads, salads, oatmeal, bread or homemade cakes. They also work well as one of the ingredients of diet desserts or a healthy substitute for breadcrumbs, so you can use them as a coating.
By using these grains, we automatically introduce dietetic, healthy meals to our kitchen. Thanks to chia we can resign from high-calorie sauces made with flour or fatty cream, soups, and traditionally breaded meats.
chia seeds – recipes with their application
Pudding with chia seeds and peach
Ingredients:
Milk 275 g (1.3 glasses)
chia seeds 25 g (5 teaspoons)
Peach 100 g (1.5 pieces)
Bee honey 12 g (2.5 teaspoons)
Method of preparation:
Mix the chia seeds with the milk, honey and sliced peach. Put it in the fridge overnight to allow the seeds to swell and form a pudding.
chia Pudding with Banana Sauce
Ingredients:
chia seeds 14 g (2.8 teaspoons)
Natural yoghurt 140 g (0.9 packet of 150 g)
Banana 207 g (1 medium piece)
Nuts 10 g (2 pieces)
Method of preparation:
Mix the seeds with the yogurt and set aside for a few minutes. Blend banana into mousse or mash with a fork. Put the banana mousse on the bottom of the serving dish, pour the yoghurt mixed with chia over it. Sprinkle with chopped nuts, preferably walnuts.
Ingredients:
Skimmed cottage cheese 70 g (2-3 slices)
Hen eggs 45 g (1 small egg)
Whole-wheat flour 64 g (6.5 tablespoons)
chia seeds 11 g (about 2.5 teaspoons)
Method of preparation:
Mix the egg with a pinch of salt. Add the cottage cheese, a pinch of pepper, turmeric and flour. Mix the ingredients into a paste. From the dough form balls, flatten with a spoon and coat in sesame seeds (or other). Bake for 10-15 minutes in an oven preheated to 180 degrees C.
Oatmeal with chia, honey and kiwi
Ingredients:
Milk 220 g (1 glass)
Oatmeal 40 g (4 tbsp)
chia seeds 10 g (2 teaspoons)
Kiwi 110 g (1 piece)
Bee honey 5 g (1 teaspoon)
Method of preparation:
Pour milk over the flakes, add chia, honey, mix and set aside covered in a cool place for 2 hours or overnight. In the morning you can heat it up gently, stirring every now and then, but it's not necessary. Then add the sliced kiwi.