Walking – indisputable benefits for our physical and mental health
Taking care of our health and general physical and mental condition is a multifaceted, complex process, and each of us has to find the method that suits him best. Physical activity should become an inseparable part of a healthy lifestyle, recommended by doctors and dieticians, especially for people who want to lose a few extra kilograms at the same time. However, finding the right form of it, a sport discipline, which can be practiced without any problems, is not an easy task, especially when medical contraindications exclude, for example, jogging or visits to a gym. Fortunately, there is a solution which can be applied in such a situation, namely daily walking, whose numerous health benefits cannot be underestimated, and walking 10000 steps a day, as recommended by doctors, can work real miracles.
Walking – maximum effects with minimum effort
Walking is one of the first activities we learn in our lives, something completely natural, to which in later years we attach practically no importance. We simply walk every day, around the house, to work, school, shopping, not even knowing that walking has long been considered the healthiest form of physical activity. Unfortunately, in the modern world we often neglect it, and yet already the ancients, headed by Aristotle, one of the greatest philosophers, claimed that nothing damages our health and shortens our life so much as inactivity and lack of movement. Many of us, suffering from various diseases which, as I mentioned, exclude us from practicing sports, give in to it, not even thinking that by only extending the daily route to the shop and back, we will soon feel the positive effects of it. If you are systematic, your organism will start to function in a completely different way, its efficiency will increase, your body weight will decrease and in a slightly longer time you will achieve maximum health effects, similar to those achieved when jogging.
Walking – you can do it anywhere
Various sports require us to buy various, often very expensive equipment and proper physical preparation minimising the risk of injuries. For walking, on the other hand, we do not need any specialist equipment, a professional trainer, detailed training plans or expensive passes to the fitness club. Running, gym, cycling, moreover, expose us to the risk of muscle damage, tendon rupture or even fracture as a result of an accident on the road. God forbid I do not want to discourage anyone from practicing them, but to show that you can achieve similar results in a simpler, as I mentioned natural way .
Let's say frankly that the walk is simple, we put one foot in front of the other, at a pace that suits us best, and the only necessary item of clothing will be comfortable, non-abrasive shoes. At the beginning it is enough, and only later you can think about additional things, a tracksuit, special trekking shoes or poles, if you are interested in nordic walking. We particularly recommend this form of walking, and the benefits of walking with poles without skis, as this increasingly popular discipline was initially laughed at, will make you quickly forget about, for example, back problems or initial overweight. What is important, however, is regularity, finding 30-40 minutes every day to walk those few kilometres, preferably in peace and quiet, allowing us to fully relax and regulateour breathing.
Walking – the most important benefits for our health
Another of the great Ancients, Hippocrates, is the author of a well-known saying that walking is the best medicine for man and all doctors agree with it one hundred percent. The salutary influence of daily walks on health is also confirmed by professional scientific research, and it is easier to force malcontents and lazy people who like to spend their time on the sofa in front of the TV or computer.
Advantages of daily walks indicated by medical specialists
Strengthening our bones and joints. Walking is an element of effective prophylaxis preventing the development of osteoporosis, and if it already occurs, such a portion of movement stops its symptoms. They are recommended after spine surgeries, because they strengthen the muscles of the back, shoulders and the neck, and also reduce joint pains, the result of inflammations or degenerations;
prevention of the most dangerous diseases of civilization, primarily heart and circulatory systemdiseases, killing millions of people around the world every year. Just half an hour of walking a day reduces the risk of heart attack by almost 40 percent, blood pressure is maintained at the right, safe level. Walking is even recommended in the treatment of hypertension, complementing the treatment with pharmacological agents;
strengthening the body's immune system, better condition and hardening acquired during the walk effectively protect against many serious diseases;
lowering the level of cholesterol in blood;
protecting the body against diabetes, another disease of civilization. As little as 15 minutes of exercise immediately after eating allows the natural regulation of insulin levels, and 30 minutes reduces the risk of diabetes by 1/3;
improving the quality of rest, especially sleep, after an evening walk we will certainly have no problems with falling asleep, sleep will be longer and calmer, we will finally forget about insomnia;
better oxygenation of the brain, which directly affects the improvement of concentration and our mental abilities. Memory improves, at the same time reducing the risk of Alzheimera disease. We also have more energy for daily activities, not feeling the effects of fatigue so much;
less stress and better mental well-being. There is no denying that a walk, especially outside the city in a natural setting, has a great effect on the psyche, being one of the best forms of relaxation. Our stress level decreases, endorphins, i.e. hormones of happiness, are secreted in large quantities, we feel relaxed, we can think about many things in peace, we simply have a greater desire to live.
Walking – effect on weight loss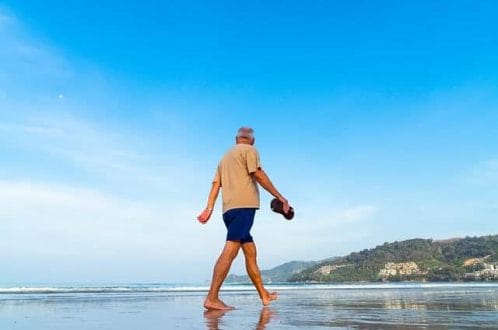 A large portion of daily physical activity is essential in any slimming treatment, which will bring results, and it can successfully be just a walk. Contrary to popular belief, during a few dozen minutes of walking we get rid of quite a lot of body weight, even as much as during some exercises performed at the gym and intended to build muscle mass. This form of activity is also recommended to people who have avoided it so far, and walking at a moderate pace for an hour, we burn as much as 360 kcal, which allows us to lose a dozen or so kilograms of weight within a year, we also reduce our appetite, especially for sweets and all other unhealthy snacks. I have written moderate on purpose, because walking fast will only tire us unnecessarily, and the results obtained may turn out to be really poor. What really matters in walking is the distance and the calculus is simple, the more we walk, the more weight we lose. The achieved effects can be easily intensified by combining walking with a properly selected, balanced diet, full of valuable nutrients, and fat burning will be increased by simultaneous use of an appropriate dietary supplement.
Slimming pills – you will find them in our ranking
Finding the right one may take a lot of time, that is why we have prepared a ranking of the most effective slimming pills. We took into account, above all, their composition, effectiveness and safety of use, lack of side effects.