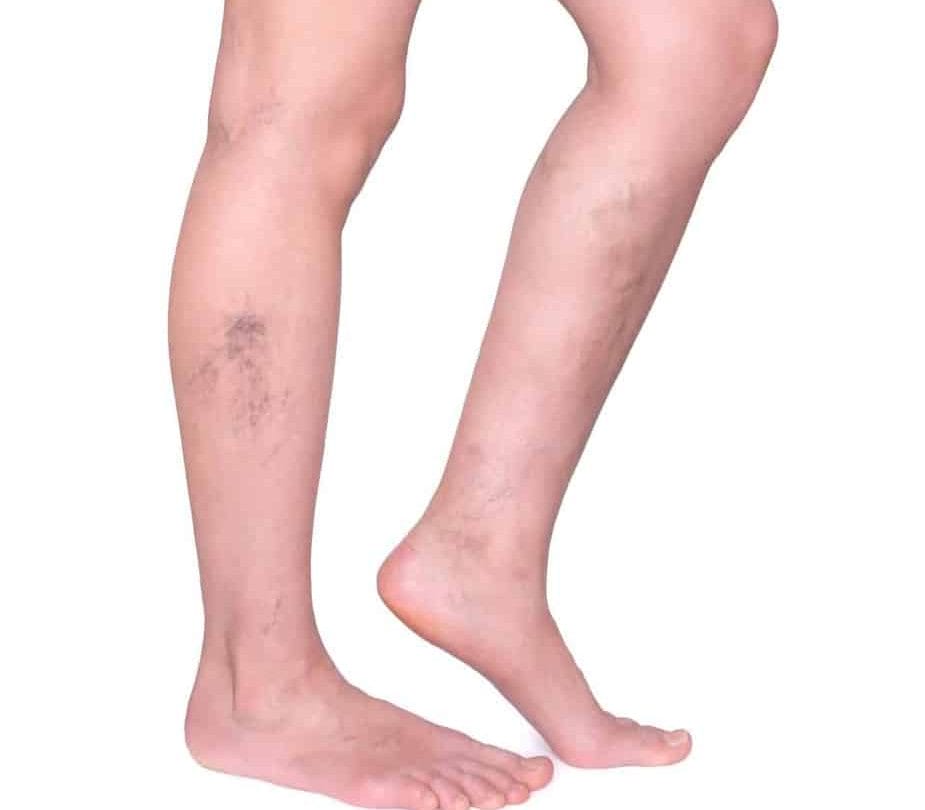 Varicose veins of lower limbs – what is it, how to prevent? Varicose veins diet
Varicose veins of lower limbs are a disease which affects thousands of people all over the world. It most often affects people over 60 years of age and more often affects women (about 32%) than men (about 19%). This does not mean, however however, that the disease cannot appear in younger people, Therefore, prophylaxis and quick action are very important. Unfortunately, the symptoms of varicose veins are still very often disregarded, while an untreated disease can lead to many unpleasant health consequences. many unpleasant health consequences. Let's see what varicose veins are, who is at risk of developing them and how should prevention of this disease should look like.
Varicose veins – what are they?
Varicose veins oflower limbs are deformed, excessively dilated veins on calves and thighs. They are a symptom of chronic venous disease and appear when there is a dysfunction in the circulatory system. In a healthy person, the blood that reaches the legs flows smoothly back to the heart thanks to the muscle pump and the valves in the veins. If this process is disturbed, blood remains in the veins, dilating the vessels and creating unpleasant varicose veins.
The formation of var icose veins takes place in several stages:
telangiectasias appear, thin spider veins of red or purple, that shine through the skin;
The veins begin to widen and become more and more visible – most notably on the lower legs. They do not yet hurt and do not form swellings;
the veins are becoming wider and more and more convex;
there is discoloration and more and more discomfort.
The first symptoms of varicose veins, which should be paid attention to even before they appear spider veins are:
afeeling of heaviness in the legs, mainly occurring in the evening;
at a later stage, pains in the in the ankle area, swelling, pain in the calves when standing or sitting, night-time calf cramps;
In addition, you may experience: itching, burning, tingling.
Who is most at risk of varicose veins? the formation of varicose veins?
The main cause of varicose veins lies in an inherent defect in the connective tissue of which the veins are composed. Sometimes it is simply less elastic and less resistant to stretching, which reduces its capacity. Genetic factors therefore play a large role here.
However, there are also a number of factors However, there are also a number offactors which may contribute to the formation of varicose veins:
sedentary lifestyle;
standing work;
obesity and being overweight;
wearing high-heeled shoes;
heavy lifting;
Wearing compression socks that are too tight on the calf;
hot baths and frequent sauna use;
past pregnancies;
hormone therapy.
Read also: How to stay in shape while working in the office?
These are not the factors that directly These are not factors that directly affect the formation of varicose veins, however they can promote their They are not factors that directly cause varicose veins, however they can promote their appearance in persons who are prone to them.
Varicose veins during pregnancy
Varicose veins quite often appear In pregnant women. This does not mean that the blessed state is It does not mean that the blessed state is the cause of their formation, but in the future mother's body during this period make the veins that veins become more susceptible to deformation. During advanced pregnancy the veins are more loaded, and the growing uterus The growing uterus compresses the venous vessels within it, which makes it is more difficult to return to the heart.
Varicose veins – diagnosis
Diagnosis of varicose veins begins with a Doppler ultrasound to precisely locate the site of valve damage. Some cases require a more detailed diagnosis, in which case magnetic resonance or computed tomography is performed. These methods allow to perform the so-called venography – an advanced image of the venous system of the whole body.
Check: Aliviolan – innovative product, reducing joint pain
Varicose veins – treatment methods
Phlebologists – specialists in treatment of veins, emphasize that the method of treatment should be selected for individual clinical case. There are several advanced ways of treating acute incidental varicose veins.
Laser therapy .
Lasertherapy consists in Inserting a special fiber optic into the vein. Laser heats up the walls of the vessel with the radiation energy, which This results in their closure. Such treatment makes it possible to exclude from This treatment makes it possible to exclude the inefficient part of the vessel from circulation and at the same This treatment makes it possible to exclude the inefficient vessel fragment from circulation while leaving the other functions of the veins functioning.
Vein taping
The method consists in injecting into the chemical agent into the diseased vein which causes its gluing and closure.
Pharmacotherapy
The doctor may prescribe phlebotropic drugs with benzopyrones, saponins and other plant extracts. They usually do not eliminate varicose veins, but they are a valuable aid in the elimination of pain, protect the veins and increase their permeability. They have anti-edematous and anti-inflammatory effects, they improve flexibility and resistance of veins. They reduce venous stasis in lower limbs. Some supplements, e.g. Varicorin They are characterized by very high effectiveness and are available without prescription.
Varicose veins – how to prevent them? Varicose veins prevention
We all know that prevention is better than cure, therefore people who are prone to varicose veins should:
move a lot – movement makes our muscles pump blood better. It does not have to be an intense physical effort, it is important not to stay in one position for too long; walking, fast walking, running, swimming, cycling, aerobics are recommended etc;
Do not put pressure on the calves – wearing socks without tighteners and avoiding shoes with high tops which can put pressure on the calves is another point for varicose vein prevention;
Avoiding hot baths;
controlling your weight;
proper diet.
Varicose veins – diet. What to eat when prone to varicose veins?
Diet is one of the most important part of varicose vein prevention. Let's see what you should pay attention to what to pay attention to while preparing a menu.
Vitamin PP
Vitamin PP takes part in production of red blood red blood cells, prevents accumulation of cholesterol and dilates blood vessels. Its largest amounts can be found in nuts, cereal grains and meat.
Escin
It is a substance, which can be found in chestnut seeds. Its activity in the human organism consists in sealing blood vessels, reducing their fragility and restoring their tension. restoring their tension. Escin has anti-inflammatory and anti-edematous properties anti-edematous, relieves pain. Unfortunately, it does not Unfortunately, it does not occur in easily accessible food, however, we can buy it in pharmacies.
Vitamin C
Vitamin known for its properties, supporting the immune system. It is also important in prevention of varicose veins. Vitamin C protects veins, reducing the risk of infections. It can be found in many fruits and vegetables.
Diosmin
Counted among one of the best antioxidants. It can be found in citrus fruits and peppermint leaves. Peppermint leaves. It improves the elasticity of blood vessels and lymph flow. It alleviates the feeling of heavy legs and prevents calf cramps.
Rutin
Improves blood flow, allowing better access of oxygen to tissues. It is a rich source of St. John's wort, citrus fruits and mint.
Vitamin K
Participates in regulation of blood coagulation processes. blood clotting. It can be found in vegetables, such as kale, lettuce, broccoli, Brussels sprouts and spinach.
Silicon
Silicon deficiency causes brittleness and fragility of blood vessels. It is therefore worth supplementing its deficiency. deficiency. Sources of this element include garlic, chives, grains and fruit peel. and fruit peels.
Are you prone to varicose veins? No wait, choose Varicorin – an innovative product for varicose veins without prescription!
If you notice the first symptoms of varicose veins, do not wait. Choose the innovative product with proven effectiveness called Varicorin. This is a specially designed formula, based on natural ingredients, which in just 28 days will help get rid of varicose veins and return to full fitness.
Varicose veins are a disease whose first symptoms should not be ignored. Sometimes, quick action will deal with the problem for good, while more serious cases may require longer and more complicated treatment.