Swimming, aqua aerobics – pool exercises for weight loss
There are many ways to lose weight , but not all of them are as pleasant as exercising in a swimming pool. Indoor swimming pools are besieged by sport and relaxation lovers, because they provide an opportunity to lose weight and shape the figure, and after training (in most pools) to take advantage of relaxation in a Jacuzzi or sauna.
Swimming is the most common way to slim down in a swimming pool, however aqua aqua aerobics is also becoming more and more popular and it many benefits. Let's see how to swim to lose weight and what pool exercises give us.
Swimming for weight loss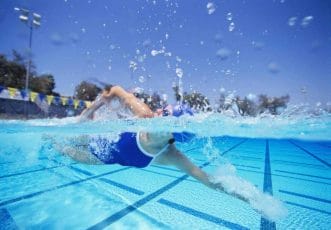 Swimming is a great option for losing weight, which does not strain the joints. Water provides resistance, which successfully replaces the load, and at the same time swimming in different styles, we strengthen the whole body and relax the spine. Many athletes like to come to the pool to sculpt their figure without losing muscle mass. Swimming is also a great form of exercise for those who for some reason can't do other exercises but want to shed some fat.
Check: Is running a good way to lose weight?
What are the benefits of swimming?

According to USA Fitness Association, pool exercise provides more health benefits than workouts in many other sports. Swimming not only speeds up metabolism and accelerates fat burning processes, but also strengthens our fitness and endurance.
Moving in water, we force different parts of our body to work various muscular parts of our body, so swimming Swimming in itself is a metabolic training which contributes to effective weight loss. After only about 20 minutes of training in a pool, our organism starts to draw energy from the reserves of accumulated body fat.
Swimming improves blood circulation, and therefore helps to get rid of subcutaneous fatty tissue, responsible for the formation of cellulite.
Swimming for athletes
It is a very demanding sport, some people treat it as an individual discipline, others add swimming exercises to their strength or other training. Swimming strengthens the muscles of the whole body, especially the back. It also helps to get rid of pain in that part of the body, associated with overloading or improper technique of strength training.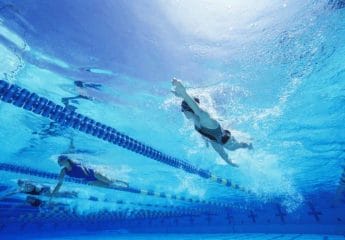 You can also perform cardio training at the pool. By swimming in intervals, we achieve the same results as during the HIIT training. Covering several lengths of the pool at the right pace will help you get rid of unwanted fat in a short time.

Swimming – how much weight can you lose?
We will burn the most calories while swimming kink, the style which requires the greatest supply of energy. Just one hour of intensive kayaking will allow (a person weighing 60 kg) lose even 1000 kcal. 60 kg) lose even 1000 kcal. In the case of recreational swimming it will be about 360 kcal.
Aqua aerobics
Swimming is not the only sport that can be practiced at a swimming pool. Aqua aerobics – group physical exercises performed in water – is becoming more and more popular. Such activity will allow us to lose 400-700 kcal per one session. Due to the resistance of the water, aqua aerobic exercises do not strain the joints and spine, and allow you to effectively exercise the muscles of the entire body.
Aqua aerobics is one of the activities most frequently recommended by doctors for women who want to exercise during pregnancy.
Aqua aerobics – sample exercises
Walking in water
This exercise is also ideal as a warm-up before swimming. The intensive march in water, thanks to natural resistance will force your body to make a considerable effort. It will allow also strengthen your leg muscles and (if the water reaches your chest or neck) your arms. (if the water reaches your chest or neck) your arms.
Leg swings
Position yourself sideways to the edge of the pool and grasp it with your hand. Swing one leg out to the side. Perform this repetition several times, then change sides and leg. This exercise will help model the muscles of your thighs and buttocks.
Lift legs
Movement that will allow to strengthen the abdomen and hips. and hips. Stand with your back to the edge of the pool and grasp it with your arms, supporting yourself with your back. Lift your straightened legs upwards so that they form a perpendicular line with the bottom of the pool. Hold it like this for several seconds, tensing your belly. Return to the starting position. return to the starting position.
Jumps
Jumps with high leg raises are cardio excellent exercise that will not only allow you to lose fat, but it will also improve the look of your thighs, buttocks and abdomen. The water resistance will not allow you to perform the movements at a fast pace, but it is important to try to perform this exercise as as intensively as possible.
A person conducting aqua aerobics may also use special swimming pool accessories, whose aim is to increase the water resistance and make the training more varied. Specialists in this type of activity will provide a range of exercises that will support the metabolism of the body and allow to tone muscles and lose weight. Aqua aerobics with special resistance foams can give results equal to those of dumbbell exercises.
Where can you swim?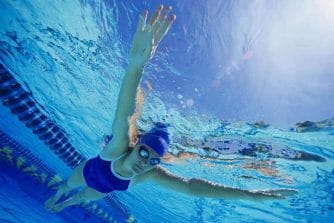 Aqua aerobicsclasses are usually organized in indoor swimming pools. Such a place is also best suited for both recreational and more intensive swimming. Specially marked lanes will allow you to swim in a designated area, and the lack of current and waves will provide the required comfort of exercise. In the summer we can also swim in outdoor pools, if there is a designated sports zone.
We can also swim in natural and artificial outdoor water reservoirs, but only in guarded areas in designated places.
Does swimming improve the capacity lung capacity?
Yes, but this effect can be achieved only after several weeks of systematic swimming. On land On land, we use about 30-40% of the lung efficiency increases to 100%. This ensures good oxygenation of the body, which results in an energy boost for the entire body.
Swimming pool exercises – contraindications contraindications
In terms of psychophysical there are no contraindications to swimming and other exercises swimming pool. If a person does not suffer from medical conditions that could If a person does not suffer from a medical condition that might exclude him/her from any physical activity, he/she can also use the swimming pool. However, it is necessary to remember about several aspects. several aspects.
The first of these is that you should not enter cool water with a hot body. Before entering into the pool it is best to use the showers available at the It is best to use the showers available at the pools, which serve not only to rinse off but also cooling of the body. It is also worth immersing in water slowly, gradually getting your body used to the cooler temperature. At indoor swimming pools, the water temperature is usually set and so high that there is rather no risk of thermal shock, but It is nevertheless worthwhile to follow the above recommendations.
Swimming should also be avoided by women during their menstruation, especially in the case of heavy bleeding, as heavy bleeding, because physical activity can still intensify it. intensify them.
It is advisable not to go swimming also in the case of:
if you have a fresh tattoo or an earring in your skin;
If you have unhealed wounds;
during treatment of an infection intimate infections, bacterial or fungal;
if you have a disease of the lungs, bronchial or cardiac disease;
you have inflammation of the urinary tract. of the urinary tract;
you're allergic to ozone or chlorine;
you've been drinking alcohol.
People with epilepsy should inform the lifeguard before entering the swimming pool.
Read also: Cycling is an easy way to lose weight. How to ride to lose weight?