Sweet, healthy snacks – or what to replace traditional sweets with
Sweets are something many people cannot do without. It is known that sugar gives us energy and improves our mood, no wonder that we like to reach for candy bars or sweets. However, they are not healthy products and too much of them can turn into excess weight, which leads to additional problems. If we want to take care of our figure, but we can not give up something sweet during the day, we can bet on healthy substitutes of sweets. What are the best sweet but healthy snacks and what can we combine them with?
Dates
Dates are characterised above all by their original, sweet taste, but despite this they are also very healthy. Yes, they contain quite a lot of simple sugars, but they are naturally occurring sugars, so they are an excellent source of energy. The properties of dates are appreciated not only by sportsmen but also by parents who more and more often use them to replace sweets for their children.
Health benefits of dates
Prevent arteriosclerosis and hypertension
Dates reduce the accumulation of cholesterol on the walls of blood vessels. They improve the lipid profile of cholesterol and thus prevent atherosclerosis and protect against cardiovascular diseases such as coronary heart disease, stroke and heart attack.
Dates have anti-inflammatory and anticoagulant properties thanks to the content of natural salicylates, which have a similar effect on our body as aspirin. High content of potassium contained in dates, protects against hypertension.
Dates help with constipation
High content of fibre in dates influences the correct intestinal peristalsis and facilitates bowel movement.
Dates soothe your nerves
Dates are rich in B vitamins, which have a calming effect and support the functioning of the nervous system. What's more, dried dates contain taurine, which makes it easier to fall asleep.
Vitamins and minerals contained in dates:
Vitamins:
Vitamin C – 0.4/0 mg
Thiamine – 0.052/0.050 mg
Riboflavin – 0.066/0.060 mg
Niacin 1,274/1,610 mg
Vitamin B6 – 0,165/0,249 mg
Folic acid – 19/15 µg
Vitamin A – 10/149 IU
Vitamin E – 0.05/0.0 mg
Vitamin K – 2.7/2.7 µg
Minerals:
Calcium – 39/64 mg
Iron – 1.02/0.90 mg
Magnesium – 43/54 mg
Phosphorus – 62/62 mg
Potassium – 656/696 mg
Sodium – 2/1 mg
Zinc – 0,29/0,44 mg
Dates are not only rich in nutritional properties, but also taste great. They are loved by both adults and children. You can eat them solo or add to yogurt or oatmeal. They are great as a sweet, healthy snack replacing candies and other sweets.
White mulberry
White mulberry is a plant, which you can find in stores in various forms (tablets, teas), but the best tasting is its dried fruit, which has a sweet taste and can perfectly satisfy the desire for sweets.
Health properties of white mulberry
It is not only a tasty snack, but also a plant with a wide range of medicinal properties.
White mulberry as an antioxidant
White mulberry shows extensive antioxidant properties, preventing the accumulation of cholesterol in the blood, thereby reducing atherosclerotic damage.
White mulberry lowers sugar levels
Studies have shown that white mulberry (despite its sweet taste) lowers, not raises, blood sugar levels. This is due to the compound DNJ, which works by reducing the rate at which food starch is broken down into simple sugars, helping to reduce postprandial hyperglycemia.
White mulberry for weight loss
Studies on white mulberry have shown that it helps to get rid of excess weight. When consumed in various forms, it is a great product to aid weight loss.
White mulberries for immunity
White mulberry fruits contain a large dose of vitamins and minerals, so they contribute to the functioning of the immune system and reduce the risk of infections.
White mulberries as a source of energy
In our country, white mulberries are becoming increasingly popular among athletes and nutritionists. It is not only very healthy, but also provides excellent fuel for our body.
White mulberries taste great both when eaten plain or as a sweet addition to yogurt, for example. Using the fruit of this plant, we no longer need to use additional sweeteners, because it is sweet in itself.
Check: Want to lose weight? See the best workout programs cardio HIIT and TABATA
Dark chocolate
Most of the chocolates available on store shelves are milk chocolates, which contain large amounts of sugar and other additives. Much healthier is dark chocolate, but this one we also have to know how to choose. The best chocolate is the one with the least amount of additives and the highest cocoa content. Dark chocolate is defined as chocolate with more than 60% cocoa beans. If there are less cocoa beans, it is called dark chocolate or milk chocolate.
In stores you will find dark chocolates with a cocoa content of up to 98%. The more beans, the more bitter the chocolate tastes, but it has a higher magnesium content and gives more energy. And what other health properties does dark chocolate have?
Dark chocolate is rich in nutrients such as:
iron – supports the production of red blood cells;
magnesium – adds energy, promotes healthy muscle development, supports the brain, reduces feelings of fatigue;
alarge amount of carbohydrates – a source of energy;
niacin – supports the release of energy contained in food;
flavonoids – increase immunity, inhibit accumulation of bad cholesterol, regulate muscle contractions;
theobromine – stimulatesthe nervous system;
phenethylamine – belongs to the group of endorphins responsible for good mood.
Dark chocolate is a source of antioxidants and shows anticancer properties. What is more, research has proven that dark chocolate, unlike other sweets, does not cause tooth decay. It is also good for pregnant women because it affects the proper development of the fetus.
The most interesting fact is that dark chocolate can help us lose weight. The cocoa contained in it makes it contain less fat, thanks to which the pancreas does not produce excessive amounts of insulin, which slows down the digestion process, leaving us feeling satiated for longer.
Scientists say that a few cubes of dark chocolate a day can contribute to the health of our body. If we crave chocolate, it is best to choose the one that contains more than 60% cocoa.
See also: Soup a great way to lose weight? Check out this interesting diet!
Bananas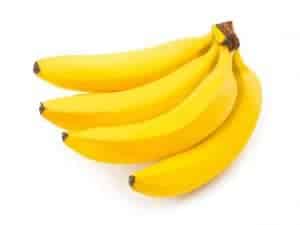 Bananas are one of the sweetest fruits, loved by both adults and children. Moreover, they exhibit quite a few health properties and can prove to be helpful for some medical conditions.
Properties of bananas:
help lower blood pressure and bad cholesterol levels;
help to fight depression;
helpful in treating anaemia;
have a positive effect on the nervous system, reducing stress;
aid digestion;
restore normal intestinal peristalsis;
prevent kidney tumors;
are an excellent source of energy.
Due to their sweet taste, bananas can replace candy or be used as a sweetener for dessert (especially soft, ripe bananas). They are also a rich source of vitamins and minerals, especially potassium, magnesium, iron, zinc and vitamin C, vitamins A and E and B vitamins.
Dried fruit
Apricots, prunes, raisins – are great sweet snacks with which you can effectively replace sweets. They contain a lot of vitamins and minerals, but when choosing them, check the packaging label. The best dried fruits are those without added oil and artificial sugars.
A healthy, sweet and tasty meal? Here are some ideas for a tasty snack
The products listed above work great as snacks, but they are hard to eat. For those looking for something tasty but healthy for an afternoon snack or a second breakfast, we recommend the following products.
Cottage cheese with fruit or 100% jam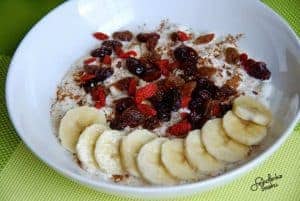 Cottage cheese is a product with a high content of protein, necessary for building and regeneration of muscles. What is more, it is low in calories, so it is perfect as a diet meal.
Cottage cheese is not sweet in itself, but if you add to it a handful of fresh raspberries, shredded banana, pineapple, grapefruit, blueberries acai, strawberries or various dried fruit or simply 100% natural jam, you will get a tasty, sweet and healthy dessert.
Natural yoghurt with protein supplements and fruit
Natural yogurt in itself is an excellent probiotic, supporting the work of the intestines. Athletes in particular appreciate a mixture of yoghurt and protein supplements of any flavour. Just these two ingredients are enough to create a tasty, sweet dessert, but for variety you can add dried or fresh fruit, nuts and nuts.
Croutons with peanut butter and jam 100%.
Croutons made of whole wheat bread, spread with natural peanut butter and 100% jam is a delicacy which Americans delight in. In Poland it is also becoming increasingly popular. Such a meal is tasty, sweet and healthy, and what is more, it will fill us up for a long time.
See: Protein shakes for weight loss