Soup diet – soup a great way to lose weight?
Soup diet is quite an interesting diet plan for people who want to get rid of unwanted kilograms at an express pace – even 9 kg in a week. Such a diet gives you the freedom of eating, so you eat to your heart's content and you don't starve. However, a significant limitation in this case is the type of dishes you can eat, because the entire diet menu in this case is based on eating vegetable soups 7 days a week, which can also be enriched with meat, fish or lean dairy.
Soup diet – what does a healthy and varied one look like?
Why do slimming diets require a lot of perseverance? Most people give up because of too many dietary sacrifices, which are hard for an overweight or obese person to cope with. However, a soup diet is quite different because it has no set calorie threshold or meal size for the day. It also does not reduce the menu to 2-3 products, and in addition, they are easy to prepare and cheap. Therefore, this diet is quite a good solution for those people who struggle with quite a frequent feeling of hunger, and in addition this type of diet allows us to replace each meal without harming our health. If we follow a soup diet, we can eat up to 4-5 meals a day, which will be light and perfectly hydrate and warm us up. The main ingredient of this diet is vegetable broth, but if we add some carbohydrates, lean meat, fish and season it with herbs and lean dairy during cooking, the final result is a complete, balanced meal. Thanks to this you can reach for a delicious, filling soup every time you have an appetite. Moreover, we can do without remorse or counting calories. Also our skin will benefit from it, which will look younger. This is thanks to the high content of vegetables, which provide us with adequate amounts of dietary fiber.
Soup diet and its main principles
What is a soup diet? The menu in such a diet plan is based on soups using various vegetables, including: beets, cabbage, tomatoes, zucchini, peppers, pumpkin, green beans, mushrooms, spinach, carrots, celery, cucumbers, potatoes, etc. We have a lot of them to choose from, so we can create a variety of combinations, because everything depends on our creativity, which will prevent us from falling into culinary monotony. The soup diet menu usually presents traditional soups and cream soups.
The soup diet has two variants. The first one consists in eating only soups. With this model of nutrition, you will quickly lose weight. This is due to the calorific value of soups, because one portion of soup is about 250 grams, or 150 kcal, so eating even 6 meals a day consisting only of soups will provide our body with only 900 kcal! The second variant of the diet is to replace two meals a day with soup. It is also important to add to the soup such ingredients as onions, chives, turnips or celery. They are primarily responsible for turning up the flavor, but also increase the content of vitamin C and dietary fiber in the meal. One should remember, however, about the need to supplement proteins, therefore it is worth to drink one cup of lean natural yoghurt, milk, kefir, buttermilk or vegetable cocktail with chlorella or spirulina a day. The discussed diet can also be treated as a one-day detox of our body. It consists in cooking a soup and dividing it into portions that will be intended for the whole day. It is also worth remembering about protein, it is not an essential ingredient needed for the proper functioning of the body, so it is worth cooking soup with a meat insert, while in the case of people who are on a vegetarian diet, it is important to take care of such ingredients in the meal as:
quinoa, amaranth, buckwheat,
couscous or bulgur groats,
pumpkin seeds or sunflower seeds,
peanut butter or almond butter,
nuts,
hempseed,
green peas, broad beans, soybeans,
lentils, chickpeas, beans and other legumes,
tofu, tempeh, seitan,
plant protein concentrate, e.g., soy or pea protein concentrate as a soup additive.
See also: Ranking the best fat burners
While on a soup diet, it is worth following a few key rules that will help us prepare a meal so that it supports weight loss, the digestive process and removes toxins from the body and unnecessary metabolic products. They are as follows:
If we use the diet for more than one day it is worth that we do not eat only one type of the day. It is worth that the menu was rich in 2 – 3 types of different soups, which contain in its composition different vegetables and spices.
It is worth to cook soups on your own from the scratch, avoiding ready-made solutions such as stock cubes, maggi bouillon concentrates and spices that are enriched with flavour enhancers. The taste of soup can be improved with healthy equivalents of stock cubes, which can be purchased in an organic store without adding hydrogenated fat, monosodium glutamate or excessive amount of salt, and it is also worth using light soy sauce or miso soy paste. They should be added to the dish a moment before consumption, so that they do not lose B vitamins and other valuable nutrients under the influence of temperature.
The menu should look classical, i.e. more filling soups for breakfasts and lunches, and delicate ones for dinners.
If our diet is based only on the consumption of soups then we should eat to our heart's content, but not less than 5-6 times a day.
Soups should be cooked long enough for the ingredients to soften while cooking, and for the vegetables to be semi-hard. This will allow the dish to retain a higher nutritional value.
Soups that are too thick or contain too much water should be eliminated from the menu.
If we want soups to satiate us for a longer period of time they should be enriched with crunchy additives, i.e. roasted nuts, raw vegetables, vegetable chips without added salt or fat.
We should also eliminate the cream, flour or roux. In addition, products rich in starches, i.e. bread, pasta, potatoes or white rice, bakery products and desserts that contain sugar and fatty meat such as beef or pork.
Types of soup diet
The soup diet that most of us have certainly heard of is a diet based on cabbage soup, but there is no clearly defined ideal soup that will enable us to lose weight. The simplest definition of such a day is to prepare a soup that contains vegetables, lean meat and low fat in its recipe. The most popular soup diets include:
broth diet – this is a 7-day eating plan that is based practically on eating broth almost exclusively throughout the day except for breakfast. For the first meal we have a choice of one of five low-calorie products: skimmed milk and yogurt, fat-free cheese, whole grain cereal or fresh fruit. Other meals should be based only on eating homemade broth. Supporters of this method believe that eating less and more often will help to reduce appetite and feel satiety. The soup has a low caloric value because it mainly consists of broth, lean meat, spices and vegetables with low starch content in its composition, i.e. carrots, turnips, broccoli and cabbage.
Cabbage diet – this is a seven-day diet, which in its composition is rich in dietary fiber and low in fat. It is a good method for people who need short-term help to lose weight. The diet plan can be followed for only one week.
Bean diet – consists of eating soup consisting of different varieties of beans such as crescent beans, green beans, chickpeas and green beans and mushrooms, chili peppers, tomatoes, paprika and celery. Bean soup should be eaten twice a day as a main meal.
Who is the soup diet for?
Before starting any diet we should consult it with our GP even if we do not have any health problems. When choosing a diet method, we should not suggest a "fad" diet. Some diet programs are composed in such a way that their proposals have dishes that are poor in some nutrients or have a significant caloric deficit which, as a result, may cause deterioration of our health.
In case of soup diet contraindications concern pregnant women and people with thyroid diseases or food intolerances. In addition, it should not be used by diabetics, children and adolescents, as well as seniors.
On the other hand, if we do not have any health contraindications, soup diet is ideal for people who suffer from a sore throat, have difficulty swallowing or dental problems – are after surgery, wearing braces or have aphthous ulcers. In addition, it is popular with people who have just undergone food poisoning.
Stages of a soup diet
The soup diet came to us from abroad, from Brazil to be exact, in Poland its precursor is Monika Honory. She developed a model of how to follow this diet, which allows us to lose unnecessary kilograms – even up to 5 kg per month. The diet plan is divided into three stages:
Stage I – this is the introduction to the diet plan and getting our body used to the caloric deficit. We start with 5-6 soups a day. This stage lasts about 2 weeks, after which the stomach cramps. Then we reduce the number of soups to 4 a day. The process lasts a month and allows us to lose even 5 kg!
Stage II – this stage is directed to people who want to lose more than 5 kg. Soups should be divided into protein and carbohydrate, which means that the recipe contains, among other things, complex carbohydrates such as wholemeal pasta or rice, and lean meat and fish as a protein supplement. It is very important that soups at this stage are eaten at specific times. Soups rich in complex carbohydrates should be eaten by noon and those containing protein in the afternoon. Stage II should last for 2-4 weeks.
Stage III – is the final stage, or stabilization. It consists in partial introduction of solid food to the diet. It's important to do it in small steps, so as not to overload the stomach with hard to digest meals. The stabilization process lasts two weeks. It is important not to eat fried and fatty foods during this time.
Soup diet – its effects
All dishes in the soup diet contain primarily vegetables, which are rich in valuable dietary fiber, so they allow you to quite well satisfy the feeling of hunger for a long time.
Read also: Fibre Select – vital fibre ideal for weight loss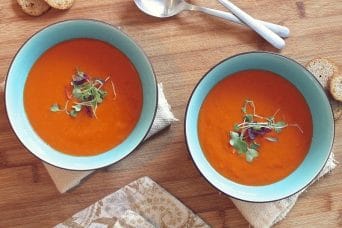 Following a soup diet, you will notice that your metabolism will accelerate and your body will gradually cleanse itself. Subcutaneous water will also be eliminated, and digestive processes will be significantly regulated. This is due to the fact that vegetable soups provide very few calories, even when eaten frequently and in relatively large portions, so the body will draw energy from stored reserves in the form of fat tissue.
The result of a soup diet will be an effective improvement of metabolism and intensification of fat burning, which leads to a loss of 3-8 kg in a week. It is good to remember that the first phase of this diet should not last longer than 5-7 days. Then there is an increased risk of yoyo effect, as well as leading to deficiencies of essential nutrients in our body.
Disadvantages of a soup diet
A soup diet makes it possible for us to get the figure we dream of, but this diet plan also has its drawbacks. First of all, our body needs solid food, because during chewing the production of digestive enzymes begins, and an impulse reaches the brain, which is responsible for activating further digestive processes in our body. Unfortunately, a soup diet deprives us of this possibility. Additionally, biting and throwing food has a very good effect on the state of teeth and occlusion.
This diet is also low in calories, that is why during its implementation we may feel weakness, fatigue and hunger. If we follow the diet for a longer period of time, we may also encounter the opposite effect, namely the slowing down of our metabolism, and this makes it more difficult to lose the excess weight. The diet plan is also poor in terms of nutritional values, and thus does not provide the appropriate amount of nutrients.
The developed nutrition model also does not give us a 100% guarantee of long-term maintenance of the target body weight. Low calorie diets cause rapid weight loss, but if we return to normal eating we can very quickly make up for the lost kilograms.
Soup diets – opinions of people who follow them
The soup diet has a wide range of opinions, but the majority of them are positive. This is a diet that provides very few calories, so it is easy to get rid of unsightly folds and excess weight. This is not a diet plan that is recommended for all people. If you are not a fan of eating vegetables and vegetable soups, you may feel a bit bored with eating only this kind of food for a week, which will be a real test of endurance for you. However, if you love all types of vegetables, it should not be a problem to persevere on such a diet.
The effectiveness of the soup diet is due to the high water content of the meal, so that you get full when eating smaller portions without consuming solid foods and feeling satiated. High water content in the meal is the basis of the volumetric diet, on which many scientific studies have been conducted. Studies have shown that starting a dinner with soup – in this trial a broth with rice was used – leads to 26% less calories being consumed from the second course. Additionally, it has been proven that eating soup and the second course resulted in 20% fewer calories consumed during the entire meal. In this case, the study was conducted while eating a broth with a side of potatoes, cauliflower, broccoli, carrots and butter. The condition was to eat a portion that should provide a maximum of 100 to 150 kcal.
A very important fact is water, which should be a component of meals. It has been proven that drinking a glass of water after eating a meal will not work as well as eating a soup that contains the same amount of liquid. This is due to the fact that the water bound by the ingredients from the food slows down the emptying of the stomach, so that we feel satiety for a longer time. This is related to the effectiveness of the soup diet.
Soup diet – recipes for light soups
Vegetable soup with green beans
2 litres of vegetable broth,
30g dried shiitake mushrooms,
3 small carrots,
1 small parsley,
1/2 bulb of small root celery or 1 stalk of celery,
1 large onion and/or 4-5 cloves of garlic
2 cups green string beans,
800g sliced fresh tomatoes,
1 teaspoon olive oil,
pepper
Preparation: soak the mushrooms in a small amount of boiling water, then pour the water into the bouillon together with the chopped mushrooms. Boil the bouillon, throw in the chopped vegetables including the beans and cook for 40 minutes. Then add the tomatoes and continue cooking. At the end add olive oil and season the soup to taste.
Pepper and tomato soup
1 litre of vegetable broth,
4 medium red peppers,
4 large tomatoes,
4 tbsp red wine vinegar,
2 tbsp olive oil,
pepper,
salt or light soy sauce
Preparation: the broth should be boiled. Then throw the chopped vegetables including the garlic into the pot. Boil it for 15 to 20 minutes. The soup can be blended. Season to taste.
Zucchini soup with garlic
1 large onion,
2 tbsp rapeseed oil or olive oil,
6 medium courgettes,
1-2 cloves of garlic (optional),
1 litre of vegetable broth,
pepper,
salt or light soy sauce,
Preparation: chop the onion, which you fry for about 3-5 minutes. Then add the diced courgettes and simmer for 5-7 minutes. Add the vegetable stock and leave to simmer, covered, for around 15 minutes. Season to taste. The soup can be blended.
Also read: The best pills for slimming