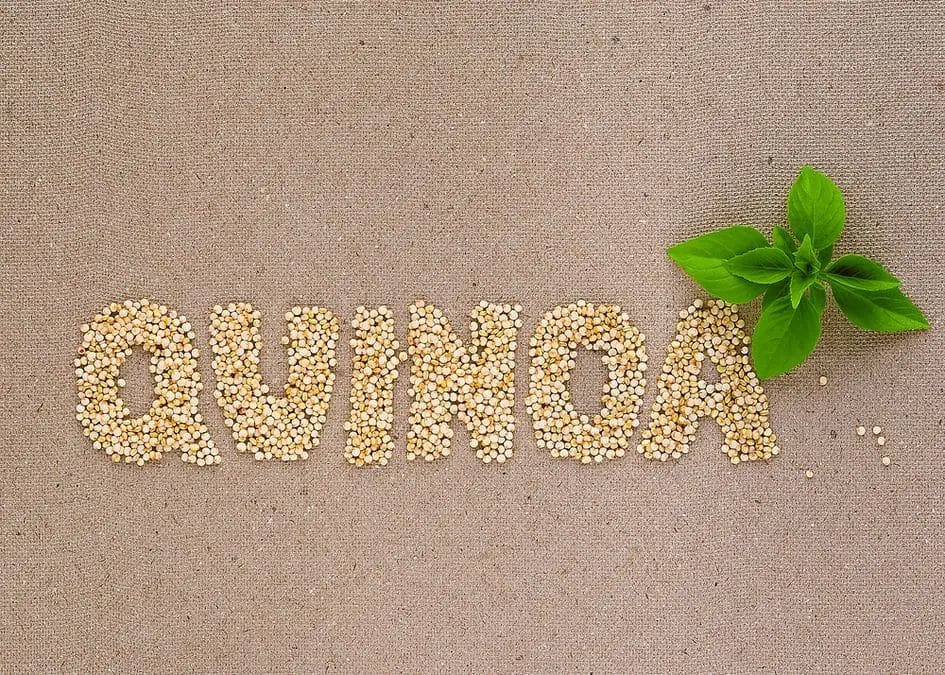 Quinoa – what is it? What properties does quinoa have and why should it be eaten?
Quinoa (quinoa) is one of the most nutritious products we can use in our daily diet. It is also called Peruvian rice, sacred grain of the Incas, mother of grains, golden grain. It is one of the oldest known edible plants. In ancient times it was cultivated mainly by the Incas, until now it has been one of the treasures of South America. In recent years, its properties have become widely known in other parts of the world. More and more people are counting on quinoa in their menus, especially supporters of a nutritious, health-promoting diet and body-building enthusiasts. What nutritional properties does quinoa have and how can we prepare it?
What is quinoa?
Quinoa (quinoa) is a plant belonging to the amaranth family, rich in nutrients, extremely valuable for the human body. It is an annual plant, grown mainly in South America. It is a relative of the white quinoa, commonly found throughout the world.
Although quinoa produces seeds rich in starch and deceptively reminiscent of cereal grains, in fact it is not a cereal. It is counted among the so-called pseudo-cereals, i.e. pseudo-cereals, which, like cereals, can be processed into flour and the whole grains can be used in cooking as a source of carbohydrates (e.g. as rice or groats).
It is worth noting that quinoa is a gluten-free product, so it will prove useful in the diet of people with coeliac disease, gluten intolerance and allergy to gluten. Due to its structure and composition, quinoa may be a substitute for grain products containing gluten (e.g. quinoa flour may be an alternative to wheat and rye flour).
Quinoa – the power of nutrients in the service of good body condition
Quinoa is a source of completeprotein, which is extremely rare in plant products. Complete protein, i.e. protein containing all essential amino acids in the right proportions, is the most desirable type of protein for us. It is present mainly in articles of animal origin, so in meat, fish, dairy, eggs. Only in a few plants you can find complete protein, including the discussed quinoa, as well as in amaranth, hemp seeds, soy, algae.
Quinoa is also rich in unsaturated fatty acids, it also contains a considerable range of vitamins (vitamin A, vitamin E, B vitamins) and minerals (calcium, magnesium, potassium, zinc, iron).
It is therefore a product that is definitely worth introducing into your diet when you need a boost of valuable nutrients to strengthen the body and improve mental and physical disposition. Quinoa is also a good choice when you want to diversify your menu with something new and healthy. Since quinoa is rich in dietary fiber, it is also perfect for people on a diet.
Quinoa – health properties
The high nutritional value of quinoa goes hand in hand with numerous health promoting properties. Quinoa is a true treasury of antioxidants, microelements and macroelements, which revitalize and nourish our entire body and have a positive effect on the work of many organs and systems.
There is a reason why quinoa is fondly called the golden grain – as part of our daily menu it comprehensively supports our body, adds strength, improves immunity and allows you to enjoy better health and well-being.
The most important properties of quinoa
Quinoa contains all the essential amino acids
Approximately 20% of all quinoa components are protein (containing all essential amino acids), which is very well absorbed by the human body. This makes it an excellent product for people with active lifestyles who need solid support for their hard-working muscles. What is more, thanks to complete proteins quinoa can successfully replace meat. This makes it ideally suited to vegetarians, vegans, and people who want to reduce the amount of meat products in their diet.
Quinoa contains more calcium than milk
Milk is known for its high calcium content. Meanwhile, quinoa has much more of it. What is worth adding, calcium from quinoa is very well absorbed by our body. It is therefore an ideal product for people who do not eat dairy products or consume them in limited quantities. Quinoa is also recommended for children and young people during the growth period, the elderly, athletes, pregnant women and women during menopause.
Thanks to its high calcium and protein content, quinoa has a beneficial effect on our skeletal and articular system. Including quinoa often in the menu will strengthen our bones, increase the protective barrier against damage, reduce the risk of osteoporosis. We will also support our joints – we will make them more resistant, reduce inflammation and stimulate the processes of regeneration of joint structures.
Quinoa is a rich source of antioxidants
Quinoa is a rich source of antioxidants, which have a very important function in our system, namely capturing and fighting harmful free radicals that can be a threat to our cells. Free radicals are formed mainly as a result of an unhealthy lifestyle: improper diet, smoking, excessive alcohol consumption, as well as stress, frequent stay in a polluted environment and insufficient sleep.
When present in the body in excess, free radicals can damage cells, cause their mutation and contribute to the development of diseases such as atherosclerosis, dementia, Alzheimer, Parkinson, cancer, diabetes, arthritis, hypertension. Too many free radicals are also a cause of premature aging in the body.
Antioxidants contained in many healthy products, including quinoa, reduce the level of free radicals, thus providing an additional barrier against the formation of cancerous lesions. They are also invaluable support for our cardiovascular system. Studies show that regular consumption of quinoa strengthens the heart, purifies the blood, lowers the level of bad cholesterol and blood pressure. Thanks to the methionine content, it has a beneficial effect on our hair, skin and nails.
Quinoa is rich in dietary fiber which helps lose weight
Can quinoa help with weight loss? Yes, because it contains significant amounts of dietary fiber, which is brilliant for our digestive system and metabolism. Dietary fiber regulates digestive processes, improves carbohydrate metabolism, supports building healthy microflora and improves bowel function. It prevents troublesome problems such as constipation, flatulence, gas, and heaviness, regulates the rhythm of bowel movements, and contributes to slimming of the stomach. By stimulating peristaltic movements of the intestines and sweeping out toxins, deposits and undigested food residues, it purifies the body.
What is more, the dietary fiber contained in quinoa swells in the stomach, providing a feeling of satiety for a long time and protecting us from hunger attacks and snacking. No wonder that it is often one of the main ingredients in weight-loss diets created by specialists in healthy nutrition. By introducing quinoa to the menu, it is easier to curb excessive appetite and regain control over calories consumed.
Read also: Fibre Select – a fibre which will help you lose weight
Quinoa helps regulate blood sugar levels
The glycemic index of quinoa is 35, so it is low, which is good news for diabetics, pre-diabetics, people with insulin resistance. The low glycemic index means that the product does not cause sudden spikes in blood glucose.
The dietary fiber contained in quinoaslows down the breakdown of carbohydrates and their absorption into the bloodstream. This protects us from intense insulin secretions and the progression of the process of decreasing cell sensitivity to insulin. What is more, quinoa, by normalizing blood sugar concentration, also prevents conversion of sugars into fat tissue, and thus prevents weight gain. The positive effect on insulin-glucose balance in the body makes it even recommended for diabetics and overweight and obese people.
Quinoa contains a wide range of vitamins and minerals
As we all know, it is not difficult nowadays to have nutritional deficits. The content of our menus is largely processed food with little or no nutritional value. Busy lifestyle promotes not only frequent use of low-quality ready-made food, but also irregular, too infrequent consumption of meals and not diversifying them, choosing the easiest culinary solutions. In this way we treat ourselves to vitamin and mineral deficiencies, which result in deterioration of health and skin and hair condition.
Systematically reaching for quinoa in the diet, we provide ourselves with a large dose of vitamins and minerals important for the proper functioning of the body. Thus, we supplement deficiencies of essential nutrients, improve the appearance, improve the condition of the body, improve brain function, give ourselves energy and vitality.
Quinoa is a provider of valuable unsaturated fatty acids for the brain and heart
Quinoa contains unsaturated fatty acids such as linolenic acid, oleic acid and linoleic acid. These are so called good types of fats, which support our whole body in many ways.
Among other things, they have the following effects: lower the level of bad cholesterol, normalize blood pressure, improve the condition of blood vessels, protect the heart and have a positive effect on its work, reduce the risk of atherosclerosis, strengthen the immune system, improve brain function by regulating the level of neurotransmitters, support psychological functions, have a positive effect on the condition of the skin.
Quinoa in cancer prevention
Recent studies on quinoa have shown surprising results. It is estimated that its systematic consumption may promote inhibition of cancer cells. Current tests were conducted on rats, in which quinoa was shown to have a positive effect in the fight against cancer cells.
Quinoa – uses in the kitchen
Now that we know that quinoa is worth eating, let's see how to prepare it in the kitchen. Quinoa is characterized by a slightly sweet (but not sugary!) and slightly nutty taste. Despite these chords, it remains a flavor-neutral product. It is therefore very versatile in use, fits into many culinary products, can be an ingredient of both hot and cold dishes. It can be served as part of breakfasts, lunches, dinners, as well as small snacks.
Among other things, Quinoa harmonises well with sweet and fruit flavours, which is why it is perfect as an addition to healthy desserts. We can use it in muesli mixes, oatmeal, granola, sweet cheese and yoghurt. It is also suitable for other cold desserts: ice creams, cocktails and baking.
In salty and spicy dishes quinoa can replace rice, groats, potatoes or pasta. It tastes great with vegetables, meat, fish, so you can easily mix it into various dinner dishes (e.g. burgers with quinoa, risotto with quinoa, quinoa with meat and vegetables in Mexican style, vegetable soup with quinoa, stew with quinoa). Quinoa will also prove useful as an ingredient of stuffings, salads, and pastes.
How to cook quinoa?
Before cooking, the quinoa grains should be thoroughly rinsed under running water. Cook like traditional rice in a 1:2 ratio (1 cup of quinoa to 2 cups of water) for about 10-15 minutes.
Quinoa recipes
Spring salad with quinoa
Ingredients:
1 cup cooked quinoa
2 handfuls of lettuce leaves torn into smaller pieces
6 radishes
1 green cucumber
2 tomatoes
1 pepper
1 small red onion
chives and parsley (a few sprigs each)
optional: fresh coriander, basil or mint
to season: 2-3 tbsp olive oil, lemon juice, garlic, basil, lemon pepper, salt
Preparation:
Cut radishes into half slices, cucumber, tomato and pepper into cubes. Chop the onion, chives and parsley finely. Optionally chop coriander, mint or fresh basil. Combine all ingredients, mix thoroughly and season to taste.
Quinoa cutlets, beetroot, pumpkin seeds and sunflower seeds
Ingredients:
1.5 cups of cooked quinoa
3 cooked (or roasted) beets
1/2 or 3/4 cup ground pumpkin seeds and sunflower seeds
3 tbsp wholemeal flour
1 egg
half a bunch of parsley
1-2 cloves of garlic
1 onion
To season: salt, pepper, paprika, thyme, oregano, coriander, nutmeg
Preparation:
Cut the onion into small cubes and fry. Pass the garlic through a press. Chop the parsley. Grate the beetroot into medium or large grates. Place quinoa, beets, ground grain, parsley, onion and garlic in a large bowl. Crack in the egg. Add a teaspoon of salt and a big pinch of spices each. We begin to gently mix. Gradually add 1 tablespoon of wholemeal flour until it reaches a uniform and fairly thick consistency, from which you will be able to form chops. Taste the mixture and add more salt or spices if necessary. Form small chops from the mixture. Fry in oil on both sides until browned.
Quinoa with turkey and vegetables
Ingredients:
1.5 cups of cooked quinoa
turkey breast (approx. 400 g)
1 courgette
2 carrots
1 red pepper
tin of corn
7-8 mushrooms
1 onion
piece of leek
oil for frying
to season: salt, sweet paprika, chili pepper, curry, ginger, coriander
Preparation:
Cut the turkey breast into cubes and fry, then remove from the pan. Cut the mushrooms into quarters or eights. Dice courgettes and bell peppers, slice carrots and leek and peel onions. Lightly fry the onion, add carrots and after 3-4 minutes add the remaining vegetables. Fry for a few minutes. Add a little bit of each spice, pour a little bit of water and stew for another few minutes. Finally, add the turkey, which has been fried before, and stew for 5 minutes. Season to taste. Put cooked quinoa on the plate, on top put the vegetables with turkey.
Quinoa – nutritional values
Nutritional value of cooked quinoa in 100 g:
Energy value – 120 kcal
Total protein – 4.40 g
Fat – 1.92 g
Carbohydrates – 21.30 g (of which monosaccharides 0.87 g)
Fiber – 2.8 g



Vitamins:
Thiamine – 0.107 mg
Riboflavin – 0.110 mg
Niacin – 0.412 mg
Vitamin B6 – 0.123 mg
Folic acid – 42 μg
Vitamin A – 5 IU
Vitamin E – 0.63 mg
Minerals:
Calcium – 17 mg
Iron – 1.49 mg
Magnesium – 64 mg
Phosphorus – 152 mg
Potassium – 172mg
Sodium – 7 mg
Zinc – 1.09 mg
Check: Slim Dream Shake – a delicious shake for weight loss!