Nordic walking – a great way to lose weight?
Nordic walking is a well-known method of recreation. It consists in walking with the use of characteristic poles. This form of physical exercise is defined as a composition of traditional walking with the technique of cross-country skiing. Practicing nordic walking is a very simple way which brings many health benefits.
Nordic walking was created in Finland in the 1920s. However, it has become most popular among the many amateurs of the sport in the last few years. At the beginning, it was only a form of training for running athletes. In 1997 it was described by Marko Kantanev. Before that it was undescribed, so except for cross-country skiers who were initiated into it, nobody knew how to properly perform pole walking.
Nordic walking – What are the advantages of walking with poles?
Nordic walking is not taken seriously by many people. On the surface, everything may seem very easy. Simply marching with poles shouldn't be too much of an effort that will have a positive impact on our health. However, the nordic walking involves the whole body muscles. Therefore, if it is performed regularly and with high intensity, it will translate into visual results in the form of a slim figure. Correct walking with sticks mainly engages such muscles as:
Triceps
Biceps
Leg muscles
Chest muscles
Arm muscles
Abdominal muscles
It is also important to note that the nordic walking walking technique affects these body parts differently than when running or walking. This form of activity can be a good addition to running. However, not everyone is aware that nordic walking is also three basic levels of activity.
Health level
Fitness level
Sport level
These levels differ in intensity and purpose. However, the least amount of effort is put into the health level and it is primarily aimed at older people or post-injury individuals who want to regain fitness. This level allows performing 1-2 workouts of 30 minutes each week. The most intensive workout is performed at the fitness level. In this situation three training units of about one and a half hours each are recommended. The sports level requires the most effort and brings the best results. In this phase training should take place on varied terrain such as hills, ravines and mountains. The pace of exercise should be quite intense. It is advisable to have three workouts per week with a daily break. During the break, your body will be able to regenerate.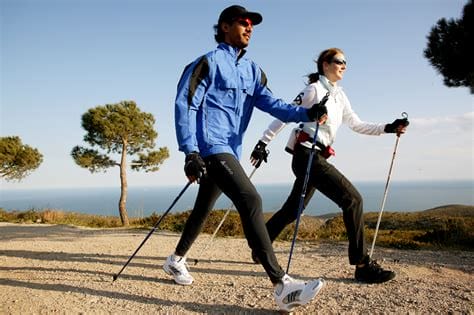 Read also: Fat burners ranking
Nordic walking – How to walk properly to lose weight?
This technique is an essential part of nordic walking. Burning fat is one of the many benefits that you can get from doing this walking with poles regularly. Proper walking depends on several techniques. Therefore, you need to keep a few things in mind:
The steps must be taken with the transfer of body weight from the foot, through the mid-foot to the toes.
The sticks must be pointed diagonally backwards throughout the walk.
When placing the right heel, the left stick must touch the ground. In the case of the left leg, it is the right stick.
When making a forward motion with the hand, it must not cross the hip line.
The poles must be held at the very end, where there is a suitable profile for the hand.
It is recommended that beginners learn to walk with the nordic walking without the ski poles. This will allow you to develop the right habits and to maintain a straight posture, proper foot placement, and relaxed shoulders. After 1-2 trial walks without the ski poles, you will be able to start practising with special ski poles. Keep in mind, however, that nordic walking is a physical activity just like any other. For this reason, the workout should be preceded by a warm-up lasting several minutes.
For those who want to burn fat, I recommend designing a training plan that will be followed conscientiously. The most effective will be the fitness level exercise, that is long workouts at a fast pace, which will allow you to lose weight and improve the appearance of your whole body.
Nordic walking – Which poles to choose?
Here the equipment is of great importance, since it is constantly used and prone to damage. It is good to know that the poles for nordic walking are distinguished from other poles. Those for walking are characterized by the fact that they have special gloves on top. Thus, it is possible to transfer the movement of your arms to the pole. When purchasing walking poles for the nordic walking, it will be great to try the gloves on. This way you will check if you are comfortable with them and the length. Most good quality poles are adjustable so they can be adjusted to fit any person and their height. If the person who plans to nordic walking workouts is going to do them on asphalt should purchase special rubber caps for the lower part of the poles.
Read also: Best pills for weight loss