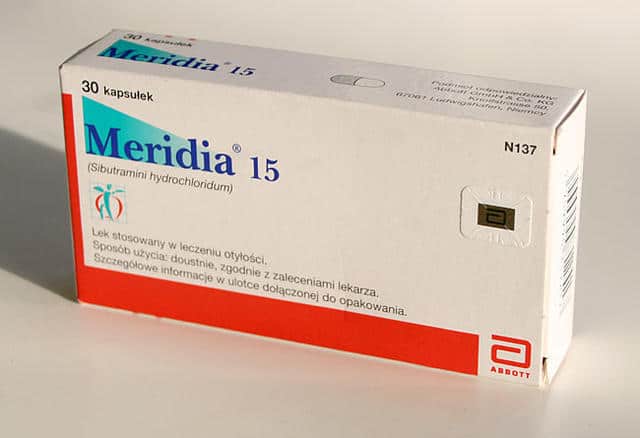 Meridia – a dangerous and harmful weight loss product
The effective fight against overweight and obesity requires the use of equally effective slimming measures, often pharmacological. However, not all of them are safe to use, some may cause extremely unpleasant side effects, and in many cases pose a health risk. In the so-called "second circulation" there are also medicines, which have been declared illegal in the entire European Union. Meridia is one of them, which was withdrawn from circulation in 2010.
Meridia – chemical composition and effects
This specification appeared on the market more than 10 years earlier, in 1997, and according to the assumption of the manufacturers it was to be a beneficial alternative to other means inhibiting excessive appetiteOver time, it became a cult drug. It was used primarily by women striving for the greatest possible weight loss in the shortest possible time, but it soon became apparent that Meridia is not only a weight-loss drug, but can cause at least serious diseases, and its overdose can even cause death of the patient. In the UK alone, several dozen people died because of this drug, and several thousand more fell ill with various diseases difficult to cure, and these data are confirmed not only by the British media.
The active ingredient is primarily responsible for this harmful effect, and Meridia contains an extremely dangerous one, which is sibutramine. It is an organic chemical compound commonly used in the treatment of overweight, the so-called anorectic drug, which blocks the appetite thanks to its direct action on the nervous system, causing the secretion of hormones such as serotonin and dopamine. It also increases the intensity of thermogenesis, which facilitates faster fat burning while speeding up metabolism and increasing glycogen production in muscles.
Meridia – occurring side effects
This is what its effectiveness was based on, a two-fold effect, on the one hand to suppress the appetite and on the other to burn calories better. People using this drug did experience initial positive effects, faster weight loss, increased performance, or energy to exercise, but in fact, all of this unfortunately came at the expense of health. The list of side effects of sibutramine is long, and medical experts point to, among others:
Increase the risk of heart attacks and strokes;
The possibility of increased blood pressure, which leads to excessive strain on the heart muscle, accelerated heart rate, which can end in dangerous valvular regurgitation;
problems with the digestive system, nausea, vomiting and troublesome diarrhea;
mental problems, because sibutramine is characterized by an extremely strong psychoactive effect manifested by large mood swings, nervousness, and in extreme cases uncontrollable aggression and complete lack of control over their behavior. It also causes concentration and memory disorders, often leading to increasing depression and suicidal thoughts;
appetite disorders, and sometimes even its complete loss, which is a threat even to life, in addition to taste disorders and a constant feeling of dryness in the mouth;
increasing problems with sleep, leading to insomnia, which also has a negative impact on the psyche;
disruption of the menstrual cycle in women, and in men a gradual decrease in potency, which can eventually lead to permanent impotence.
These side effects should already be a warning sign against the use of this drug, but despite the complete ban on its sale, it is still available in the second circuit. However, before we reach for it, we should consider whether the way to a slim, slender figure should also mean total ruin of our health and many years of treatment for diseases caused by Meridia.
Meridia – reviews and safe alternative from our ranking
Unfortunately, despite the many warnings, there will always be someone who disregards the recommendations of doctors, but does so only at his own risk. The mostly negative reviews that Meridia enjoys among weight loss enthusiasts mostly clearly show the risks that come with taking it, ranging from the deterioration of one's general health to the strong addiction to sibutramine that requires drug treatment. These warnings, also from numerous specialists, are so suggestive that it is much better to look for other remedies with similar effects that are completely safe and free from this prohibited active ingredient.
Such pills, with carefully selected and, above all, well-thought-out composition, can be found in our ranking of the best slimming pills. We have gathered there only the ones, the use of which is safe, resulting from the use of natural ingredients and does not carry any risk of side effects.