Herbs for acne – natural methods of dealing with pimples
Pimples, pustules or pimples appearing on the face, all these unsightly skin changes signifying developing acne, require taking effective treatment giving back perfectly smooth, healthy skin. Most often we decide on pharmacological treatment, which quickly gives the expected results but at the same time entails many side effects. Not everyone can withstand the action of strong antibiotics without problems, which ends for example with irritation or redness of the epidermis, and in extreme cases even a strong allergic reaction. That is why it is worth considering a different way of getting rid of pimples, taking advantage of what nature itself gives us, that is the power of herbs helping equally effectively to cure acne and almost any other skin disease.
Herbal treatments – indisputable benefits for our skin's health
The importance of herbs to our health really cannot be underestimated, and their use in natural medicine in general dates back thousands of years. They are commonly used in the preparation of many medicinal preparations whose effectiveness is even equal to some currently produced medicines consisting exclusively of artificial ingredients. It is influenced by the richness of nutritional substances contained in particular species of herbs, including those used for acne. Despite the fact that they may significantly differ from one another, in most of them we can find such valuable components as:
large amounts of vitamins, without which there is no way to have healthy, firm and smooth skin. Vitamins also have a beneficial effect on the general health of the body, providing support in the treatment of various diseases, for example, on an equal footing with the pharmacological agents used;
azulenes, substances characterized by anti-inflammatory and antibacterial properties, thanks to which even largepurulent pimples heal quickly;
tannins and flavonoids, the former helping to fight most of the bacteria present on the surface of the skin, and the latter accelerating the processes of its natural regeneration;
saponins, accelerating and facilitating the absorption of all other nutrients supplied to the body, also acting anti-inflammatory and antibacterial;
mucilaginous substances, lubricating the skin, preventing its excessive dryness and, similarly to azulenes, having anti-inflammatory properties.
Herbs for acne – which of them are recommended by doctors and pharmacists?
There are many herbs which can counteract acne changes and help in their treatment but before you decide to use any of them, it is worth to get to know their action and possible contraindications. Acne herbs should also be chosen according to the type of this disease, other for hormonal acne, most often encountered in young people, and other for rosacea, particularly difficult to cure. There are many advantages of such natural treatment, but just a few of themshould convinceus to use it immediately:
100% naturalness of the treatment method, in most cases without any risk of complications;
quick removal of all blemishes from the skin, regardless of their severity;
regaining healthy look, firmness, smoothness and natural skin tone.
If you don't know which herbs to use, you can always consult your doctor or pharm acist at the nearest pharmacy, or simply ask your mother or grandmother, who surely used them themselves in their youth. However, there are a few plants that show the highest treatment efficacy, and the most popular ones worth using immediately are:
Calendula – yellow flowers effective not only in treating acne
The first herb for acne that we find in the garden or meadow are the marigold flowers with their characteristic yellow color. Among other herbs commonly used in natural medicine, it is distinguished by its versatility of application, not only in removing acne lesions. Most of the active ingredients are found in the petals of the marigold, and these are mainly substances such as:
vitamin C, full of antioxidants, without which we cannot dream of smooth skin without pimples. It is the most effective in slowing down all natural skin ageing processes, removing free radicals, restoring lost skin colour, eliminating discolouration. It protects against the effects of sunlight, it also supports the production of substances which make up the skin, including the most important collagen;
saponins and mucilaginous compounds described above;
flavonoids, which help cleanse the liver of toxins,
karetonoids, another antioxidant, which additionally improve the functioning of the immune system, responsible also for protecting the skin against acne.
Calendula is most often used in the form of ointments or creams, which can be easily bought in cosmetic and herbal shops. It is also a common ingredient in cosmetics, tonics, soaps and face washes, and their delicacy makes them suitable for practically every skin type, rarely causing unwanted allergic reactions.
Viola tricolor – useful for all types of acne
Another herb worth recommending is definitely the colorful violet, also known under the more popular name of pansy. These colorful flowers, also growing in our gardens, have many medicinal properties, showing effectiveness in treating conditions such as inflammation, hypertension, or rheumatic pains, a common joint disease. Again, this is favored by its composition, in which, in addition to a large amount of vitamin C and minerals, we find substances with antioxidant properties, especially beneficial bioflavonoids and carotenoids. Its action on acne, in turn, comes down to cleansing the body of toxins lingering in it by accelerating metabolic processes. It also shows a cleansing effect on the skin, reducing excessive seborrhea, one of the most common causes of pimples, disinfecting, helping in the treatment of already formed irritations, antibacterial and antifungal. After applying pansy compresses or regular drinking 2 – 3 times a day infusions prepared from its flowers, the skin is not only cleansed, but also as smooth as before the appearance of acne symptoms.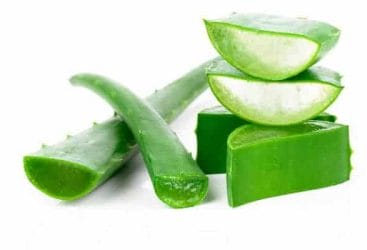 Equally popular for treating acne and alleviating its effects is aloe vera, whose characteristic fleshy leaves are full of juice rich in vitamins from groups: A, B, C and E and minerals essential for skin health: iron, zinc, potassium, magnesium, sodium and calcium. In addition, the juice also contains numerous amino acids, organic acids, especially malic, citric, cinnamic and succinic acids, polysaccharides and polypeptides. These substances occur in perfectly selected proportions, in the form most easily absorbed by the organism, thanks to which aloe juice has such a versatile medical application and shows, among others, the following effects
anti-inflammatory and antibacterial;
moisturizing the skin from the epidermis to its deepest layers and soothing all redness and irritation;
brightening acne scars and discolorations;
inhibiting excessive secretion of sebum;
significantly inhibiting the skin aging process with simultaneous acceleration of its regeneration.
An aloe mask can work wonders, but before applying it it is worth checking on a less exposed part of the skin whether it will not cause an allergic reaction, which, unfortunately, is sometimes the case with this plant.
Nettle – invariably the best for skin health and appearance
Commonly growing on meadows and often also in our gardens Nettle We usually treat it as a weed, not even knowing what valuable health properties it has. It seems to us that it can only cause painful blisters and skin irritation, when in fact it is able to significantly improve its appearance, making it easier to get rid of most acne lesions. This is influenced by its rich composition, and in these smoking green leaves you will find, among other things:
vitamins: A, B2, C, E, K;
minerals: magnesium, iron, silicon, calcium, manganese, zinc, phosphorus;
lecithin, formic acid, phytosterols and natural silica.
Thanks to such a composition, nettle stands out particularly favorably among other herbs for acne, acting anti-inflammatory, accelerating the healing of wounds and pimples or reducing the existing acne scars. There are many ways of using it, but it is best to use preparations having it in their composition, not only cosmetics for everyday facial skin care, and the obvious benefits of its use will also be felt by our hair, which will become thick, strong, perfectly nourished from the roots to the ends and will stop falling out. We can also count on strengthening our nails, which in turn will cease to be brittle and fragile.
Royal Skin 500 – number one in acne treatment
Of course, herbs are not the only components which positively influence our skin condition; it is also worth using a complex supplement not only treating acne but also making the skin exceptionally smooth and elastic. It is Royal Skin 500, characterized by the highest confirmed effectiveness and carefully selected composition, in which we find, among others:
Vitamins, C and B7, or biotin. The former will soothe all possible inflammations, usually unavoidable in case of acne changes appearing on the face, and the latter will effectively reduce sebum secretion and skin pores will not clog;
hyaluronic acid, which has made a real furore not only in cosmetics, but also in medicine, soothing inflammation and smoothing the skin at a rate previously not provided by any other substance;
collagen, which is one of the building blocks of the skin, and here we can find its easily absorbable marine variety;
Zinc, which is an effective antioxidant that inhibits the natural aging process of the skin and free radicals, the cause of many serious diseases.
Royal Skin 500 can be safely considered number one in acne treatment, and the positive reviews we can find about it fully confirm all effects. Regular use, in the amount of only 2 tablets per day, allows one hundred percent get rid of all skin changes, and the first results can be seen after 3 – 4 weeks of treatment. Continued treatment over the next few months results in completely cured, perfectly smooth skin, which in the case of women will be a shame to hide under makeup.
Royal Skin 500 – the easiest way to buy it
We will buy the supplement from its manufacturer, the cost of one package is not high. However, on the website, where you can also place an order, you will always find attractive price promotions, bulk packs giving us a supply of Royal Skin 500 sufficient for the entire treatment, consisting of three or even six packs.