DX2 shampoo – can it cope with hair loss
Hair can be anything from dry and brittle to oily and dandruff-prone hair. Both of these ailments are rather cosmetic in nature and may be solved simply by regular shampooing with the use of a suitable shampoo. The real problem begins, however, when you notice a significant and usually accelerated thinning of your hair, a sign that your hair is starting to fall out. If their number is insignificant, falling within the limits of 100 – 150 per day, there is no reason to panic, however, in the case of larger quantities you need to start acting more decisively. Many types of baldness, practically regardless of its causes, can be effectively prevented by using, among others, therapeutic shampoo DX2 in a characteristic black tube, known from advertisements in the media.
Accelerated baldness – what are the most common causes of this disease
Hair loss, especially in very large quantities, can become a cause of severe stress, causing constantly falling self-esteem and lower self-esteem. The first step should of course be to find out the reasons why this is happening, and they can be really varied. In most cases we are not able to recognize them on our own because their cause lies inside our body. Therefore, instead of experimenting and exposing ourselves to even more hair loss, it is better to take the help of a specialist. A visit to a trychologist will bring many benefits, and his professional tests will clearly show what makes us suddenly start balding, and the most common causes are:
deficiencies in hygiene not only of the hair, but also of the scalp, which requires the same careful care. Many people wash their heads in an improper way, rub them too hard with shampoo or even scratch them with their fingernails, which immediately causes irritations or wounds that can weaken hair bulbs and hair follicles. Their treatment can sometimes take a long time, and similar damage may cause cosmetics that do not match the natural pH of the skin. They may become the cause of excessive dryness, but more often of oily skin, and intensive sebum secretion is a simple way to develop seborrheic alopecia. People with long hair must be careful not to tie it up too tightly, because it may start to come out in handfuls;
Nervous tension states, the negative effects of which are felt throughout the body, including in the hair. If possible, we should avoid or at least mitigate the effects of severe stress, otherwise we have to reckon with rapidly progressing baldness;
disorders of secretion of certain hormones, i.e. improper hormonal balance of the body. In men, this concerns mainly testosterone, whose proper level allows to maintain full sexual performance for a long time, while having a huge impact on the functioning of hair follicles. They are extremely sensitive to one of the varieties of this hormone, dihydrotestosterone (DHT) causing first their weakening, and eventually even complete death. The result is only one, hair falling out in large quantities, constantly growing baldness, and in this case we are dealing with androgenetic alopecia;
diet, which men are so reluctant to talk about, often unaware of the fact that their favourite barbecued ribs, sausages or pork neck can adversely affect the state of hair, and not only cause rapidly growing overweight and obesity. Constant consumption of unhealthy, fatty and high-calorie food threatens to deplete your body of essential vitamins and minerals, which are also necessary for proper hair growth. Let us throw out of our menu our favourite red meat, fast foods, alcohol and other stimulants, excess of sweets, nuts and crisps and food described as highly processed. A change of beverage habits is also useful; yerba mate or green tea has numerous properties, which are beneficial for hair health;
co-morbidities that significantly disrupt our body, manifesting themselves, among other things, also in baldness and medications that are commonly used to treat them. Their use is better to consult a doctor beforehand, although it is better to get rid of a troublesome and dangerous disease such as lupus than worry about the accompanying thinning of the hair.
These are of course only some, but in our opinion the most important causes of male pattern baldness, which fortunately we are able to effectively counteract ourselves. All you need to do is change the shampoo you've been using so far to DX2 and your eating habits, although we admit that with the latter is a bit more difficult.
Check: Ranking of preparations for baldness
DX2 – composed of only natural substances
Regardless of what anti hair loss product you decide on, you should first carefully check its composition both for effectiveness and possible side effects. The current trend, which we also support, forces manufacturers of shampoos and other products designed to stop hair loss to use only natural ingredients. The times of artificial and at the same time harmful active substances are probably gone forever, which makes not only enthusiasts of ecological solutions happy, who care about their health. This is the case with DX2 shampoo, in which we find the following natural active ingredients that determine its properties:
A formula called Pronalen Fibro – Actif
Invented and patented by the manufacturer, composed of carefully selected bioactive molecules that reach the source of the problem lying in the deep layers of the skin, in the very roots and follicles from which hair grows. Acting just there, at the cellular level, they positively affect the improvement of hair condition, extend their growth phase, thus stopping accelerated and excessive hair loss.
Aloe Vera fleshy leaf extract
In this shampoo bearing a somewhat exotic name Aloe Babadesis Leaf Juice, an ingredient whose task is not only to stop and reverse the process of baldness, but also to increase the strength of the natural hair regeneration. This is facilitated by the high content of fatty acids Omega – 3, vitamins: A, C, E, B and minerals, phosphorus, copper, iron, potassium, sodium and zinc. Aloe vera has been used in medicine for centuries and is valued for its antibacterial, anti-fungal and anti-inflammatory properties, stimulating microcirculation in the scalp and improving its oxygenation as well as inhibiting sebum secretion, a frequent cause of hair loss.
DX2 – multidirectional action aimed at hair loss inhibition
The action of DX2 shampoo can be safely considered multidirectional, simultaneously preventing hair loss and stimulating rapid growth of new hair. They are strengthened from within, become thicker, less brittle and fragile, also regain their deep, natural color and shine. By reaching the hair roots, the shampoo strengthens and rebuilds the hair structure , regenerates the roots themselves. All you need to do is wash your hair regularly with DX2, applying a small amount of shampoo to wet hair and massaging it gently, then rinsing with plenty of warm water. For best results leave it on for a while before rinsing.
DX2 – effectiveness after long term use and user reviews
DX2 is intended for use only by men over 18 years of age and is not recommended for children who should have difficult access to it. Its effectiveness and final result of use depends on many different factors, the most important of which is the specific type of baldness. Unfortunately, it does not always work as quickly as we would like, sometimes we just have to be patient and wait for the first positive effects. They also vary, many people can't praise them, enjoying the fast growing and thickening hair, but there are also opinions both neutral and completely negative. On hair loss discussion forums, you can read, among other things, that it's great for daily hygiene, giving your hair a unique look, is easy to apply and has a pleasant scent. Hair growth is not always as great as claimed by the manufacturer and is sometimes limited to a small patch of hair appearing mainly in the corners and on the forehead line. Of course, this is not the rule, best to try the shampoo on your own hair and see if it can cope with our baldness. Sometimes it turns out that shampoo alone, even DX2, is not enough and you need to additionally support your body with a proper dietary supplement, preferably in tablets.
Quick and, what is the most important, permanent cessation of hair loss
In order to stop hair loss once and for all, it is necessary to provide the body with all the necessary nutrients, which will be able to act from the inside, directly in the place where the problems occur. Unfortunately, shampoos work mainly on the outer part of the scalp, and since we rinse them out immediately, the active ingredients simply do not have time to penetrate the inner layers of the skin. The tablets you will find in our ranking of anti hair loss tablets work better. They contain the substances described below among others:
Field horsetail extract
This inconspicuous plant is mistakenly considered a weed and removed from our gardens. But before you do that, you should get to know its many healing properties and its beneficial effects on the health of your hair and scalp. Horsetail is one of the most important sources of silicon, an element necessary for stopping the balding process, so it is not surprising that it is included in the composition of tablets. Among other things, it participates in the synthesis of keratin, the building material of hair, supports and regulates the work of sebaceous glands preventing excessive seborrhea. Thus, it not only gives the hair proper structure and resistance to almost all adverse external factors, but also exceptionally aesthetic appearance, softness, shine and natural colour.
Common nettle extract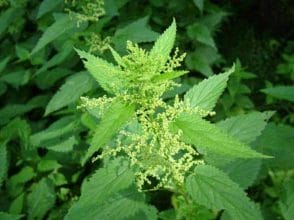 Another plant still considered a weed by some, yet already appreciated in medicine, not only natural. This is due to the advantages, which can not be disputed in any way, resulting directly from the composition of nettle, full of the most necessary nutrients for hair, such as:
vitamin A, in our body stored primarily in the liver, also called retinol, beta – carotene or provitamin A. It is indispensable for health, preventing the development of many dangerous diseases, including the so-called chicken blindness. It regulates vision, strengthens the immune system, has antibacterial and antiviral effects, regulates the processes of skin cell metabolism, including that of the head, thus allowing to avoid baldness;
Vitamin C, or ascorbic acid, which probably does not need to be presented to anyone, known primarily for treating various infections, flu or colds. It is a strong antioxidant that removes free radicals from the body, the cause of many diseases, including skin cancer. Vitamin C helps stop its natural aging processes, takes care of the blood supply by sealing the walls of blood vessels, regulates the production of collagen, another important building block of skin cells and many other tissues of our body;
B vitamins, thiamine (B1), which takes care of the proper sebum level, riboflavin (B2), which makes the hair resistant to weather conditions, pantothenic acid (B5), responsible for proper nourishment of hair and scalp
numerous minerals: the above-mentioned silicon, zinc, potassium, phosphorus and iron.
Biotin (vitamin B7)
Also known as vitamin H and on purpose we describe it separately, because it is so important for stopping hair loss and the growth of new, stronger hair. Without biotin the proper functioning of hair follicles and hair bulbs is impossible, it prevents skin dryness and irritation, regulates sebum secretion. It also takes care of the proper amount of cholesterol in blood, which is of great importance in the treatment and prevention of heart and circulatory system diseases.
Amino acids, l – cysteine and taurine
Without them we can forget about stopping baldness and rebuilding a damaged hairstyle. L-Cysteine is another substance responsible for proper and undisturbed production of keratin and removing free radicals thanks to its antioxidant properties. Taurine, in turn, effectively strengthens hair follicles subjected to the possible destructive effect of dihydrotestosterone.