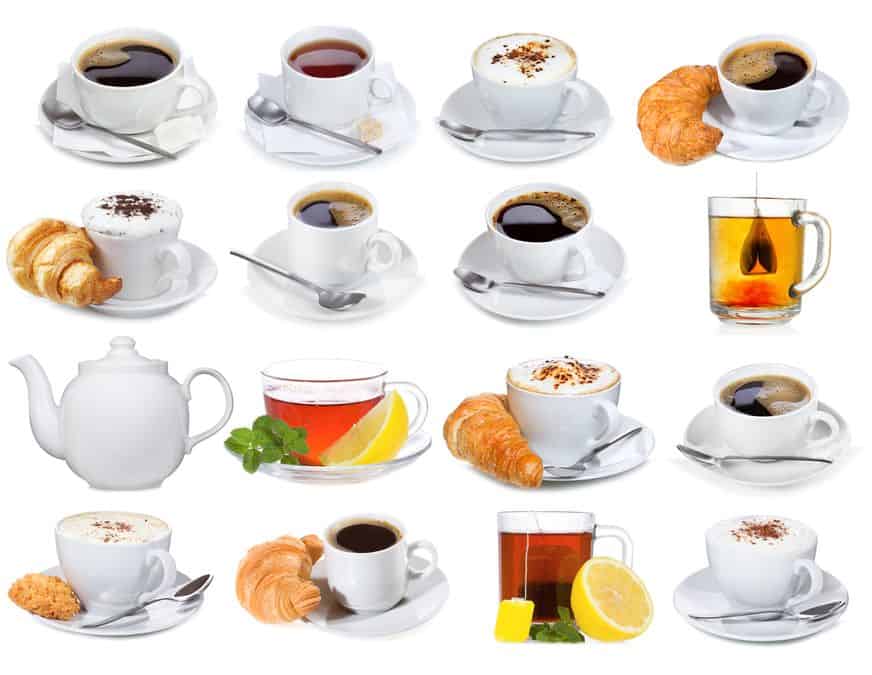 Coffee or tea – what effect do they have on our health
The two most popular and widely consumed beverages in the world are certainly coffee and tea, and their lovers have long argued about which is better. The answer to the question, coffee or tea, is really not simple, both have their advantages, emphasised by their fans, and disadvantages, sometimes even exaggerated by their opponents. What we drink depends not only on our personal preferences, but also on the properties that characterize both drinks, which have a significant impact on health, both positive and negative. It may sound strange, but after reading this article, you will decide for yourself what to put in your favourite cup.
Coffee or tea – how much is drunk in the world
Most of us cannot imagine a good morning without a cup of our favourite coffee or an aromatic infusion of black, red or green tea leaves. Both beverages arrived on our continent relatively late – coffee from Latin America and tea from the Far East, from distant and exotic China. They quickly gained enormous popularity, initially used as medicinal preparations, but soon people became convinced of their unique taste qualities.
The consumption of coffee and tea is constantly growing and it is hard to say which one we drink more of, although experts definitely point to coffee. The country where we drink the most coffee may surprise you, because the record-breakers in coffee consumption are the Finns (according to data from 2020), where it is consumed annually as much as 12 kg per statistical inhabitant. As far as our country is concerned, we are at the bottom of the pile with the result of 2.6 kg per year per one person and in our country, however, daily consumption of large amounts of tea is still more popular.
Coffee or tea – health effects of drinking coffee
As an avid coffee drinker, I will start my presentation of the medicinal properties and health effects of both drinks with coffee, which, contrary to generally accepted opinions, is less harmful than it may seem. However, we should remember that its amount should definitely not be exaggerated, and the permissible, proven by research caffeine dose is 400 – 500 mg, or 3 to 5 cups of coffee a day. It is not recommended to exceed this amount, and the lethal dose of caffeine is 10000 mg, so it is worth considering whether roasted beans should be replaced by an infusion of green coffee.
However, regardless of the variety, these small beans contain quite a lot of ingredients necessary for the proper functioning of our body, and apart from caffeine, we can find in them chlorogenic and coffee acids, as well as minerals: potassium, sodium, calcium and magnesium. You won't find vitamins in it, but drinking it regularly brings numerous health benefits:
1. a large daily dose of energy
You need it not only to perform daily activities in private and professional life, but also to be physically active, without which there is no way to cope with overweight and obesity. It is safe to say that caffeine contained in coffee helps in weight loss, accelerating metabolism and other processes leading to faster burning of fat tissue.
2. prevention of migraine headaches
What is possible thanks to another analgesic effect of caffeine, in addition to supporting the treatment of asthma and allergies, reducing histamine levels.
3) Prevention of tumor growth
This in turn is influenced by the antioxidant properties of coffee, which is a powerful antioxidant that removes all free radicals from the body, so we are not threatened by the negative effects of oxidative stress.
4 Greater brain activity
And at the same time better concentration, ability to think logically and quickly assimilate large amounts of new information. The stimulation of the brain is possible thanks to the increased secretion of dopamine, which is called the "happiness hormone" for a reason. Caffeine is also useful in relieving the symptoms of Alzheimera and Parkinson's disease.
Tea or coffee – why drink tea?
Having answered the question of which is better, coffee or tea, it's time to demonstrate the health-promoting properties of the different types of tea we enjoy with a cup of black. We also drink a lot of it, most of it black or earl grey, which are more and more often replaced with healthier green tea, full of vitamins, including vitamin C, minerals and other equally valuable nutrients, polyphenols and catechins.
They can also be found, although in smaller quantities, in other kinds of tea, they significantly affect all its health properties, the most important of which to be mentioned are:
1. anti-cancer properties
Similar to coffee and due to its antioxidant properties, the catechin content helps to get rid of health-threatening free radicals just as effectively. Catechins also help stop the body's natural aging processes.
2 Prevention of cardiovascular disease
What the catechins have an impact on again is the protection against the development of, among others, atherosclerosis, thanks to lowering the level of cholesterol LDL in blood, they also reduce the risk of stroke and myocardial infarction, they counteract the formation of blood clots, they regulate blood pressure. Our immune system is strengthened, even better protecting the body not only against seasonal infections.
Energetic properties
Drinking tea has an energizing effect on the body, just like drinking coffee, it stimulates it to action, removes all effects of fatigue, accelerates recovery after intensive training. It puts us in an excellent mood, relieves stress and other nervous tension, improves concentration.
4. effective aid in weight loss
In the fight against excess weight the best is green tea, a drink recommended for everyone who wants to lose weight without the risk of the yoyo effect. This is due to polyphenols and catechins which regulate digestive and metabolic processes, and which cleanse the body of toxins and waste products. Tea also works as an antidote, disinfecting the entire digestive system.
Coffee or tea – side effects of their consumption
The above-mentioned properties are only a part of the positive effects of drinking coffee and tea, however, as with other drinks, with their quantity should not be exaggerated, because they can cause quite troublesome side effects.
Side effects of coffee in excess
Insomnia and problems with falling asleep;
increased blood pressure;
dehydration;
skin problems, cellulite;
irritability and nervousness.
Side effects of excess tea:
sleep problems;
anxiety;
digestive disorders;
decreased iron absorption;
dry skin.
I leave it to you to decide which is better, coffee or tea, I reach for coffee more often myself, although I won't disdain a cup of aromatic tea, especially with a slice of lemon, not to mention two teaspoons of sugar.