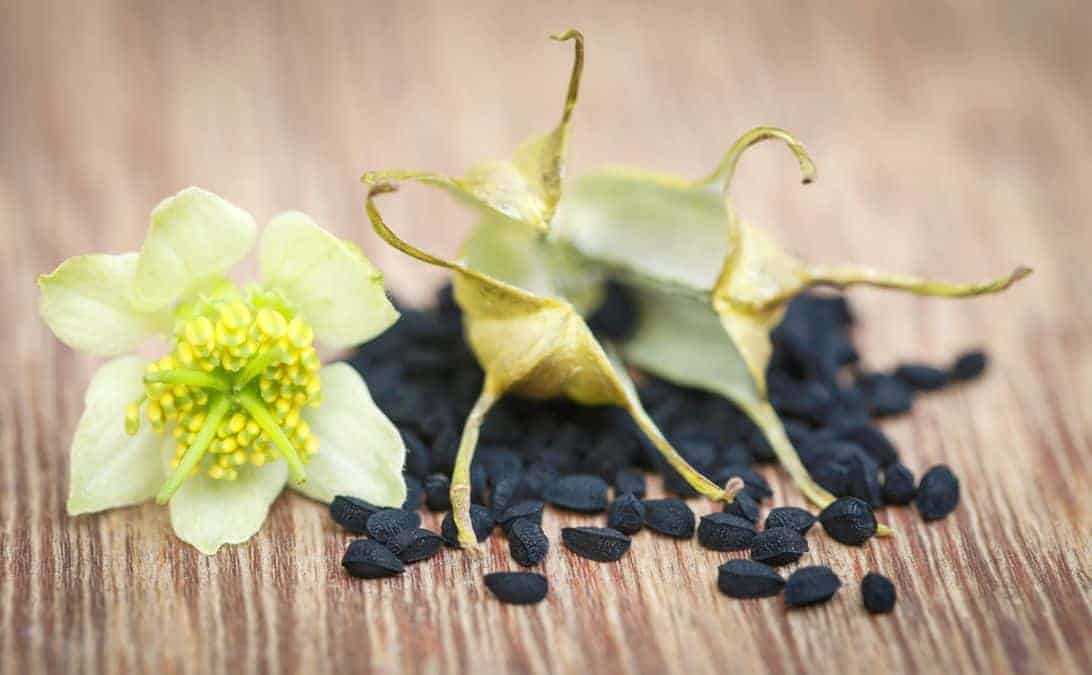 Black cumin – properties. What does cumin oil help?
Text has been verified by a dietician Aleksandra Dziura mgr.
Black cumin is a small seed, that has become very popular in the super foods industry. It is said that it has great healing powers and can help us stave off from many diseases and illnesses. It is a widely used spice, used in both savoury dishes and sweet desserts. Black cumin oil is considered to be a a remedy for many ailments. What are the properties of cumin and what else should one know about it?
What are the properties of cumin and what else should you know?
Black cumin in Latin is called Nigella Sativa. It is a seed plant in the buttercup family. It is characterized by pretty, blue flowers, which often grow in home gardens. In addition to presentational reasons, the plant also has many health properties, and in particular – its seeds. They can be found in the bellows of the fruit. Due to the color and taste are also called black cumin.
What is in cumin? Ingredients
Just one grain of nigella is a source of many healthful substances. These are:
thymoquinone – shows anti-inflammatory, analgesic and anticancer properties. It has a protective effect on liver and kidney cells;
vitamins: E, beta-carotene, a precursor to vitamin A, and B vitamins;
biotin – used in skin and hair care, has a beneficial effect on the functioning of the nervous system;
flavonoids, sterols and alkaloids;
microelements and antioxidants.
Not for nothing is nigella called "nature's treasure", in its miraculous properties believed the ancient pharaohs. Studies are still being conducted on this plant, although most of them confirm its beneficial effects on health.
What does black cumin help?
Black cumin is used in It is used in the treatment and prevention of many diseases. It is worth considering in the following cases In case of:
allergies – cumin has antihistamine properties;
anemia – it increases the level of haemoglobin and erythrocytes;
cancer – nigella fights free radicals, which are responsible for the formation of cancer cells
hypertension – reduces blood pressure and prevents formation of blood clots;
kidney stones – reduces the level of oxalates in urine;
stomach ulcers – relieves discomfort and helps fight helicobacter pylori;
diabetes – regulates blood glucose levels and supports the work of the pancreas;
asthma – especially in children; improves lung function;
infections with fungi and parasites – nigella is effective against tapeworm, flukes, pinworms;
skin and hair problems: helps in the treatment of acne, atopic dermatitis, psoriasis, dandruff;
osteoporosis – supports processes that increase density of guests;
depression – increases resistance to stress, has a calming effect.
Black cumin oil – properties and application
Theseeds of cumin are widely used in cooking, but cumin oil is also quite popular. It can be used both internally and externally.
Theoil fromcumin takes on most of the health properties of the seeds, and is used to treat and prevent conditions such as:
asthma – studies show that cumin oil has a beneficial effect on the respiratory system and can be helpful in relieving asthma attacks, however, the appropriate dosage should be determined by a doctor;
reduced immunity – regular consumption of black cumin oil supports the functioning of the immune system and increases the number of immune cells. As a result, the sensitivity of the body to infections is reduced;
flatulence – black cumin oil relieves flatulence and other ailments of the digestive system;
helps maintain normal heart rate and blood pressure.
Just like the seeds, the oil from oil is used to treat allergies, diabetes and to fight parasites. fighting against parasites.
See also: Vitamin C for improving immunity – how does it work?
Black cumin oil for the skin – cosmetic properties
Using nigella for skin care can prove to be very beneficial. The oil is often used as an ingredient in rejuvenating creams, as it has anti-aging properties. Cosmetic manufacturers like to combine it with coenzyme Q10 and collagen for enhanced effects.
It is also popular to use black cumin oil on hair. The product stimulates hair growth and reduces hair loss.
Black cumin oil – when to use?
In addition to preventive purposes, black cumin oil black cumin oil is worth using:
in case of inflammatory conditions of the skin;
to moisturise the skin;
for skin renewal;
to soften the skin;
to reduce the appearance of or eliminate scars;
for skin rejuvenation;
for sunburn;
to strengthen and reduce hair loss.
Black cumin oil – contraindications
Pregnant women should be cautious about taking cumin oil. It should not be given to children under 3 years of age. When consumed in excessive amounts, it may lead to hypotension and cause such ailments as: stomach aches, dizziness, itchy skin.
Black cumin – opinions
Due to its wide use in medicine, cumin in any form enjoys rather good reviews. It can not be treated as a drug, but as a dietary supplement, supporting the condition of the whole body, it works great. It can be found in medical stores, health food stores, and even in ordinary markets.