Spices with medicinal properties – which ones are worth having in your kitchen?
Daily food preparation involves the use of many food products to achieve the final satisfying result of a tasty and nutritious meal. When cooking, it is worthwhile to take care not only of the taste of the dish itself, but also of its appropriate caloric content and health benefits. This can be helped by using the right spices, even exotic ones, and many of them have valuable medicinal properties.
What does herbalism, or phytotherapy, consist of?
Eating properly prepared, balanced meals not only makes it easier to maintain proper body weight, fighting overweight and obesity. At the same time, what we eat has a tremendous impact on our overall health, the functioning of virtually all internal systems and organs. In addition to the selection of basic ingredients in the diet, such positive effects can be provided by spices, and their use is a form of herbalism, also known as phytotherapy.
Herbalism is a variety of alternative medicine, known and used around the world for thousands of years, based on the healing properties of many herbs and plants. Originating in ancient China, it also developed in India, where it became an essential part of the ancient Indian healing system, Ayurveda. Of course, it also spread on our continent, herbs were already used by the ancient Greeks and Romans, and were also used in the lands of the Slavs.
Phytotherapy takes full advantage of the gifts of nature growing in meadows , fields or gardens. The use of herbs, including spices, is extremely wide, encompassing not only the kitchen, where they are a valuable addition to dishes, but also dietary supplements and cosmetics used for daily body care. Even schools are being set up to acquire the specialized knowledge necessary for properproper selection of herbs, avoid those that could do harm and make medicinal preparations from them.
What are the advantages of using herbs and other plants for medicinal purposes?
The advantages of herbalism cannot be underestimated, it is becoming increasingly popular and more and more people around the world are returning to traditional methods of taking care of their health. Specialists in this field especially emphasize such advantages of phytotherapy as:
the gentler, less invasive effects of herbs compared to typical pharmaceuticals;
low levels of toxicity and harmful compounds in the formulation, of course, with proper selection;
the practical absence of side effects in many cases;
high availability, many plants commonly grow in forests, meadows or fields, and can also be grown in the home garden;
versatility of use, both internally in the form of infusions or dietary supplements, and externally in the form of poultices, gels or ointments applied to the skin;
the low price, both of the herbs themselves and their processing into health preparations.
Kitchen spices – what is their basic division?
Before we get into a detailed description of the selected spices that we believe are worth having in the kitchen, we should familiarize ourselves with their basic division, which will make the eventual choice easier. Depending on their origin, it looks as follows:
herbal spices, as the name suggests derived from herbs, primarily their leaves, and include, for example, basil, oregano, marjoram and thyme;
vegetable seasonings, which are derived from dried and then ground parts of vegetables, such as parsley, carrots or garlic;
spices, the making of which uses dried, ground roots and other parts of plants, mostly oriental, cloves, vanilla, cinnamon, pepper, ginger;
spice blends, created by mixing together several or more ingredients, and examples include exotic curry blends, no longer popular only in India and the Far East, or Provençal herbs.
Are there any health contraindications to using spices?
Probably everyone likes native or exotic spices that perfectly enhance the taste of favorite dishes, but unfortunately not everyone can use them. Before seasoning a sauce, salad or chicken too much, medical contraindications should be taken into account beforehand, and many spices are not indicated for:
hard-to-regulate high blood pressure;
gastrointestinal diseases that cause severe digestive disorders, such as gastric or duodenal ulcers, gastroesophageal reflux;
inflammatory conditions of the mucous membranes of the digestive system;
obstruction of the bile ducts;
skin problems, prone to allergies, irritation or acne;
breastfeeding, and spices can harm the baby in the first place.
At the same time, it should be borne in mind that some of the spices, however, may cause some side effects, so they must be used with caution by use them during pregnancy, and if they are unsure of their effects, they should talk to their pregnancy doctor. Some spices also interact with medications, so be sure to read the accompanying leaflet carefully beforehand.
Which spices with medicinal properties are worth having in your kitchen?
The right choice of spices, which should at the same time have a beneficial effect on health, is not easy, especially when you buy them in the form of ready-made mixtures. In this case, special attention should be paid to their composition, which should not contain any harmful substances, primarily monosodium glutamate bearing the designation E 621. It is best to grow individual spices in your garden or on the allotment to be sure of their naturalness, and in the kitchen should be found primarily such as:
Common garlic (Allium sativum)
Probably the best known and fully deservedly called a natural antibiotic. Its effect is determined by the presence of vitamin A, B vitamins, thiamin (B1), riboflavin (B2), niacin (B3), vitamin C, amino acids, flavonoids, micronutrients: chromium, cobalt, magnesium, nickel, potassium and calcium. Properties of garlic that can be considered the most important for health are:
prevention and support of treatment of upper and lower respiratory tract infections;
protection against heart attack and stroke due to its anticoagulant properties;
supporting digestive and metabolic processes;
counteracting the development of dangerous intestinal parasites;
reduction of excessively high blood pressure and LDL cholesterol levels in the blood;
antibacterial, anticancer and antifungal activity.
Black pepper (Piper nigrum)
Prized primarily for the presence in the outer shell of the seeds of piperine, an alkaloid with exceptionally broad effects that promote weakened health, supported by small amounts of other nutrients. Piperine gives these small black grains their properties:
antioxidant, aiding in the removal of free radicals;
anti-cancer and anti-inflammatory;
strengthening the functioning of the immune system;
regulating digestive processes by increasing the secretion of gastric juices;
more effective detoxification of the body and cleansing it of unnecessary metabolic products;
accelerating metabolism to facilitate fat burning.
Thyme (Thymi herba)
Used especially as an additive to meat dishes, another one whose health-promoting properties qualify it to find its place in the kitchen spice cabinet. Specialists in herbalism and healthy nutrition also emphasize its nutritional value, for whichare responsible for tymol, essential oil, vitamin C, B vitamins, including folic acid (B9), and the presence of minerals, zinc, phosphorus, magnesium, potassium, calcium and iron. Thanks to this, thyme:
has antibacterial, anti-inflammatory and antiseptic properties;
accelerates the cleansing of toxins and other harmful compounds;
aids in the treatment of throat and nasal infections, making it easier to expectorate lingering secretions;
relieves persistent coughs, especially dry coughs;
improves digestion, relieves symptoms of many disorders of the digestive system;
strengthens weakened hair and scalp.
Basil (Ocimum basilicum)
One of the two most popular Italian spices, without which we cannot imagine, for example, pizza or spaghetti. Until a few hundred years ago it was considered a remedy for practically all ailments, this may be an exaggeration, but it is really worth using, and the body will quickly appreciate its healing effects. Basil also contains the above-mentioned vitamins and minerals, in addition to vitamin E, commonly known as the "vitamin of youth," giving it healing properties:
relieving digestive disorders, flatulence and indigestion;
a diastolic and diuretic effect;
reducing blood glucose levels, so it is worth using in diabetes prevention;
improving metabolic processes and detoxification of the body;
anti-inflammatory, antibacterial and strengthening the nervous system;
accelerating the healing of insect bites, swelling and swelling when applied externally.
Oregano (Origanum vulgare)
The second of the well-known Italian spices, no less popular, with a distinctive, unique flavor. It can be added to tomato sauce in the same way, and nutritionists emphasize more than just flavor. Oregano, also known as common oregano, will provide the body with numerous active compounds to strengthen health. These include vitamins A, B (B1, B2, B3, B6 and B9), C, E and K, manganese, copper, potassium, phenolic acids, including chlorogenic and rosemary acids, flavonoids, essential oils, tymol and karwakrol, and oregano's properties depend on them:
improving digestibility and digestion of food;
increasing the secretion of saliva, gastric juice and other digestive enzymes;
decongestant, effective on the muscles of the intestines, bronchi and bile ducts;
Windropic, anti-diarrheal and antibacterial;
regulating kidney function and urinary excretion;
increasing mucus secretion through mucous membranes in the respiratory system.
Ginger (Zingiber officinale)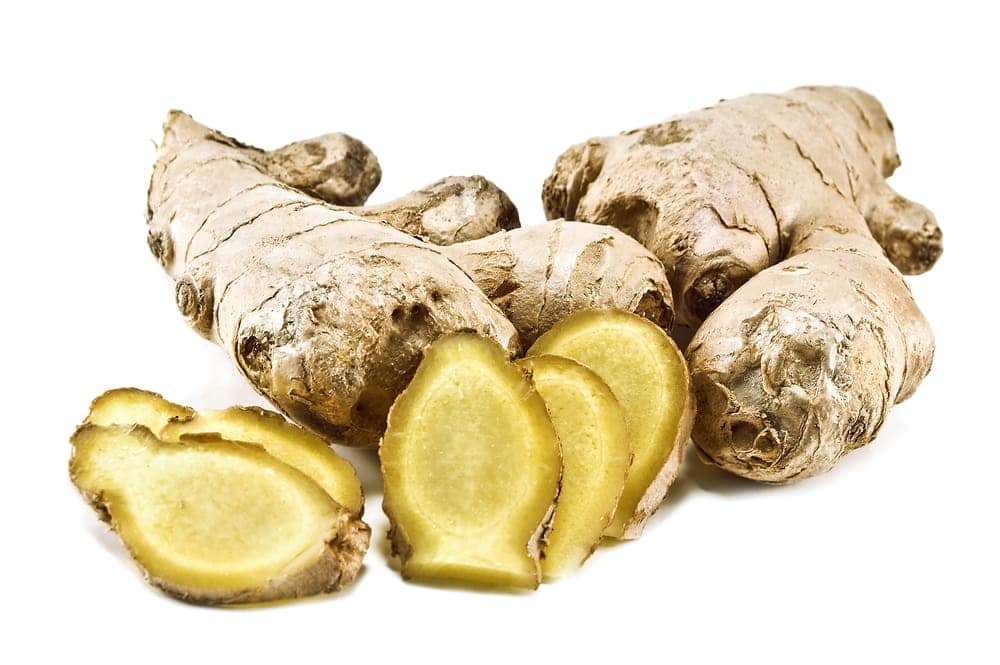 The root of this plant has versatile uses, culinary and medicinal, and the composition really is impressive. Ginger is a rich source of vitamins essential for health, A, B1, B2, B9, C, zinc, phosphorus, potassium, calcium, iron, dietary fiber. Equally important is the presence of such unique compounds as shogaol, zingiberol, gingerol, zinferol, and thanks to them, ginger has an effect:
anti-inflammatory, antibacterial and antioxidant;
Diastolic and analgesic;
regulating the digestive system and digestive processes;
lowering the level of "bad" cholesterol LDL;
alleviating symptoms of digestive disorders, constipation and flatulence;
anticoagulant and improving blood circulation;
antiseptic, accelerating the healing of wounds, irritations and ulcers.
What other spices have health-promoting effects?
The spices presented above are, of course, our subjective choice. Everyone certainly has his or her own favorites that he or she enjoys using, and of the many others with healing properties, we can still recommend:
cinnamon;
peppermint;
curry blends;
cloves;
turmeric;
cardamom;
rosemary;
fenugreek;
chilli;
coriander.