Citrus fruits – health and weight loss properties
It would be hard to find someone who does not like the exotic taste of citrus fruits. However, most of us appreciate the taste qualities of only the best-known ones, lemons, grapefruits or oranges. It's worthwhile to learn about other fruits classified as cit rus and what health and weight loss-enhancing properties they have.
What are citrus fruits?
When we pick up a juicy, sweet orange, we don't think about what this fruit is, where it comes from and what type it belongs to. It is worth learning that citrus fruits include only those that grow in the wild in the warm tropical regions of Asia and Australia, and the trees and shrubs that give birth to them belong simultaneously to the genus Rutaceae. It is also immediately noticeable that the various fruits, which we eat in ever-increasing quantities, have certain characteristics in common, such as:
shape, mostly round or slightly elongated;
a thick, fleshy rind, such as lemons, limes and oranges;
juicy flesh that surrounds the seeds located inside, in the center of the fruit;
the ability to divide the fruit into separate segments after peeling;
high content of citric acid;
the possibility of eating both raw and in processed form, jam or juice.
Which citrus fruits are most popular?
There are many varieties of citrus fruits, some more, others less well-known, but it's worth learning about all of them to know which ones to introduce into your diet. Among these well-known and most consumed types of citrus are:
Oranges
Having a peel of just this color, originally from China, but now grown practically throughout the tropics and subtropics. They delight with their taste, juiciness and at the same time relatively low calorie, 100 g of fruit is only 47 kcal. Also noteworthy is the composition of oranges, and they contain such nutritional compounds as vitamin A, B vitamins, vitamin C, essential oils, minerals, zinc, phosphorus, magnesium, potassium, selenium, calcium, iron, flavonoids, dietary fiber. Thanks to their presence, the fruit gains extremely valuable medicinal properties:
antioxidant, helping to remove dangerous reactive oxygen species (ROS), called free radicals;
inhibiting the body's natural aging processes;
allowing to normalize too high blood pressure, heart and circulatory system;
supporting the work of the brain and nervous system;
relaxing and beneficial for improving mental mood;
antibacterial and anti-inflammatory;
improving digestion and enabling regulation of the daily rhythm of bowel movements.
Mandarins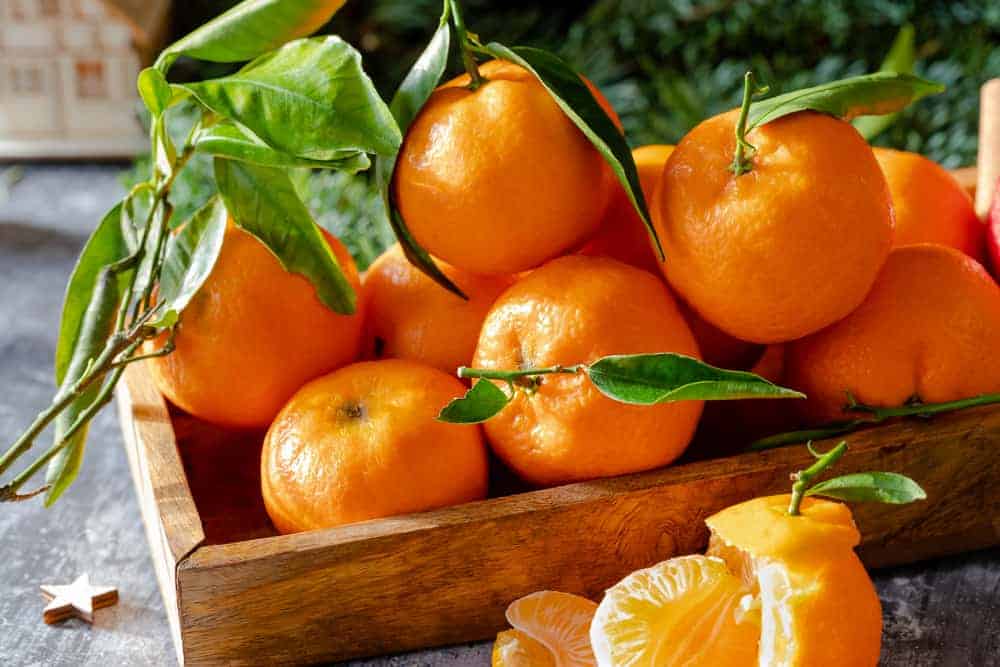 Equally beloved, which we eat especially during the winter season and even can't imagine Christmas without them. Mandarins look like small oranges, and the best-loved species, Clementines, have a characteristic soft skin and are a cross between just a mandarin and an orange. As for active compounds, mandarins boast a large amount of vitamin C and folic acid, or vitamin B9. They also contain minerals, zinc, manganese, potassium, calcium, iron, magnesium and sodium, as well as pectin. By eating them regularly, you can count on:
proper intestinal peristalsis;
control over one's appetite, inhibiting the feeling of hunger;
better skin condition, protection against UV radiation;
maintenance of BMI-compliant body weight, lower risk of overweight and obesity;
better memory and concentration;
antioxidant and anticancer effects.
Grapefruits
Larger than oranges with a distinctive sweet and sour taste, with a hint of bitterness. Grapefruits come in several varieties differing primarily in the color of the rind, which can be dark red, orange, yellow, pink or white. Like most citrus fruits, this one is also low in calories and can be eaten without risking weight gain. Its reduction may also be favored by the fruit's composition, which includes, in addition to numerous minerals, or vitamins A and C, thiamine (vitamin B1), fiber, carbohydrates, lycopene, proteins and folate. Among the health properties of grapefruit, it is worth highlighting:
antioxidant activity, protecting cells from oxidative stress;
a more efficient immune system;
preservation of skin integrity;
reduction of insulin resistance, important in the treatment and prevention of diabetes;
maintenance of proper blood glucose levels;
support of the heart and cardiovascular system by reducing cholesterol and triglyceride levels;
equalizing blood pressure;
providing a long feeling of satiety.
Lemons
Without which we can't imagine a cup of tea, which are widely used not only in cooking, but also in medicine and cosmetics. Due to their sour taste, it is difficult to eat them raw, although it is worth it, because they contain an exceptionally high amount of vitamin C, essential for health, more than 30 mg in 100 g of fruit, and the same amount has only 29 kcal. In addition, they replenish possible deficiencies of vitamin A, thiamin, riboflavin, niacin, choline, pyridoxine, folic acid, fiber, zinc, phosphorus, magnesium, potassium, selenium, calcium and iron. Thanks to them, lemon supports our health on multiple levels, having an effect:
naturally strengthening weakened immunity;
supporting weight loss treatment by improving digestion;
facilitating the cleansing of the body from toxins and unnecessary products of metabolism;
alleviating symptoms of disorders of the digestive system;
supporting liver function, stimulating bile production;
caring for the appearance and condition of the skin by stimulating collagen synthesis, removing discoloration and acne lesions;
allowing to maintain the elasticity of blood vessels and proper blood flow minimizing the risk of cardiovascular diseases.
Which lesser-known citrus fruits benefit our health?
In addition to the four most well-known citrus fruits presented above, there are others that are also worth appreciating not only for their taste and aroma, but also for their positive impact on many aspects of human health. For our part, we can recommend such as:
Lime
Also called lime, a derivative of lemon, but with a more sour taste, which, of course, can be considered an advantage and not a disadvantage. Doctors and specialists in healthy nutrition appreciate it for its richness in nutrients, a set of vitamins, A, B, C and E, flavonoids, and large doses of essential minerals, zinc, phosphorus, magnesium, copper, calcium and iron. Its health properties are equally broad and include:
supporting the digestive system, especially the liver, which is important for effective weight loss;
strong antibacterial activity;
deacidification of the body due to its alkalizing properties;
strengthening the immune system;
maintaining control over blood sugar levels;
alleviating symptoms of stress and neurosis, primarily irritability, irritability and mood swings.
Bergamot
Although similar to lemon or lime, it is actually a variety of orange, primarily an addition to one of the most popular types of tea, which is undoubtedly Earl Grey, also available in oil form. It is responsible for its unique taste, but at the same time it affects our health with the power of vitamins A, B and C, gaining properties thanks to them:
antibacterial, light antiseptic and antifungal;
supporting natural immunity, stimulating the production of more white blood cells;
antioxidant, blocking and removing free radicals;
lowering too high levels of the LDL fraction of cholesterol;
improving the absorption of nutrients supplied with food;
regulating and speeding up digestive processes, thus promoting weight reduction.
Pomelo
Also known as the giant orange, also growing in the wild in the Far East, Thailand, China and Japan. In appearance it is somewhat similar to a grapefruit, although much larger and heavier, its weight can reach up to 2 kg, most of which, unfortunately, is the thick skin. Pamelo can hardly be called a fruit conducive to weight loss, despite its content of a considerable amount of dietary fiber, 100 g is as much as 230 kcal, but it is definitely worth a try.
For its nutritional properties is responsible for vitamin C in an amount far exceeding the daily requirements of the human body, as well as B vitamins and valuable trace elements, phosphorus, magnesium, copper, potassium. Thanks to them, it gains action:
eliminating free radicals from the body;
increasing the synthesis of collagen, the basic building material of many tissues;
stimulating the secretion of gastric juices and thus facilitating digestion;
dilating blood vessels, improving blood flow and oxygenation of all internal organs;
regulating electrolyte balance and aiding in the removal of toxins;
reducing the risk of osteoporosis and excessive bone fragility.
Sources:
https://www.healthline.com/health/bergamot-oil
https://www.healthline.com/nutrition/mandarin-orange
https://www.healthline.com/nutrition/6-lemon-health-benefits
https://www.healthline.com/nutrition/10-benefits-of-grapefruit
https://www.healthline.com/nutrition/limes
https://www.healthline.com/nutrition/bergamot-tea
https://www.healthline.com/health/bergamot-oil
https://www.healthline.com/nutrition/pomelo-fruit