Back pain – symptoms, causes and relief with natural methods
We should take care of our physical fitness throughout our lives, but unfortunately this is not always possible, and over time we may develop pain conditions that make it difficult or even impossible to function normally. They can affect various parts of the body such as lower limbs, but particularly troublesome and difficult to bear are pains in the spine, because of which we often can't even straighten up. As research shows, the so-called "sacroiliac" or thoracic spine pain affects an increasing proportion of modern society, already felt bynearly 80% of people around the world. That is why it is so important to correctly diagnose the causes of this and take countermeasures, and not only painkillers, but also natural remedies for pain can help.
What are the most common causes of cervical, thoracic and lumbar spine pain?
It would be difficult to find an adult in our country, at least once in his life, who does not complain of more or less severe back pain, which can worsen as physical exertion increases. It is usually felt in both sitting and standing positions, and if one experiences extremely sharp pain radiating from the lumbar region of thelumbar region of the spine along the entire back up to the neck, or down to the legs, it could indicate serious health problems. Self-diagnosis of the causes of lumbar, thoracic or cervical spine pain is mostly impossible, we can only identify the accompanying symptoms and, on that basis, at least partially recognize why it is happening.
As for the most common reasons for back pain, or simply spine pain, we distinguish between the two most important, mechanical damage caused by injury, or progressivedegenerative changes, which we are most often guilty of ourselves, leading an inappropriate lifestyle that is sometimes a real health risk, and not only for the spine. The most common causes of back and spine pain indicated by specialists are:
Lumbar spine pain
Due to the extremely high load, the lower part of the spine is most vulnerable to damage, and pain is felt from the lumbar region of the spine along the entire course of the sciatic nerve, so they radiate from the lumbar vertebrae to the legs. These are definitely worrisome symptoms, and if they are accompanied by numbness in the limbs and a decrease in their muscle strength, we should immediately go to the doctor, who will recommend further examination. Lower back pain can have many causes, however, the two most common are:
lumbar disc disease, which can become the cause of long-term pain, intervertebral disc diseaseof the intervertebral disc, which involves the displacement of the nucleus pulposus from the intervertebral fissure into the spinal canal. The degeneratively altered or interrupted fibrous ring of the intervertebral disc begins to press on the nerves, and the resultingy lumbar back pain is so severe that only non-steroidal anti-inflammatory drugs and painkillers help;
sciatica, extremely severe pain in the sacrum, lower back, aggravated when bending, the cause of which is precisely the pressure exerted on the so-called nerve roots, specifically the sciatic nerve. This is due, among other things, to degenerative changes, prolapse of the intervertebral disc in the lumbar spine.upa, as well as from developing inflammation and comorbidities, infectious diseases and even cancer.
Pain in the cervical and thoracic spine
Back pain does not only occur in the lower back, it can be just as bothersome in the cervical or thoracic region, caused by excessive strain on the spine, among other things. However, this is only one of the causes, there are other causes just as much due to our negligence, and in the case of the cervical spine, specialists point primarily to such as:
congenital defects of the cervical spine;
stenosis of the spinal canal, i.e., its narrowing;
progressive degenerative changes;
the effects of injuries and mechanical trauma or infectious diseases;
uncorrected postural defects;
sedentary lifestyle, low physical activity, spending a lot of time in a sitting position.
Equally serious and difficult to endure pain we can feel in the thoracic spine, which in most cases is the result of:
total lack of physical activity;
incorrect posture;
underdeveloped back muscles not supporting the spine properly;
overweight and obesity, causing overloading of all sections of the spine;
chronic diseases that weaken bones, such as osteoporosis;
jobs that require carrying heavy loads or being in a standing position;
large and heavy breasts in women;
walking in high heels.
How do we experience back pain caused by back problems?
Let's face it, back pain caused by any of the above causes is usually unbearable, sometimes so severe that we even feel paralyzed. Unfortunately, the back pain usually doesn't stop there. It is not uncommon for it to be accompanied by other symptoms, no less bothersome, and we may begin to feel:
severe headaches, especially if the problems involve the upper spine;
difficulty breathing if the pains involve the thoracic region of the spine;
pains and numbness in the lower extremities indicating possible damage to the lumbar spine;
numbness in the arms and legs causing problems with moving, writing, or grasping anything in the hands.
Recommended natural ways to relieve lumbar, cervical and thoracic spine pain
Any pain in the spine heralds some kind of ailment that usually requires the intervention of a doctor, so do not underestimate the visit to him, make a proper diagnosis and choose the best treatment. Sometimes the changes that occur require surgical treatment, but we can try to deal with the pain itself with natural methods, without necessarily taking the strongest pharmaceuticals right away. If you have severe pain, of course, we do not discourage their use, but if it is mild, it can help:
Pain prevention
We know that it's too late for it when the pain occurs, but once it subsides, it's worth taking proper care of your weakened spine to avoid such problems in the future. This consists of several equally important elements, and we must first and foremost pay attention to maintaining a proper diet, not only one that does not cause weight gaina, but also full of nutrients that promote healthy spinal bones, vitamins and minerals that protect them from osteoporosis, among other things. Let's also make sure to get the right daily dose of outdoor exercise, not necessarily immediately competitive sports, but daily walks can work real wonders.
Exercises for back pain
Being one of the forms of recommended physical activity, it is important, however, that they are ordered by a specialist in spinal disorders and take place only under the guidance of properly trained physiotherapists. Particularly advisable and giving the most benefits is swimming in the back style, after which not only the pain subsides, but also strengthens the all muscles responsible for the correct alignment of the spine in any position, or recreational cycling.
And if any unfavorable changes are noticed in children, it is worth enrolling them in corrective gymnastics as early as possible, so they can avoid spinal pain in the future, and their posture will always be correct.
Spinal massages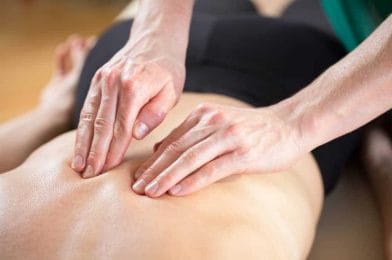 Massages can help with many spinal disorders, but here the same rule applies as with exercises, they can only be performed by people with the appropriate knowledge and experience, confirmed by official certificates. If we put ourselves in the hands of a home-grown, unqualified massage therapist, it can have dire consequences, including irreversible damage to the spine and paralysis. A properly performed massage gets rid of pain, relaxes tense muscles and relieves pressure on the spine, but it should be repeated at regular intervals.
Warm baths and compresses
Another proven natural remedy used by our Mothers and Grandmothers, with repeatedly proven effectiveness. The water should be at least 37-40 degrees Celsius, hotter is not advisable. Adding to it aromatic oils of lavender, sandalwood, rosemary, mint or exotic ylang-ylang tree will better relax the muscle tissue, and the pain will disappear in a flash. Such baths are recommended, among others.among others for extremely painful sciatica, as well as warm compresses with the same essential oils, a hot-water thermoform applied directly to the site of pain will work just as well.
Orthopedic pillow
Sleeping on an ordinary pillow, filled with down or other material, is only seemingly comfortable, but over time it can become a reason for increased pain and even the development of injuries that cause further degeneration of the spine. Adopting an inappropriate sleeping position is also an excessive burden on the cervical spine, so it is worthwhile to get an orthopedic pillow in advance, ideally contoured, adapting to the shape of the body and ensuring its natural, anatomical position to relieve pressure on the sore neck.
Sources:
https://www.healthline.com/health/low-back-pain-acute
https://www.healthline.com/health/upper-right-back-pain
https://www.healthline.com/health/lower-back-pain-in-the-morning
https://www.healthline.com/health/cervical-stenosis-with-myelopathy